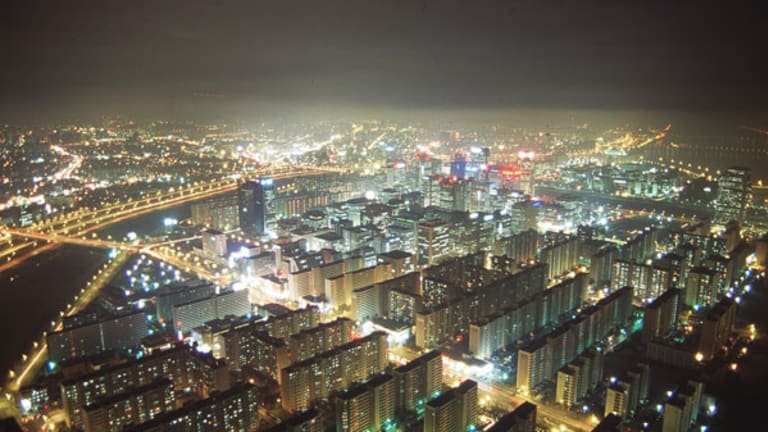 Oil Prices Whipped on Dismal Global Outlook
Oil prices were suffering Thursday as traders rejected risky asset allocations and opted for safe and conservative assets amid a spate of disturbing economic news.

NEW YORK (TheStreet) -- Oil prices were suffering Thursday as the outlook for the global economy took a hit on weak manufacturing data in Europe and China, prompting traders to seek conservative assets.
As the December Brent crude contract plummeted $4.26 to $104.61 and November light sweet crude oil tumbled $4.51 to $81.41, the U.S. dollar tore higher, pushing the dollar index up 1.3% to $78.71 against a basket of major currencies.
The weak jobs numbers and the less-than-comforting guidance from Federal Reserve leaders set a negative tone for traders before the markets open.
The Labor Department's report, yet again, of a weak jobs market marked by below-expected consensus numbers for the week ending Sept. 17, was preceded by the Federal Reserve's announcement on Wednesday that it would carry out "operation twist" -- selling short-term debt to buy $400 billion of longer-term debt to lower borrowing costs to stimulate the economy -- as expected.
Furthermore, Fed officials admitted that the economic slump wouldn't be going away anytime soon.
As Summit Energy analyst Matt Smith described, the general markets reacted to the announcement like it was "a slap in the face."
U.S. markets were also greeted with more bad news out of Europe and Asia first thing in the morning. A survey from financial information company Markit suggested potential recessionary conditions in the Eurozone, and an initial reading on Chinese manufacturing also suggested a contraction in September.
Whether Greece will be able to secure additional financial support also remains in question.
Energy stocks were being pummeled.
BP
(BP) - Get Free Report
was losing 3.7% to $35.55;
Marathon Oil
(MRO) - Get Free Report
was falling 3.9% to $22.80;
Hess
(HES) - Get Free Report
was tumbling 4.5% to $53.95;
Chevron
(CVX) - Get Free Report
was surrendering 3.8% to $90.75;
Suncor
(SU) - Get Free Report
was giving up 7.6% to $25.82;
EOG Resources
(EOG) - Get Free Report
was tumbling 4.2% to $79.92; and
Chesapeake Energy
(CHK) - Get Free Report
was losing 3.6% to $28.36.
-- Written by Andrea Tse in New York.
>To contact the writer of this article, click here:
Andrea Tse
.
Copyright 2011 TheStreet.com Inc. All rights reserved. This material may not be published, broadcast, rewritten, or redistributed.