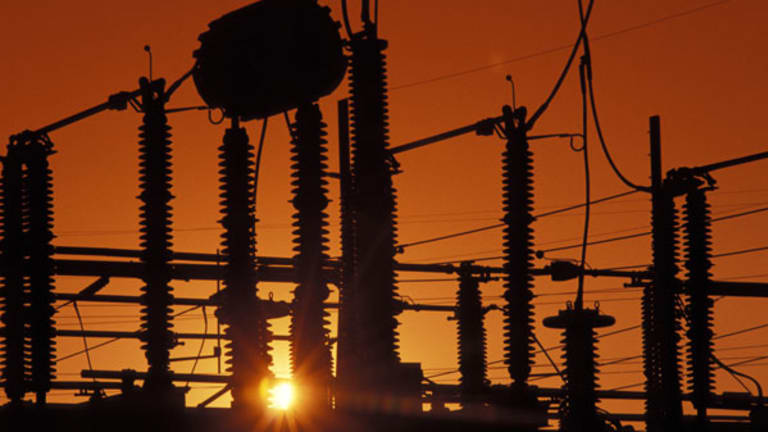 Oil Prices Tank as Goldman Says 'Sell' Commodities
Oil prices and energy stocks tank on Tuesday as a Goldman Sachs "sell" on commodities highlights a suddenly bearish market.
NEW YORK (
) -- The sudden and rapid decline in crude oil prices showed no sign of slowing down on Tuesday, with fears of demand destruction yet again in the headlines, this time courtesy of a new report from the International Energy Agency, and a Goldman Sachs "sell" on commodities issued on Monday continuing to ripple through the markets. Japan's upgrading of its nuclear crisis from a 5 to a 7 (Chernobyl level) was also viewed as contributing to the sudden profit-taking in the markets.
U.S. crude was off by more than 3% for the second straight day and recently trading near the $106 mark. Brent crude was down by close to 2% and recently trading at $120.74.
From a technical trading perspective, the sudden reversal in crude oil trading was not a complete surprise. Crude oil had been on the verge of a key technical level when last week ended, at $110.30, near the $111 mark that crude oil proved unable to hold in September 2008 when the "last gasp" of the bull run was inhaled and right before the collapse of the financial market. Last week's ending price for crude was the latest in a string of highs for crude since September 2008. On Monday, U.S. crude had reached as high as $113, albeit briefly, to end last week, before the selloff began on Monday.
>>Oil Prices Above $110 - Is $115 Next?
Coming into this week's trading, therefore, technical analysts were wondering whether crude oil would be able to attain and hold the $111 level, signaling that the bull run, at least from a technical perspective, wasn't done yet. The heavy selling over the past two days suggests that, if it's not a last gasp, the bull market is in the least catching its breath.
Another backward-looking trend noted by analysts was that in September 2008, the oil service stocks reversed course a little ahead of the energy sector and oil trade. The OSX index rally ended last week when the group began selling off, even as oil and energy stocks continued to climbed higher.
The Goldman Sachs report released late on Monday announced that it was closing out its commodities basket trade.
"Although we believe that on a 12-month horizon the CCCP basket still has upside potential, in the near term risk-reward no longer favors being long the basket and we are recommending closing the position for a 25% return versus a 28% target," Goldman analysts wrote on Monday.
About oil specifically, Goldman's commodities call states, " Near-term crude oil price risk is becoming more symmetric. Although potential contagion risk in the Middle East and North Africa (MENA) remains elevated and has pushed prices above $125/bbl, at these price levels the risks are becoming more symmetric, which shifts the risk/reward of being long oil. Not only are there now nascent signs of oil demand destruction in the United States...but also record speculative length in the oil market, elections in Nigeria and a potential cease-fire in Libya that has begun to offset some of the upside risk owing to contagion, leaving price risk more neutral at current levels."
Goldman predicts that Brent crude may pull back as far as $105 in the short-term.
Even as the heavy selling continues, commodities analysts are unconvinced that the "last gasp" is taking place.
"Markets always move further than you think! This is a good old fashioned bout of profit-taking -- spurred on by a flight from riskier assets and commodities generally," said Summit Energy commodities analyst Matt Smith.
Speaking to the decline in the OSX that presaged the end of the bullish oil trade in 2008, Sterne Agee oil service analyst David Havens said that a comparison isn't apt today. "This is a very typical air release...not a deflation nor comparable to 08," Havens said.
Since September 2010, the OSX index has risen close to 100%.
The U.S. Commodity Futures Trading Commission said that as of last Tuesday, hedge funds and other financial traders held a total net-long positions in U.S. crude contracts equivalent to a near record 267.5 million barrels.
The Libyan cease-fire headline, which was a contributing factor to the Monday selling in crude oil, turned out to be overstated by the end of Monday -- yet what was apparent on Tuesday was a sudden turn away from the Middle East as a trigger for bullish oil trading.
While the focus has suddenly shifted away from the Middle East and to issues including demand destruction, the IEA report on Tuesday (which following the IMF report on Monday that lowered its growth projection for the U.S. and Japan) and the Japanese nuclear crisis, the balloon may not be deflating as much as just letting a little air out, in the opinion of the Summit Energy analyst. Inflationary fears leading to higher interest rates have been in the headlines since moves made by the European Central Bank and China last week, and may continue to weigh on market sentiment as a macroeconomic backdrop.
The Tuesday report from the International Energy Agency noted that Saudi Arabia cut output after Japanese demand fell in the wake of the earthquake and tsunami. "As a result, Saudi Aramco is thought to have throttled back production in mid-March," the IEA wrote. However, while the Japanese natural disaster should cut second quarter oil demand, easing the spike in oil prices, according to the IEA, the IEA did not change its 2011 demand forecast at 89.4 million barrels a day, up 1.6% from 2010.
The IEA report also expressed concern that high prices will curb demand. The Summit Energy analyst noted that a Mastercard consumer activity report on Monday cited high gasoline prices as a reason for the 5th consecutive week of a decline in consumer spending.
"I do not believe that this is the end of the bullish price action -- this is just a natural correction, letting some pressure out of the situation, before further geopolitical tensions regain the spotlight and push prices higher once more," Smith said. He added that even if the IEA report was viewed as bearish, its global demand growth estimate remained unchanged for 2011, which was the expectation heading into the report.
The PFG Best market strategist Phil Flynn had said the last Friday that the last time the oil trade and the market was in this territory was back in September 2008. "Technical trading follows the saying, 'You meet the same people on the way up as you do on the way down'" Flynn told
TheStreet
. "You get the same resistance on the way up as on the way down," Flynn explained.
During the week of Sept, 26, 2008, U.S. crude oil hit $110.31, and that was the "last gasp" rally for crude oil before it tanked and the largest peak-to-valley trough in the oil market ensued. Flynn noted that after the summer 2008 high crude price of $140, crude tanked and it was only in late September 2008 that crude oil rallied before heading even lower. "In September 2008, crude oil failed miserably at holding the $110 level ... so is this the last gasp of a bull market, the last resistance point before we pull back?" Flynn asked.
Energy stocks were leading the selloff on Tuesday, with the sector down more than 3% (versus a 1% decline in equities) and with big losses across all of the energy niches, from the super majors to the oil service stocks and independent exploration and production companies.
ConocoPhillips
(COP) - Get ConocoPhillips Report
was down more than 4% on Tuesday, leading losses among the super majors, though trading in ConocoPhillips shares was only slightly elevated.
Chevron
(CVX) - Get Chevron Corporation Report
, a day after becoming the first super major to release a glimpse of its first quarter earnings and saying oil prices would buoy results, was down by 3.5%. Equity traders have said that while the recent run in oil prices will buoy returns in the upcoming earnings, the super majors will need to show that those gains are sustainable, given the run-up in the stocks. Year-to-date, the super majors are up between 12% and 15%.
Chevron said in its interim trading update that average U.S. oil-equivalent production was down in January and February, at 686,000 barrels per day (bpd) compared with 698,000 in the fourth quarter, and down from 734,000 bpd a year earlier. International production was down slightly, also, and overall, Chevron reported about 2.75 million bpd of oil-equivalent production for the first two months of the first quarter, down from nearly 2.79 million in the fourth quarter.
All the major U.S. independent energy companies were selling off, led by
Chesapeake Energy's
(CHK) - Get Chesapeake Energy Corporation Report
decline of 5%. Higher crude prices have favored the more "oily" names, and Chesapeake has been among the nat gas-heavy energy plays to make the big transition to liquids, but the sudden fears of demand destruction have reversed the trade.
SandRidge Energy
(SD) - Get SandRidge Energy, Inc. Report
, a micro-version of Chesapeake that rallied 50% this year, was declining by close to 8% on Tuesday and had already surpassed its average daily trading volume at the midday mark.
Range Resources
(RRC) - Get Range Resources Corporation Report
,
Devon Energy
(DVN) - Get Devon Energy Corporation Report
,
EOG Resources
(EOG) - Get EOG Resources, Inc. (EOG) Report
and
Anadarko Petroleum
(APC) - Get Anadarko Petroleum Corporation Report
were all down by 4% on Tuesday.
The oil service stocks continued a retreat that began towards the end of last week and presaged the bigger reversal in the energy trade, while also harkening back to the cliff these stocks went over in early September 2008.
Halliburton
(HAL) - Get Halliburton Company (HAL) Report
was down by more than 4.5%; while
Baker Hughes
(BHI)
and
Schlumberger
(SLB) - Get Schlumberger NV Report
declined by more than 3%. Over the past five trading sessions the oil service stocks have declined between 8% and 10%.
-- Written by Eric Rosenbaum from New York.
RELATED STORIES:
>>Oil Prices Above $110 - Is $115 Next?
>>3 Things That Could De-rail T. Boone Pickens Nat Gas Plan
>>Obama Wants Less Foreign Oil: Stock Impact
>To contact the writer of this article, click here:
Eric Rosenbaum
.
>To follow the writer on Twitter, go to
.
>To submit a news tip, send an email to:
.