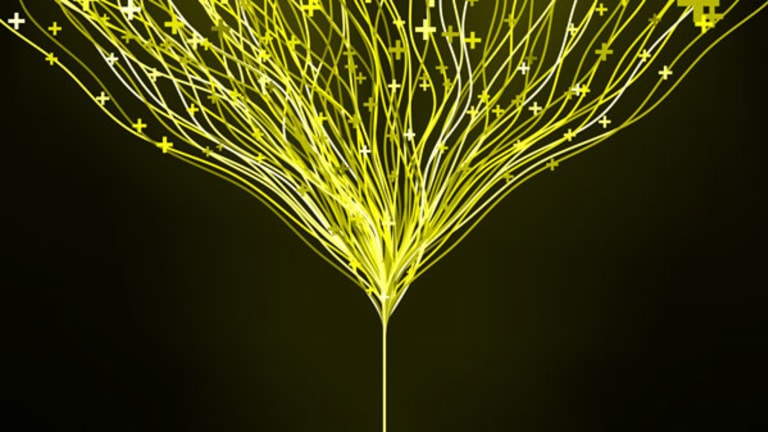 Oil Contango: Fun While It Lasted?
Is it over with crude's recent move? Some say it may not be.
Is it over with crude's recent move? Some say it may not be.
Crude oil's recent rally from the mid-$30 dollar level to $47 Tuesday means different things to different people. The suggestion that crude oil has found a bottom support level is good news for oil bulls. However, the same data are prompting farewell toasts from arbitrage traders, because it means that the greatest contango ever is effectively over.
Or is it?
The contango trade that has enamored traders since last December was made possible because the spread between the front month and second-month West Texas Intermediate contracts exceeded the monthly costs of storing oil at the Cushing, Okla., hub. Storing oil at Cushing usually costs about a dollar a barrel a month. Cushing matters because it is the designated delivery point for West Texas crude oil that is traded in the New York Mercantile Exchange oil pit.
(I discussed the contango trade with Frank Curzio in The Real Story video below.)
Stock Wrap: The Real Story March 10
var config = new Array(); config<BRACKET>"videoId"</BRACKET> = 15251313001; config<BRACKET>"playerTag"</BRACKET> = "TSCM Embedded Video Player"; config<BRACKET>"autoStart"</BRACKET> = false; config<BRACKET>"preloadBackColor"</BRACKET> = "#FFFFFF"; config<BRACKET>"useOverlayMenu"</BRACKET> = "false"; config<BRACKET>"width"</BRACKET> = 265; config<BRACKET>"height"</BRACKET> = 255; config<BRACKET>"playerId"</BRACKET> = 1243645856; createExperience(config, 8);
Thus, whenever the bimonthly spread exceeds oil-storage costs, traders can execute a risk-free arbitrage trade where, in one swift move, they purchase a front month contract, short-sell the second-month contract, and arrange to store the physical oil for one full month (usually at Cushing). Any money left over is risk-free profit -- a deal that is practically impossible to beat in the world of futures trading.
A contango-shaped futures curve is not a historical rarity, but the one that traders have toyed with since December was the greatest contango in history. The bimonthly spread reached $8 at one point. Since one crude contract is worth 1,000 barrels of oil, the math on an $8 contango looks like this:
$8 x 1,000 barrels = $8,000 - $1(1,000) = $7,000 Profit (One spread trade)
According to the official Nymex scoreboard on Tuesday, the contango is definitely toast. On Tuesday afternoon, the April West Texas Intermediate crude contract was trading at around $47 a barrel while the May contract was fetching $48 a barrel.
$48-$47 = $1 = No More Contango
When the contango was in effect, the question traders had to answer was where to store the physical oil. The new question on traders' minds: Is the contango gone forever?
James Williams, energy analyst at WTRG Economics in London, Ark., thinks that it is.
According to Williams, the strongest sign that the contango is a goner is that Brent crude prices have rebalanced to a lower position relative to light sweet crude.
Brent crude naturally trades at a $2-$3 discount to WTI because it is more expensive to refine. However, when the contango was in full effect, Brent was trading $4-$5 higher than WTI -- a clear indication that WTI was technically oversold.
However, on Tuesday afternoon, April Brent was trading for $44.77 a barrel while April WTI was trading for $47 a barrel. Thus, the natural Brent-WTI relationship had swung back into equilibrium.
However, energy analyst Stephen Schork, who also publishes the daily research paper
The Schork Report
, isn't so confident that the contango play is officially done.
"Something funky is going on here -- all recent buying action was in the front- month contract, but the rest of the strip moved lower," Schork said Tuesday in a phone interview. To Schork, the lopsided moves between the various futures contracts weren't indicative of the traditional way that a contango curve unwinds.
"I can't explain it," Schork said. "And when I can't explain something, I certainly don't act on it, and I recommend that others don't act on it as well." Thus, traders who take Schork's word over Williams' shouldn't remove their chips from the table quite yet -- the contango could easily sneak back into the picture.
I don't know what is causing this funny action, but I'm not going to place any new bets until OPEC meets next weekend, Schork said.
Thus, the contango will likely be off of this week's trading playlist, but don't count it out entirely just yet.
Meanwhile, in other energy news, the integrated energy space enjoyed a surge in stock prices due to
speculation that OPEC will cut production
at its semiannual summit in Vienna this weekend.
BP
(BP) - Get Report
advanced 2.7% to $37.18 a share;
Chevron
(CVX) - Get Report
rose 5.1% to $61.26;
ConocoPhillips
(COP) - Get Report
rose 3.9% to $37.94;
Royal Dutch Shell
(RDS.A)
climbed 5.2% to $43.32 a share, and
Exxon Mobil
(XOM) - Get Report
moved 3.7% higher to $66.91 a share.