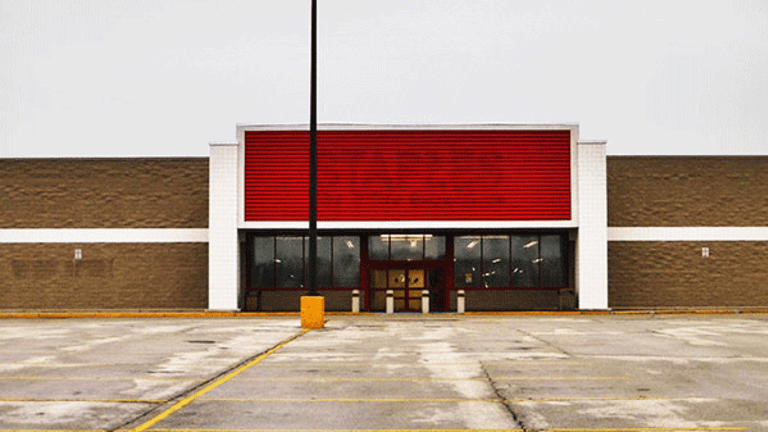 Publish date:
Staples and Office Depot Are Being Ripped to Shreds by Amazon and the Internet
Store closings are the new norm for office supplies retailers.
Store closings are the new norm for office supplies retailers.
Persistently plunging sales, weak profits and more store closures have become the new normal for office supplies retailers Staples (SPLS) and Office Depot (ODP) - Get Reportas they battle online foes such as Amazon (AMZN) - Get Report . 
Shares of Staples sank 5.2% to $8.49 in Thursday trading after the company reported fourth-quarter earnings below analysts' expectations. 
For the quarter ending Jan. 28, the office supply retailer reported sales of $4.6 billion, down 3% year over year. Weighing on the quarterly results included a comparable sales decline of 1% and pre-tax charges, including goodwill impairment and restructuring of $791 million, resulting in a net loss from continuing operations of $615 million.
Full-year sales also fell 3% year over year, to $18.2 billion, below analysts' consensus estimate of $20.25 billion. Non-GAAP earnings of 90 cents a share, while down 3 cents from 2015, surpassed the expected 88 cents, according to FactSet.
"I'm increasingly confident that we have the right plan and the right team to transform Staples and get back to sustainable sales and earnings growth," said CEO Shira Goodman in a statement, touting Staples' North American delivery business, which reported comparable sales growth of 1% to $2.6 billion. Goodman, a Staples veteran, officially became CEO in September after being appointed interim CEO in May.
Trump and your taxes:Watch Jim Cramer lead a roundtable discussion on how investors and retirement savers should position their portfolio.
Staplesclosed 48 stores in North America last year. Following another rough year, the office supplies giant will shutter 70 stores in North America this year.
For the full year, Staples expects non-GAAP earnings of 15 cents to 18 cents a share, with at least $500 million in free cash flow, down from $679 million in 2016. 
"It is quite concerning to see accelerating declines in retail same-store sales, which likely contributed to weakness in Staples shares [on the news]. Although retail profitability was up slightly, we suspect investors question the sustainability, as we do," wrote Jefferies analyst Dan Binder. 
Binder wasn't alone in his bearishness on Staples and the office supplies space. "The end market for office products remains challenged, competition is increasing, and operating profit seems at risk to continue eroding," said KeyBanc Capital Markets analyst Brad Thomas. 
The scene during the fourth quarter wasn't too bright for Staples former merger partner Office Depot, either.
Office Depot booked sales of $2.73 billion, down 2% year over year. Full-year sales of $11 billion were down 6% from 2015.
"On the retail side of the business, we clearly saw lower traffic in the fourth quarter. Overall, we saw the holiday season very competitive and we saw an ongoing shift over to online and as a result, we did see a pickup and benefit for one hour direct channel," Office Depot CFO Stephen Hare told analysts on a conference call. "But we did see a softening trend on retail, primarily from a traffic standpoint through the holiday season."
Office Depot, which closed 123 stores last year in a bid to cut costs, expects to shutter 75 more in 2017.
Updated from Mar. 9 with analyst comments.