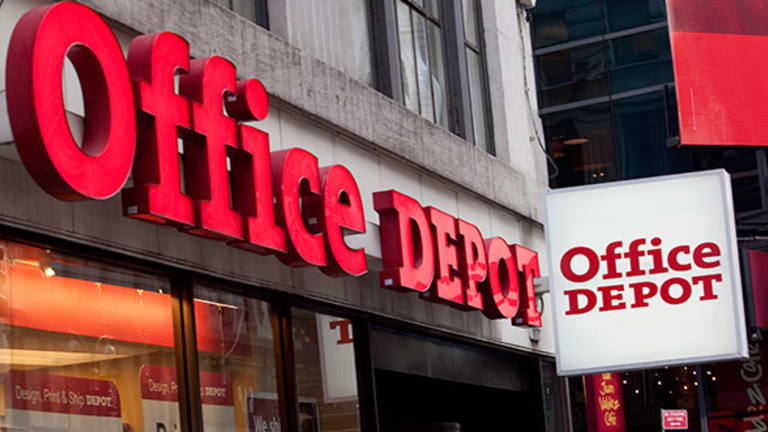 Office Depot Just Dropped Two Big Hints Its Glory Days May Never Return
Office Depot is shaking things up, that much is for sure.
The days of Office Depot (ODP) - Get Report raking in the cash from consumers pushing big baskets filled with office supplies inside of huge superstores have officially died as of Wednesday.
Office Depot disclosed that it will expand a pilot program of a much smaller format store to 24 locations by the end of 2016. About 100 of the newly designed stores are slated to open in 2017. The stores are roughly 15,000 square feet, far smaller than than the typical Office Depot, which clocks in at 20,000 square feet. Office Depot said the stores will offer a curated assortment of products for consumers.
An Office Depot spokeswoman said via email the stores are "regionally dispersed," but declined to share any more details on the concept.   
Meanwhile, Office Depot announced it will shutter 300 stores in North America over the next three years. Since 2014, the company has closed about 400 stores.
Both maneuvers by Office Depot signal that operating large stores that sell everything from office snacks to tablets no longer makes financial sense in the age of Amazon (AMZN) - Get Report -led digital shopping and a rising minimum wage for employees.
One can't really blame Office Depot for the subtle acknowledgment that its business model is being pulled apart at the seams and some drastic actions need to be taken to restore investor confidence. Shares are down 42% year to date.
The office supplies retailer -- which endured more than a year of trying to get regulators to approve a sale to Staples (SPLS) only to see it fail earlier this year -- reported Wednesday its third straight quarterly earnings miss. Second-quarter earnings, excluding one-time items, came in at 3 cents a share, down from 6 cents a year earlier, and short of Wall Street's estimate of 6 cents.
Same-store sales declined 1% year over year at the company's more than 1,500 North American retail stores, due mostly to sluggish traffic to its stores. Sales increased in furniture, copy and print services, supplies, and cleaning and break room products, and declined in computer and related technology products. At the company's business solutions segment, which primarily ships office supplies under contract to businesses, sales declined 7%, when excluding the impact of the strong U.S. dollar.
Office Depot reiterated the sales drop was to "substantial business disruption" related to the thwarted acquisition by Staples.
The company slashed its full-year operating profit target to $450 million to $470 million from a prior forecast of about $500 million.
Executives also unveiled a fresh round of cost-cutting measures in an attempt to save over $250 million by the end of 2018. They said they were pursuing a sale of Office Depot's money-losing 289-store international outfit as well.
Shares were rising by 3.4% to $3.40 in premarket trading.