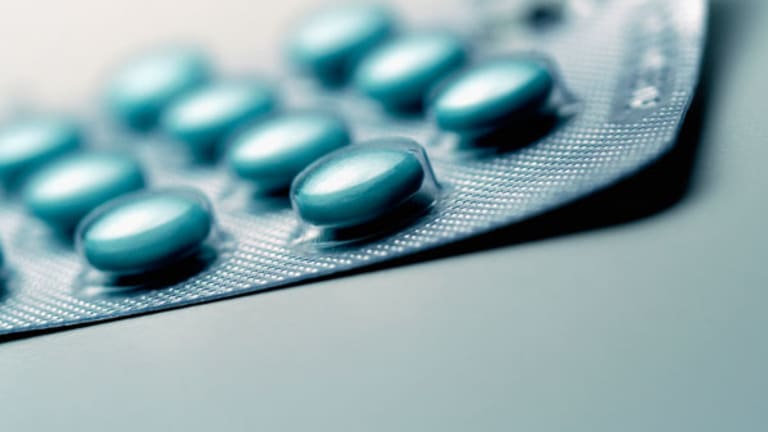 Odds Favor Endocyte Receiving European Approval For Ovarian Cancer Drug
Vintafolide benefits ovarian cancer patients with no current treatment options, phase II data shows.
WEST LAFAYETTE, Ind. (TheStreet) -- The next significant catalyst for Endocyte (ECYT) - Get Endocyte, Inc. Report is coming soon when European drug regulators will decide whether or not to recommend the approval of vintafolide for the treatment of platinum-resistant ovarian cancer. 
I learn towards a positive approval recommendation on vintafolide from Europe, but Endocyte's application is not without risks. The company has told investors its interactions with European drug reviewers to date have been generally supportive of vintafolide but we all know this doesn't insure a favorable outcome. With that said, I'm bullish about Endocyte and its ovarian cancer drug regardless of the European approval decision.
Vintafolide is a small molecule drug conjugate (SMDC) that targets the folate receptor on cancer cells to precisely deliver a potent cytotoxic payload.  Vintafolide's design is quite similar to antibody drug conjugates made by Seattle Genetics (SGEN) - Get Seagen Inc. Report and ImmunoGen (IMGN) - Get ImmunoGen Inc. Report except vintafaolide uses ligands as opposed to the larger antibodies to target the cancer cells. Endocyte has also developed a companion diagnostic to properly identify the patients most likely to respond to treatment.
Women diagnosed with ovarian cancer that does not respond to platinum-based chemotherapy have few effective therapies available and a poorer prognosis than patients with platinum-sensitive ovarian cancer. (Median overall survival of 12.4 months compared to 24.3 months, according to published studies.) Ovarian cancer over-expressing the folate receptor is associated with even poorer outcomes for patients. Given the dire need of new treatments for these patients, Endocyte filed for conditional approval of vintafolide in Europe based on positive phase II data. 
The phase II data of vintafolide are not without controversy and regulatory risk. Treatment with vintafolide led to a statistically significant delay in tumor progression or death for patients with platinum-resistant ovarian cancer expressing the folate receptor. The hazard ratio for these "FR100" patients (100% of tumors expressing the folate recceptor) was 0.38, meaning the risk of tumor progression or death was reduced by 62%.
For vintafolide-treated patients with tumors that had folate receptor expression in the range of 10% to 100%, the hazard ratio was 0.55, or a 45% reduction in the risk of tumor progression or death. 
Patients with ovarian cancer expressing less than 10% folate receptors saw no benefit following vintafolide treatment, as expected.
The main concern about the phase II study was that treatment with vintafolide had no beneficial impact on survival. In fact, the overall survival hazard ratio was greater than 1, meaning treatment with vintafolide might have had a detrimental effect.  The overall survival analysis was not statistical significant so the appropriate interpretation is to reach no conclusion on vintafolide's effect on survival. Still, an overall survival hazard ratio greater than 1 doesn't look good and will naturally raise concerns.
Digging into the phase II data further reveals an imbalance between the vintafolide and control arms where the control arm patients seemed to have significantly more positive diagnostic factors. If you control for that imbalance the overall survival hazard ratio drops well below 1 i.e. shifts in favor of vintafolide.
The primary endpoint of the vintafolide phase II study was progression-free survival (PFS), not overall survival, and it's on the basis of positive, statistically significant PFS data which Endocyte based its European approval filing. Importantly, Endocyte shared all the vintafolide data with European regulators, including the controversial survival data, before submitting the drug for approval. Endocyte would not have filed for European conditional approval had the regulators there told them there was no chance for a positive decision based on the controversial overall survival result.
This leaves us with a phase II study of vintafolide which hit its PFS primary endpoint in an aggressive form of ovarian cancer that has no effective therapies . Endocyte also has a diagnostic test which can identify the ovarian cancer patients who will most benefit from vintafolide. Is it possible that the negative overall survival data compels European regulators to reject vintafolide? Sure, it's possible, but I believe Endocyte has submitted enough compelling clinical data to persuade Europe to approve the drug. 
Endocyte shares will fall if European regulators decide against vintafolide but the selling should be transient because of two important datasets coming in 2014: A phase II trial of vintafolide for the treatment of folate-receptor positive non-small cell lung cancer; and data from a phase III study of vintafolide in platinum-resistant ovarian cancer patients. (The same patient population enrolled in the phase II study under consideration for approval in Europe.) Endocyte is also expected to start a phase II trial of vintafolide in triple negative breast cancer by the end of 2014.
A European recommendation against approval of vintafolide would be disappointing but there is more than enough to like about Endocyte for the long term.
Sobek is long Endocyte.
David Sobek has been writing on biotech for a number of years through various outlets with a general focus on small cap oncology and antibiotics companies. He received his PhD in political science from Pennsylvnia State Univeristy in 2003 and a BA in international relations from The College of William and Mary in 1997.