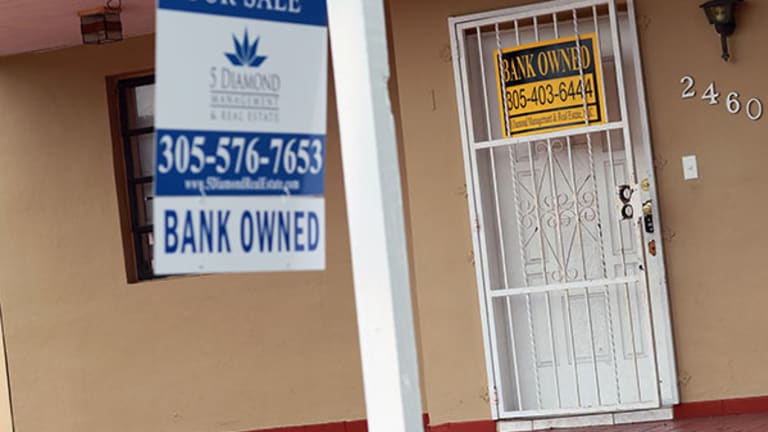 Ocwen Regulatory Crackdown Makes It Harder for You to Get a Mortgage
The regulatory crackdown on Ocwen, Nationstar and other mortgage servicers is making banks more reluctant to extend credit, raising questions about the future of the servicing industry.
The regulatory crackdown on Ocwen, Nationstar and other mortgage servicers is making banks more reluctant to extend credit, raising questions about the future of the servicing industry.
NEW YORK (TheStreet) -- The regulatory crackdown on Ocwen Financial (OCN) - Get Report , Nationstar Mortgage Holdings (NSM) and other mortgage servicers is making banks more reluctant to extend credit, raising questions about the future of the servicing industry.
Scrutiny from states -- as well as federal regulations that are often in tension with those of the states -- makes servicing loans increasingly expensive. It also restricts access to credit, according to a paper published last month by Laurie Goodman, director of the Housing Finance Policy Center at the Urban Institute in Washington, D.C.
Goodman cited data from the  Mortgage Bankers Association contending the cost of servicing each nonperforming loan increased 489% from $482 in 2008 to $2,357 in 2013.
Those increasing costs are "another factor making lenders steer clear of anyone who's got any kind of elevated risk," according to Rob Zimmer, a former Freddie Mac lobbyist who now runs his own public affairs firm, TVDC.
Servicing costs are a big reason J.P. Morgan Chase (JPM) - Get Report  is making fewer loans through the Federal Housing Administration, CEO James Dimon said during the bank's latest investor call to discuss fourth quarter earnings.
"We have reduced our share of FHA loans just because of the ongoing two reasons: One is the liability on the production side where the insurance was worthless over time. And the second is just the cost of servicing FHA loans when they go in default, and they have a much higher chance of going into default than not," Dimon said Jan. 14.
J.P. Morgan has many businesses and can choose to cut back on servicing, or even mortgage lending, and still make a profit. But for dedicated servicers such as Ocwen, the way forward is not so clear.
Ocwen bonds maturing in May 2019 yield more than 12%, suggesting the market sees a real chance the company could fail to pay its debts. At the time they were first issued, the bonds yielded less than 7%. Since Ocwen was widely regarded as a model for the rest of the industry until its recent regulatory troubles, the outlook for other servicers isn't much better.

"One would hope that regulators tread carefully here, as this small industry has become increasingly important with larger lenders backing out of the space. The aim should be a stronger, safer, more consumer-friendly specialty servicing industry, not a destabilized one," says Jim Parrott, a former economic adviser to President Obama on housing issues, now a senior fellow at the Urban Institute, a think tank with strong ties to the Democratic party.
Mortgage servicers are largely debt collectors, but their responsibilities extend to foreclosing and selling homes, as well as maintaining or destroying homes that cannot be sold. Banks like Bank of America (BAC) - Get Report , J.P. Morgan and Wells Fargo (WFC) - Get Report have been moving to shrink their mortgage servicing business as new regulations have made it too costly. That created an opportunity for Ocwen and other nonbank mortgage servicers such as Nationstar and Walter Investment Management (WAC) .

Ocwen and Nationstar, the top two nonbank mortgage servicers, grew market share by 350% and 290%, respectively, from 2011 through first-quarter 2014, according to data compiled by mortgage trade publication Inside Mortgage Finance. Over that same time period, Bank of America's market share has shrunk by 54%, J.P. Morgan's has shrunk by 11% and Wells Fargo's has risen by 5%.
Wells Fargo tried to sell Ocwen servicing rights on 184,000 loans with $39 billion in principal debt outstanding last year, but was ultimately forced to cancel the sale due to opposition from New York Department of Financial Services superintendent Ben Lawsky. Lawsky launched a wide-ranging inquiry into Ocwen, looking at everything from conflicts between it and several closely related companies to shoddy debt-collecting practices.
Ocwen reached a settlement with Lawsky Dec. 22, but terms of the agreement were so punitive it sent Ocwen's stock price tumbling some 30% to $16. 
Before the shares had a chance to recover, they were hit with a new regulatory threat, as the California Department of Business Oversight said it was considering suspending Ocwen's license to do business in the state, where it services 300,000 mortgages.
New York's Lawsky has also been investigating Nationstar. In March 2014, he sent a letter to the company's president and CEO expressing "significant concerns that the explosive growth at Nationstar and other non-bank mortgage servicers may create capacity issues that put homeowners at risk." 
Nationstar shareholders are clearly worried, given the severe market reaction to Lawsky's settlement with Ocwen. They have driven Nationstar shares down 17% since the letter was published.
Asked about the future of the servicing sector, given that banks are exiting the business and that Lawsky has severely punished the largest nonbank player and is now going after the No. 2 company, Lawsky spokesman Matt Anderson sent an emailed statement:

"As with many industries, the specialty servicer sector has a broad spectrum of actors -- some of which are doing a good job and others that are not performing as well. We have made clear from the beginning that there may be a number of specialty servicers that can play a positive role in the broader financial markets. Generally speaking, however, we cannot comment on any specific matters we may have ongoing in this industry," he wrote.
A further concern is the potential confusion and hassle to consumers if a large servicer such as Ocwen lost its license and its loans had to be transferred to another servicer. Indeed, it isn't clear whether any servicer would be willing to take on the 300,000 California portfolio and the potential regulatory costs associated with servicing it.
"Moving against a company's license is not a step that we ever take lightly. Certainly that's the case with Ocwen, but we have a duty to consumers to make sure that our licensees, particularly ones that are as big and important as Ocwen, follow the law," said California Department of Business Oversight spokesman Tom Dresslar.