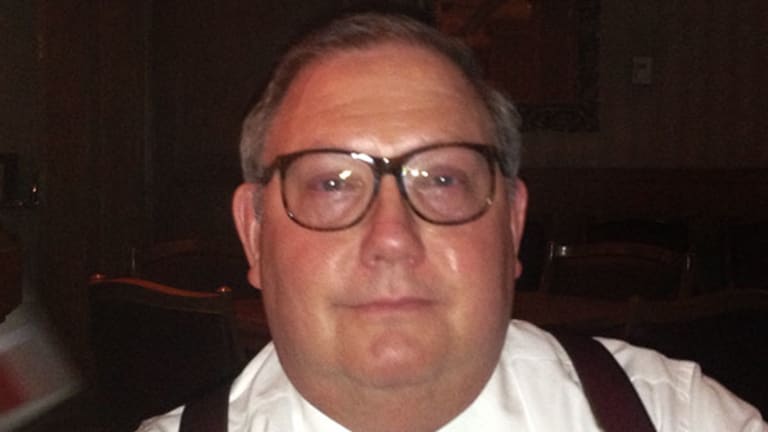 Ocwen Chairman Bill Erbey Talks Housing
Excerpts from exclusive interviews with the chairman of Ocwen, Altisource and three other companies.
NEW YORK (
) --
Bill Erbey, chairman of Ocwen Financial Corp. (OCN) , Altisource Portfolio Solutions (ASPS) , Altisource Residential Corp. (RESI) , Home Loan Servicing Solutions (HLSS) and Altisource Asset Management (AAMC) spent several hours talking with TheStreet for his first-ever profile entitled "Bill Erbey Made $2.3B Off Your Underwater Mortgage".
Below are excerpts from the interviews, edited for clarity
You are chairman of five public companies. How much time do you spend with each of them?
Bill Erbey
That varies depending on what's going on, what the opportunities are, the challenges with each of the businesses so that can vary from time to time. I spend the majority of my time at all the companies thinking about a couple of things. How do we develop the talent pool of people that we need to execute on our business plan? What is our strategy -- where do we want to put our resources? Also, then I'll get involved in acquisitions to the extent that we're doing them, and also I get involved in the, if you will, the technology of how does one process technology and how does one get a non-performing loan current and performing. Basically, what we consider to be our competitive advantage with respect to our loss mitigation capabilities, and our ability to be a process manager.
TheStreet
Is servicing the main business that you consider yourself to be in?
Erbey
Certainly our largest business is the servicing business today in terms of that. We really operate in a space that provides people with shelter. When we think about it in a more global sense, it is the largest segment of the economy, and we like to participate in those segments where we think we have a competitive advantage. We go all the way from providing servicing, we provide all the third parties with the services associated with either origination or servicing a loan. We're one of the largest sellers of real estate in the United States today. HLSS for example, has a fairly large portfolio of advances and MSR's, non-prime MSR's and then you look at our most recent entrance into the space, it's the ability to purchase non-performing loans, convert as many as we absolutely possibly can into performing loans. Then those which we can't get into a performing status, we're going to renovate them and add them to the rental housing stock.
TheStreet
What is the biggest opportunity that you see, you could look at any time frame you like?
Erbey
I think there are two significant secular trends that are occurring within shelter, if you will. On the lending side, you very well identified that servicing is shifting from the large banks to the servicers, and it's shifting primarily because the large banks, I believe, want to focus on their core customer base where they have multiple relationships with that borrower. They have a credit card, an auto loan, etc. and those which are non-core, they would just as soon have someone like ourselves be the servicer for that. I think there's going to be a large shift to the non-banks. In the same space, there is a large shift in terms of simply how many Americans can get a new mortgage. That's a fairly major social issue that I think hopefully will be addressed at some point in time. Only about 35 percent pre-Dodd-Frank could actually get a new mortgage, 35 percent of the households, and Dodd-Frank obviously has had some impact. I think it was well meaning, but I think one of the second order effects is fewer people will qualify for a mortgage.
That leads into the second large trend where we're trying to focus, and that is we think that a greater and greater percentage of Americans will, in fact, be renters as opposed to homeowners. I'm not sure if we go all the way back to what it was pre-World War II, pre the formation of Fannie and Freddie, which dramatically expanded homeownership, but certainly you're seeing probably half a percentage point or so of shift from ownership to rental on an annual basis.
TheStreet
Your offices in Luxembourg, St. Croix and India -- these are corporate offices or are you in the shelter business -- owning homes or servicing or originating mortgages in those places as well?
Erbey
It's corporate offices. As of yet, we have not really gone international. In the mortgage business, it's much more difficult to go international simply because, in most markets, there's not a securitization market, and the banks there haven't developed to the extent that the U.S. banks have in terms of basically having servicing be a separate asset class. A lot of that's really created by -- not really Basel 3 but the early Basels
international banking standards, where in most of the countries, banks can't capitalize servicing. It's interesting. It's almost an existential question if you don't capitalize, do they realize it exists? They tend to be a style of organization structures in the mortgage space, and the mortgage space in those
non-U.S. countries tend to be how the United States was 30 to 40 years ago.
TheStreet
Do you see that changing?
Erbey
I think, to a degree, it's changing. It's funny how you see things like this happen in the mortgage space, and I thought the mortgage space would have changed sooner than it has, and now once you've reached that tipping point, it's breathtaking to see how fast the change occurs. I thought you'd see more shifting earlier than this, but to be honest, so I was surprised that it wouldn't occur sooner in greater extent, and now I'm just surprised, once it started, how fast it's occurring.
TheStreet
When you talk about renting going up, it sounds to me like giving in to that inevitability that the middle class is shrinking, and how are we going to be realistic about it rather than putting people in homes they can't afford? Is that your thought that we just need to be more realistic? The middle class is going to shrink, that's globalization, and we need to be more realistic about it.
Erbey
I think you have identified a very serious problem that we have. The middle class is definitely shrinking, and I believe it to be a function that, history gives us a good glimpse into this where we went from agrarian to manufacturing, there were two or three generations of people who were simply displaced, if you will, because their education level didn't match the new economy, right?
I think what you're seeing here is we've been in this for a long time, probably more than 10 years or more where you're going from the manufacturing to the information age, and a large portion of our populations simply do not have the educational skills required to function in those jobs. You're seeing companies with the technology. Reason being, it's the technology has you restructure your business to utilize that technology so our business is becoming, you'll have a large number of people ... who have a significant number of advanced degrees, and those people, PhD's in Econometric, Psychology, and Computer Science, those people with the skills are in tremendous demand.
There's a complete restructuring of what the workforce, you saw that happening in manufacturing, right? Two decades ago? If you go into a manufacturing plant in the United States, it isn't like a thousand people running around anymore. It's like five guys that know how to run computer-controlled machines.
We have to be realistic as to what types of education and align that with the jobs that are being created. We have 300 jobs that people get paid six figures we're constantly fighting to fill. My view is it's not a lack of jobs, it's a lack of people with the requisite education to create value.
One of my biggest tasks is interviewing and trying to find the people that have the skills that we need, and they're in tremendous demand. As a result, they get paid large amounts of money because there's a competition to get the limited supply of talent. However, in other areas in the economy, people don't have the right talent for the demand, and their income levels are declining. I think it was masked. In other words, the middle class, income for the average American, you can't take the average income everybody makes because certain people are making a lot and other people are slipping backwards, right? That has been occurring for almost a decade or more, but masked by the housing boom, a lot of people were buying homes, leveraging up, spending more than they were making to keep their lifestyle intact. When you took that away, that capital appreciation away from them, it puts them in a terrible position.
My wife and I don't have children, so we're giving all of our money to schools for scholarships because I really do believe that we have to get our population educated. We could have a tremendous, highly productive, a very great lifestyle if we could get people with the skills necessary in this world.
TheStreet
How do you deal with conflicts between the various companies you oversee? You have different stakes in each of those companies. Should a shareholder look at that or have they looked at that and said, "Hey, Bill, you've got your economic interest at this company are much greater than they are at this other one." There must be some opportunities that you see that could go to one or the other.
Erbey
I certainly get those questions asked. I'll tell you how I got all the shares that I have in each company, they were related to just spins out of the original. I haven't really bought or sold much at all ever, and so if you were an original Ocwen shareholder, you would have an investment profile, and if you didn't sell or buy anything, you'd have an investment profile very similar to mine. All the shares have been through the creation of value of those companies.
I don't have enough extra liquidity to true up -- if one company's doing better or worse at any given point in time, I don't run around with a hundred million free cash just to buy more shares.
We started the company. We had a few invested alongside me at the beginning. In that period in time, you would have relatively the same, and hadn't sold anything, just do what I did, you'd have the same number of shares.
It's just impossible. I get paid a very good salary, but I am not anywhere close to what I could do bearing other wealth. I've kept almost all our money invested in the companies, as you can tell by the data I just gave you, right? The numbers become in such magnitude, I can't true them up every day. I'm not selling stock. I'm not selling to one company and reinvesting in another. I'm not moving that stuff around.
TheStreet
Altisource Portfolio Solutions has an online auction business and I've just been struck by
Zillow
(Z)
and
Trulia
undefined
shares zooming to the moon. Does that make you want to spin that business off or is that apples and oranges?
Erbey
Well, I think we're thinking about what we want to do. We've had some dialogue around that. I mean it's a different business model and I think it's an exciting one where we're actually executing transactions and making them efficient and effective to actually transact. Not only buy the home but also close the entire transaction. We have to date, basically up until recently, up through say June, been exclusively on the REO side but what's interesting 60 to 70 percent of our transactions have been with an end user, somebody who wanted to live in the house, not an investor. So we've proven people will buy homes through a site like that and actually live in the home end users, that's important.
Then on the other side we have to prove is that people will list their homes. Right? That's what it takes a buyer and a seller to get a market. And we've elected, unlike one of our other competitors to work with the real estate brokers to make them more efficient and effective and actually exposing homes to more eyeballs, right? And have them list it on that product and actually facilitate people who may be buying the home for the first time to make it a very efficient closing transaction for them. So if that works, and we're just rolling that out of a beta site now, and we've gotten very good response. If that works, that's a huge business. That business already makes more than Trulia and Zillow combined, and it's been growing at 70 percent a year.
--
Written by Dan Freed in New York
.
Disclosure: TheStreet's editorial policy prohibits staff editors, reporters and analysts from holding positions in any individual stocks.