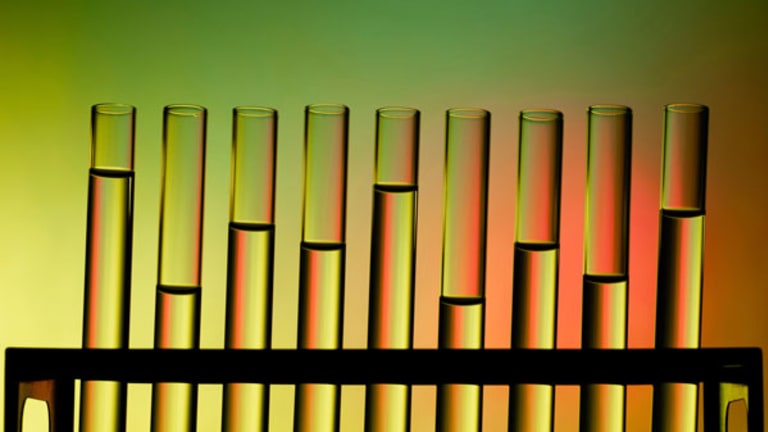 Oculus Sidesteps FDA Rules With Wound Cleaner
Oculus is seeking ways to circumvent drug laws with its wound-cleansing product.
Oculus is seeking ways to circumvent drug laws with its wound-cleansing product.
(Updates share price)
Oculus Innovative Sciences
(OCLS)
appears to be skirting U.S. drug laws by claiming that its wound-cleansing product containing common diluted bleach has drug-like therapeutic properties.
The Petaluma, Calif.-based company sells Microcyn, a liquid- and gel-based antiseptic sold over the counter for $20 a bottle that is used to clean minor skin abrasions and irrigate or dress more serious wounds like leg and diabetic ulcers.
The U.S.
Food and Drug Administration
allows Oculus to market Microcyn as a wound cleaner under the agency's regulation of simple medical devices known as 510(k) approvals. Microcyn is similar to numerous other wound-cleaning products sold commercially for years.
Oculus refused to verify the active ingredients in Microcyn.
But Oculus is marketing Microcyn as a drug with specific medical claims that the product cures infections, accelerates wound healing and reduces inflammation in patients with serious diabetic ulcers, according to comments made by the company's CEO Hoji Alimi and CFO Bob Miller on a conference call with investors held on June 11.
Oculus has conducted a single, small phase II study of Microcyn in patients with diabetic foot ulcers, but the company has not followed through with larger, phase III studies required to get the product approved as a wound-healing drug by the FDA.
AUDIO: Listen to Adam Feuerstein and Elizabeth Trotta discuss Oculus
Instead, Oculus CEO Alimi said the company found a "shortened pathway to FDA approval" that would "bypass the proposed $30 million to $40 million cost for the phase III trials in the United States," according to a transcript of the company's June 11 conference call.
This shortened pathway allows Oculus to secure for Microcyn "comparable upside to what the FDA drug approval would have provided us; an antimicrobial label claim, drug-like pricing, study data and reimbursement," said Alimi.
Yet no such shortcut around drug approvals exists. The U.S. Food, Drug and Cosmetic Act prohibits companies from making specific medical claims about a product unless those claims have been rigorously tested and reviewed by the FDA, the federal agency in charge of granting drug approvals.
Oculus cannot market Microcyn, a product only approved as a wound cleaner under the FDA's 510(k) medical device regulations, as a product that cures infections or heals wounds.
Oculus refused to answer repeated questions about how the company intends to market Microcyn as a drug when it has no such approvals from the FDA.
Asked for a comment on Oculus' marketing of Microcyn, FDA spokesperson Peper Long said: "Keep in mind that we cannot comment or confirm an investigation that may be under way."
The medical claims about Microcyn are not the only things exaggerated by Oculus; so too is the technology and makeup of the product itself.
Oculus says Microcyn's gets its wound-healing properties from being "stable super-oxidized water" manufactured through a proprietary process. In fact, Microcyn's active ingredients are greatly diluted quantities of sodium hypochlorite (0.0036%) and hypochlorous acid (0.0025%), according to records maintained by the U.S. Environmental Protection Agency. You can find a list of Microcyn's active ingredients
, or by entering Microcyn in this
.
is a weak acid formed when chlorine is dissolved in water. It is used as an oxidizer and disinfectant. This is the stuff commonly used to keep swimming pools clean.
is known by its more recognizable moniker -- common household bleach.
Microcyn is chemically similar to a host of commonly used disinfectants, including
Clorox Anywhere
, a hard-surface daily sanitizing spray that can be purchased in a grocery store for about $3. Read about the ingredients that go into Clorox Anywhere
here
.
Oculus was asked to verify the active ingredients in Microcyn but refused to do so. Instead, CEO Alimi sent a letter to
TheStreet.com
claiming that this Web site's reporting on Microcyn in the past, including the characterization of the product as "bleach diluted with saline," is harming patients.
"Based upon complaints we have received from the community, a number of people may have self treated open wounds with a mixture of bleach and saline based upon Adam's suggestions in these articles," the letter states.
Later in the letter, Alimi adds, "Under the medical device regulation, any adverse patient feedback concerning safety must be reported to the U.S. Food and Drug Administration and in this case, it is as a direct result of misrepresentations by Adam."
A copy of the Oculus letter to
TheStreet.com
can be found
.
TheStreet.com
stands by its reporting on Oculus and Microcyn. If patients, in fact, are reporting adverse events to the FDA, the responsibility lies with Oculus and its products, not TheStreet.com. But to overstate the obvious, people shouldn't pour bleach, diluted or not, into their cuts.
Microcyn sales totaled $4.4 million in the fiscal year ended March 2009, although the company is not profitable, posting a net loss of $17.6 million in the last fiscal year. Oculus sells the bulk of Microcyn in foreign markets.
On its June 11 conference call, Oculus said that the new Microcyn formulations and the wound-healing claims it intends to make to doctors and hospitals will get the company to financial breakeven in March 2010, based on quarterly revenue of $2.8 million to $3 million.
Ultimately, Oculus said total annual revenue would reach $45 million to $60 million in fiscal year 2013.
Oculus needs to cut its losses in a hurry because the company is running out of cash. The company ended the last quarter with about $2.9 million in cash but lost $2.2 million.
Oculus shares were down 10.7% to $3.35 in recent trading. The stock has tripled in value since late last month.
Adam Feuerstein writes regularly for TheStreet.com. In keeping with TSC's editorial policy, he doesn't own or short individual stocks, although he owns stock in TheStreet.com. He also doesn't invest in hedge funds or other private investment partnerships. Feuerstein appreciates your feedback;
to send him an email.