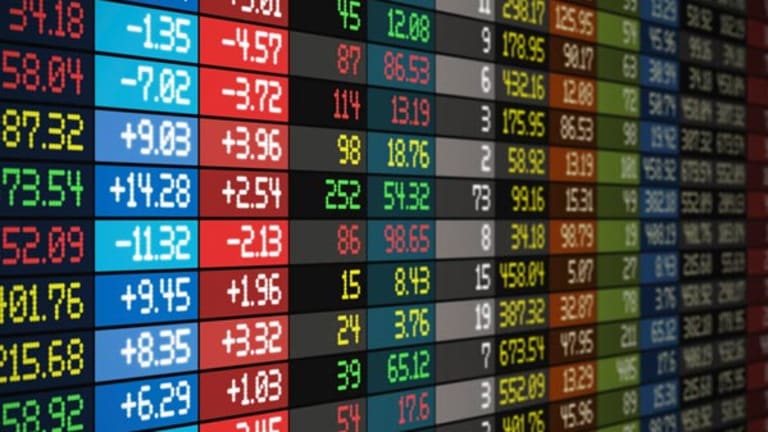 Oct. 31 Premarket Briefing: 10 Things You Should Know
U.S. stock futures are lower on fears the Fed will pull back on stimulus near the end of 2013; Facebook notes fewer teen users; Exxon Mobil reports earnings; the Boston Red Sox win the World Series.
NEW YORK (TheStreet) -- Here are 10 things you should know for Thursday, Oct. 31:
1.-- U.S. stock futures were pointing to losses on Wall Street on Thursday as investors across the globe feared the Federal Reserve could start withdrawing its stimulus for the U.S. economy near the end of the year.
European stocks were trading lower. Asian shares ended Thursday's session with losses; Japan's Nikkei 225 index declined 1.2%.
2.-- The economic calendar in the U.S. Thursday includes weekly initial jobless claims at 8:30 a.m. EDT, personal income and personal spending for September at 8:30 a.m., and Chicago PMI for October at 9:45 a.m.
3.-- U.S. stocks on Wednesday fell after the Fed opted to maintain its current $85 billion bond-buying program and keep interest rates at current low levels, citing an elevated jobless rate and a slowdown in the housing market's recovery.
Markets declined on concerns the Fed may still pull back on its stimulus program in December, or early next year. In a policy statement, the central bank said that overall all "the downside risks to the outlook for the economy and the labor market" .... have "diminished," indicating that the worst of the 2009 recession, which prompted the stimulus program has passed.
The S&P 500 closed down 0.49% to 1,763.30. The Dow Jones Industrial Average fell 0.39% to 15,618.64, while the Nasdaq declined 0.55% to 3,930.62.
4.-- Facebook's (FB) earnings topped Wall Street expectations but the social networking giant noted teens are using the service less.
Chief Financial Officer David Ebersman said that teens are using the service the same, but daily users in the teen demographic slid from the second to the third quarter. Ebermsan noted there isn't an entirely accurate way to measure this but the company is working on internal metrics to ascertain what is happening.
Facebook reported third-quarter earnings of 25 cents a share on revenue of $2.02 billion. Mobile revenue surged to 49% of total advertising revenue, which was about $881 million. Analysts were looking for earnings of 19 cents a share on revenue of $1.91 billion.
5.-- Oil giant Exxon Mobil (XOM) is expected by analysts on Thursday to report third-quarter profit of $1.77 a share on revenue of $107.39 billion. Exxon is coming off its lowest profit in more than three years last quarter tripped up by weak growth in the U.S. and China and Europe's ongoing economic problems.
In the year-earlier quarter, Exxon, the largest oil and gas company in the U.S., earned $2.09 a share on revenue of $115.71 billion.
6.-- Europe's largest oil company, Royal Dutch Shell (RDS.A) , said third-quarter earnings declined because of a weaker refining market and higher exploration and production expenses.
Earnings on a current cost of supplies basis were $4.25 billion, down from $6.15 billion a year earlier.
7.-- Credit card company MasterCard (MA) is forecast by Wall Street to report earnings of $6.95 a share in the third quarter on revenue of $2.13 billion.
8.-- Though sales rose 10.6%, Sonyundefined, the entertainment and electronics giant, posted a loss of 19.3 billion yen ($196 million) in the July-September quarter largely because of losses at its movies division.
Sony slashed its profit forecast for the fiscal year ending in March to 30 billion yen from 50 billion yen, due to weak sales and strong price competition.
9.-- US Airways (LCC) and American Airlines are considering giving up takeoff and landing slots at Washington's Ronald Reagan National Airport to win regulatory approval of their $11 billion merger, two people familiar with the matter told Reuters.
The carriers are hoping to reach a settlement with the U.S. Justice Department before a trial, due to begin Nov. 25, and pave the way for a deal that would create the world's largest airline, the sources told Reuters.
10.-- The Boston Red Sox beat the St. Louis Cardinals 6-1 in Game 6 on Wednesday night to win their third World Series title in 10 seasons.
-- Written by Joseph Woelfel
To contact the writer of this article, click here:Joseph Woelfel
To submit a news tip, send an email to:tips@thestreet.com.
Copyright 2013 TheStreet.com Inc. All rights reserved. This material may not be published, broadcast, rewritten, or redistributed. AP contributed to this report.