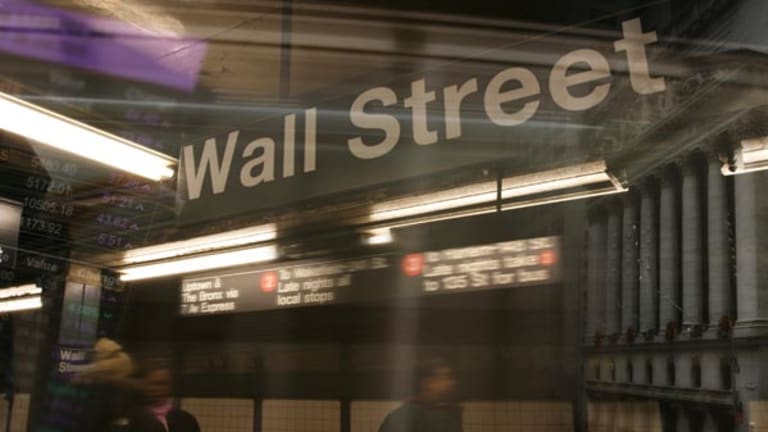 Oct. 28 Premarket Briefing: 10 Things You Should Know
U.S. stock futures point higher; Apple reports earnings after Monday's closing bell; Toyota is the world's top-selling automaker; NYSE runs a successful test of Twitter's IPO.
NEW YORK (TheStreet) -- Here are 10 things you should know for Monday, Oct. 28:
1.-- U.S. stock futures were pointing to gains on Wall Street Monday as global shares rose on expectations that the Federal Reserve will delay curbing its equity-supportive stimulus program.
European stocks were trading mostly higher while Asian shares finished Monday's trading session in the green. Japan's Nikkei 225 rose 2.2% and Hong Kong's Hang Seng rose 0.5%.
2.-- The economic calendar in the U.S. Monday includes industrial production and capacity utilization for September at 9:15 a.m. EDT, and pending-home sales for September at 10 a.m.
3.--U.S. stocks on Friday finished a choppy week in positive territory after Amazon (AMZN) ,the world's largest online retailer, and shipping leader United Parcel Service (UPS) posted earnings that bolstered the outlook for the U.S. economic recovery.
The S&P 500 closed up 0.4% to 1,759.77 while the Dow Jones Industrial Average also added 0.4% to close at 15,570.28. The Nasdaq rose 0.37% to 3,943.36. For the week, the S&P 500 and Dow increased 0.88% and 1.1%, respectively. The Nasdaq booked a 13-year closing high and climbed 0.74% for the week.
4.-- iPod and iPhone maker  Apple (AAPL) is expected by analysts after Monday's closing bell to report fiscal fourth-quarter earnings of $7.94 a share on revenue of $36.86 billion.
Apple remains the world's most valuable public company, but the earnings are expected to mark Apple's third consecutive quarter of declining earnings from the previous year. 
In the year-earlier fourth quarter, Apple posted earnings of $8.2 billion, or $8.67 a share, on revenue of $36 billion.
5.-- Toyota (TM) retained its title as the world's top-selling automaker as global sales for the first nine months of the year reached 7.41 million vehicles, flat with a year earlier but ahead of sales from General Motors (GM) . 
GM said earlier this month that its global sales for January through September totaled 7.25 million vehicles, up 4.6% from a year earlier.
6.-- Drugmaker Merck (MRK) is expected by Wall Street to report third-quarter earnings of 88 cents a share on revenue of $11.12 billion.

7.-- McDonald's (MCD)  will no longer serve Heinz ketchup in its restaurants worldwide.
McDonald's said it's making the move because of management changes at Heinz, which hired a former Burger King CEO as head of the company in June after Heinz was bought by Berkshire Hathaway (BRK.A) and 3G Capital. 
8.-- The New York Stock Exchange said its its test run of Twitter's initial public offering on Saturday was a success, as the exchange looks to avoid the technical problems that marred Facebook's (FB) IPO. 
Twitter is expected to go public sometime before Thanksgiving. The IPO will be the biggest technology IPO since Facebook went public in May 2012.
9.-- Paramount's Jackass Presents: Bad Grandpa topped the weekend box office with $32 million, according to studio estimates Sunday, sinking three-week champ Gravity to second place.
10.-- The Boston Red Sox beat the St. Louis Cardinals 4-2 on Sunday night to even the World Series at two wins apiece. Game 5 is scheduled for Monday night in St. Louis.
-- Written by Joseph Woelfel
To contact the writer of this article, click here:Joseph Woelfel
To submit a news tip, send an email to:tips@thestreet.com.
Copyright 2013 TheStreet.com Inc. All rights reserved. This material may not be published, broadcast, rewritten, or redistributed. AP contributed to this report.