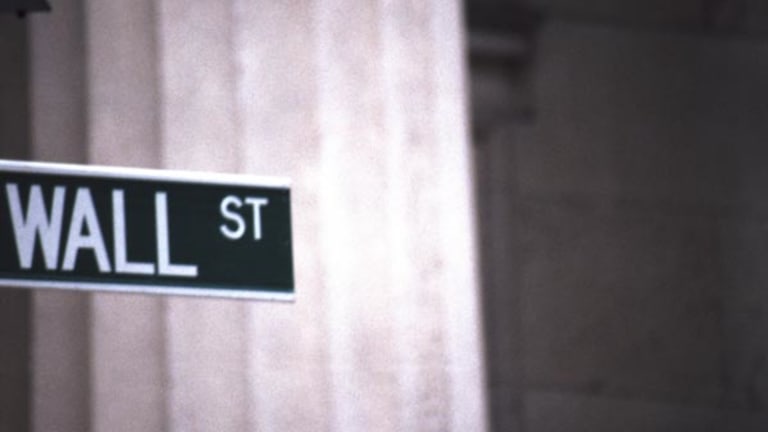 Oct. 24 Premarket Briefing: 10 Things You Should Know
U.S. stock futures are higher; Amazon, Ford and Microsoft report earnings on Thursday, a jury decides against Bank of America in 'Hustle' trial, McKesson launches bid for German rival Celesio.
NEW YORK (TheStreet) -- Here are 10 things you should know for Thursday, Oct. 24:
1.-- U.S. stock futures were rising Thursday following a report that said manufacturing in China rose to a seven-month high in October.
European stocks were trading higher. Asian shares ended Thursday's session mostly lower but Japan's Nikkei 225 index bucked the trend and rose 0.4%.
2.-- The economic calendar in the U.S. Thursday includes weekly initial jobless claims at 8:30 a.m. EDT, the trade balance for August at 8:30 a.m., and new-home sales for September at 10 a.m.
3.--U.S. stocks closed lower Wednesday as Caterpillar (CAT) , the construction and mining equipment leader, posted earnings that fell short of expectations and China, the world's second-largest economy, revealed a spate of bad business loans.
The S&P 500 declined 0.47% to close at 1,746.38 while the Dow Jones Industrial Average dropped 0.35% to finish at 15,413.33. The Nasdaq decreased 0.57% to 3,907.07.

4.-- Amazon.com (AMZN) , the world's largest online retailer, is expected by analysts after Thursday's closing bell to report a third-quarter loss of 9 cents a share on revenue of $16.76 billion.
Amazon posted a year-earlier loss of $274 million, or 60 cents a share, which included a loss of 37 cents related to its investment in LivingSocial. 
5.-- AT&T's (T) third-quarter earnings topped Wall Street earnings estimates, aided by the strength in smartphone sales.
AT&T earned 66 cents a share on revenue of $32.16 billion, excluding gains from spectrum sales. Analysts were expecting profit of 65 cents a share on sales of $32.19 billion.
The company noted that wireless revenue rose 5.1% from last year to $17.5 billion. Wireless service revenue accounted for $15.5 billion, with wireless data revenue rising 17.6% from a year earlier to $5.5 billion.
6.-- Automaker Ford (F) is expected by Wall Street on Thursday to report third-quarter earnings of 38 cents a share on revenue of $33.98 billion. 
7.-- Bank of America  (BAC) was found liable for fraud by a jury in a civil trial over alending programfrom at least 2007 to 2009 known internally as "Hustle," which resulted in billions of dollars of defective loans.
The U.S. Department of Justice last year sued Bank of America over the loans, made by Countrywide Financial, which Bank of America acquired in 2008. The loans produced $848.2 million in losses for Fannie Maeand Freddie Mac,which is the amount the U.S. is seeking to recover. U.S. District Judge Jed Rakoff will determine the penalty.
The jury found Bank of America guilty of one count of fraud. It also found former Countrywide executive Rebecca Mairone guilty of fraud. Mairone is now atJPMorgan Chase  (JPM) .
8.-- Software giant Microsoft  (MSFT) is forecast to post earnings of 54 cents a share in its fiscal first quarter on revenue of $17.79 billion.
9.-- McKesson (MCK) , the U.S. pharmaceutical distributor, launched an $8.3 billion takeover offer for German competitor Celesio.
McKesson signed an agreement Thursday with German company Haniel to acquire its 50.01% stake in Celesio and is making an offer to other shareholders at 23 euros a share. The offer represents a 5.8% premium to Celesio's closing share price on Wednesday.
Celesio of Stuttgart, Germany, has about 38,000 employees, operates in 14 countries, runs 2,200 pharmacies and posted revenue of 22.3 billion euros (about $29.5 billion) in 2012.
10.-- The Boston Red Sox topped the St. Louis Cardinals, 8-1, in the first game of the World Series. Game 2 is Thursday night.
-- Written by Joseph Woelfel
To contact the writer of this article, click here:Joseph Woelfel
To submit a news tip, send an email to:tips@thestreet.com.
Copyright 2013 TheStreet.com Inc. All rights reserved. This material may not be published, broadcast, rewritten, or redistributed. AP contributed to this report.