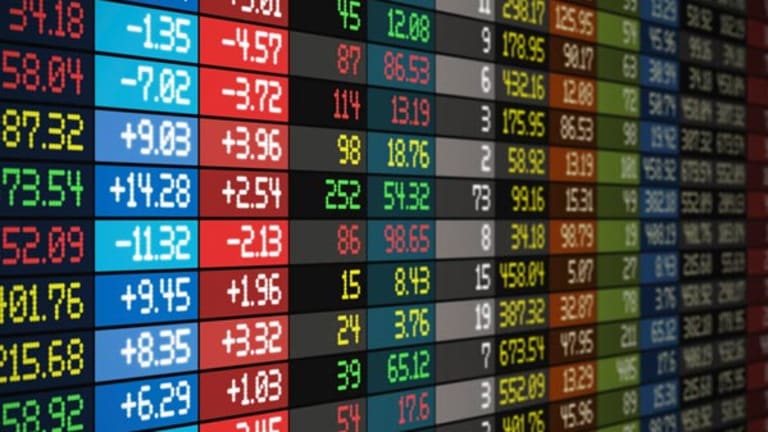 Oct. 22 Premarket Briefing: 10 Things You Should Know
U.S. stock futures are flat ahead of the September jobs report; Apple holds an iPad event on Tuesday; Verizon is asked to help fix the government's health care Web site; Netflix earnings best estimates.
NEW YORK (TheStreet) -- Here are 10 things you should know for Tuesday, Oct. 22:
1.-- U.S. stock futures were pointing to a flat start for Wall Street on Tuesday ahead of the September jobs report.
European stocks also were trading flat. Asian shares ended Tuesday's session mixed, with Japan's Nikkei 225 index rising 0.1%.
2.-- The economic calendar in the U.S. Tuesday includes the nonfarm payrolls report for September, which was delayed because of the U.S. government shutdown, at 8:30 a.m. EDT, and construction spending for August at 10 a.m.
3.--U.S. stocks closed mixed on Monday as slowing growth at McDonald's (MCD) and weakening existing home sales weighed on investor's recent eagerness to push stocks higher.
The S&P 500 gained 0.01% to 1,744.65, while the Dow Jones Industrial Average fell 0.05% to close at 15,392.01. The Nasdaq added 0.15% to 3920.05.
4.-- Apple (AAPL) is holding an iPad event Tuesday in San Francisco at which its expected to refresh the company's second-largest driver of revenue, behind the iPhone. Apple's iPad-centric event could be its most important since the original iPad was announced, according to Cantor Fitzgerald analyst Brian White.
White said he expects that Apple will unveil the fifth-generation of the 9.7-inch iPad, and an updated second-generation of the iPad mini. He also believes that Apple will update the MacBook Pro, and give more detail about its desktop operating system, named OS X Mavericks.
5.-- Verizon (VZ) has been tasked with helping the government fix the federal health exchange, USA Today reported.
A source in the telecommunications industry said Verizon's Enterprise Solutions division has been asked by the Department of Health and Human Services to improve the performance of the HealthCare.gov site, which is a key component of the Affordable Care Act, according to USA Today.
6.-- Netflix (NFLX) reported third-quarter earnings that beat Wall Street estimates and the streaming video company said it topped 40 million total subscribers. 
Netflix reported earnings of 52 cents a share on revenue of $1.11 billion, as the company surpassed 31.1 million domestic streaming subscribers, 29.9 million of whom are paying subscribers. The company added 1.3 million domestic subscribers during the quarter, up 11% year over year.
Streaming margins for the quarter were 23.7%, up from 22.5% in the second quarter. 
Netflix added 1.4 million international subscribers during the quarter; it now has 9.4 million international streaming subscribers.
7.-- Texas Instruments (TXN) , the chipmaker, posted third-quarter earnings ahead of Wall Street forecasts but it issued a weak outlook that weighed on its shares after-hours on Monday.
For the fourth quarter, the company said it expects sales between $2.86 billion and $3.1 billion and earnings of between 42 cents and 50 cents a share. Analysts are looking for fourth-quarter sales of $3.12 billion and earnings of 51 cents a share.

8.-- Delta Air Lines (DAL) is forecast to report on Tuesday third-quarter earnings of $1.36 a share on revenue of $10.47 billion.
9.-- Spanish construction company FCC opened up 13% on Tuesday after the company announced that Bill Gates, co-founder and chairman of Microsoft (MSFT) , had become its second largest shareholder with a 6% stake, Reuters reported.
10.-- Berkshire Hathaway (BRK.A) , the investment vehicle of billionaire Warren Buffett, cut its stake last week in British retailer Tesco by about one-fifth, or 300 million pounds, according to a stock market filing on Monday, Reuters reported.
Tesco, the world's third-largest retailer, posted a decline in first-half profit and has struggled to regain market share in its main U.K. market.
-- Written by Joseph Woelfel
To contact the writer of this article, click here:Joseph Woelfel
To submit a news tip, send an email to:tips@thestreet.com.
Copyright 2013 TheStreet.com Inc. All rights reserved. This material may not be published, broadcast, rewritten, or redistributed. AP contributed to this report.