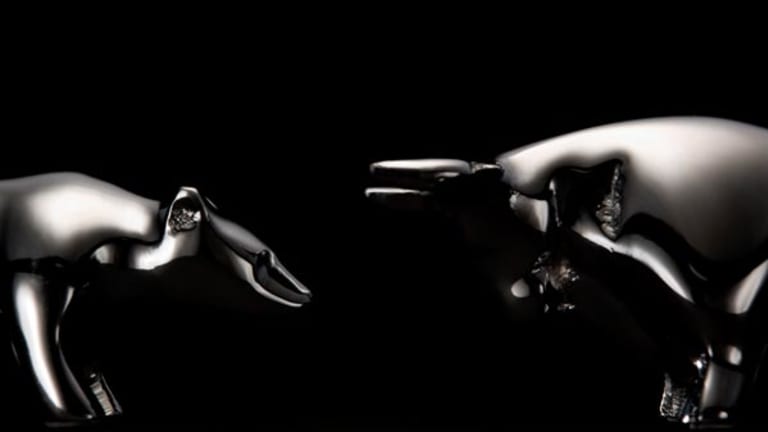 Occupy Wall Street: Who Owns It?
While Occupy Wall Street claims to represent the '99%,' it has just a few owners.
While Occupy Wall Street claims to represent the '99%,' it has just a few owners.
NEW YORK (
) -- Besides fighting the elements and police barricades, the Occupy Wall Street movement will run up against more of a 1% problem as it grows in an importance: Who owns it?
Like any good stock analysis the best place to start is the balance sheet and review Occupy Wall Street's assets.
On the web site WePay -- an official Occupy Wall Street fundraising vehicle -- donations to the movement are made to a group called the "Alliance for Global Justice - Occupy Wall Street."
In a phone interview, Chuck Kaufman a national co-coordinator of the non-profit
Alliance for Global Justice
, says the Occupy Wall Street movement has raised over $157,000 on WePay along with hundreds of thousands more on PayPal and another credit card channel.
Overall, the Occupy Wall Street has raised nearly $500,000.
Once money is donated it is sent to Occupy's banker
Amalgamated Bank
, where its kept until the movement's "General Assembly" votes on how it should be spent. There are only "three or four people" authorized to actually draw on the bank account, Kaufman says, presumably after a vote has been made.
Kaufman adds the group has spent approximately $60,000 so far. "I have been very impressed with the finance committee and the need for good accounting," he says, commenting on Occupy's organization and financial diligence. The Alliance, which is a registered 501(c)(3) non profit and is acting an an official financial proxy for the unregistered Occupy movement, would also be responsible for any tax audit by the Internal Revenue Service.
Not that Kaufman has any worries about Occupy Wall Street's financial safety and soundness. "I feel pretty comfortable that our liability is being looked after."
Besides cash, Occupy Wall Street also owns several "intangible assets."
The protest was started as a an online social media phenomenon among a coalition of activists who built its now widely followed occupywallst.org website and #OccupyWallSt Twitter handle, with more than 94,000 followers.
On Twitter, #OccupyWallSt claims to be the "Official twitter of our site! News and information about the occupation of Wall Street" tied to to www.occupywallst.org, the de facto bulletin board of the protest. One of the website's co-founders Bill Csapo, 57 of Tennessee, says the site was started in mid-July and after a test run in late July Csapo explains, "we realized that there was the momentum, that this was real."
Csapo adds that in early August, ahead of the official beginning of the protest on September 17th, the site's founders ceded control to the Occupy's General Assembly as part of their adherence to open sourcing and representation. About the site, Csapo says, "From that point on, everything has been in the hands of the general assembly... It's been a very useful trumpet."
Adbusters, which put out the first public call to "occupy Wall Street," has another Twitter handle #OccupyWallStNY with a slightly less 75,000 followers and a separate domain, www.occupywallstreet.org. That site links back to adbusters.org instead of the Occupy Wall Street site.
In addition to the online trumpets, another asset of the movement is
Occupy Wall Street Journal
, a print outlet that voices the protest's news founded with funds from online startup incubator
Kickstarter
. The OWSJ has raised $75,690 from a goal of $12,000, according to Kickstarter. The OWS Journal's gained a following, but hasn't made it up on the protest's main site or online to occuptwallst.org for that matter.
In the end, Occupy Wall Street's cash flow remains limited and it's unclear how it can remain a viable going concern -- as Wall Street likes to say. While Kaufman says he expects the movement to endure and that its current bank balance will be used for "necessary protest-related expenses," he adds "Once the money leaves our account and goes to Amalgamated Bank, we don't have the power to get it back."
-- Written by Antoine Gara in New York