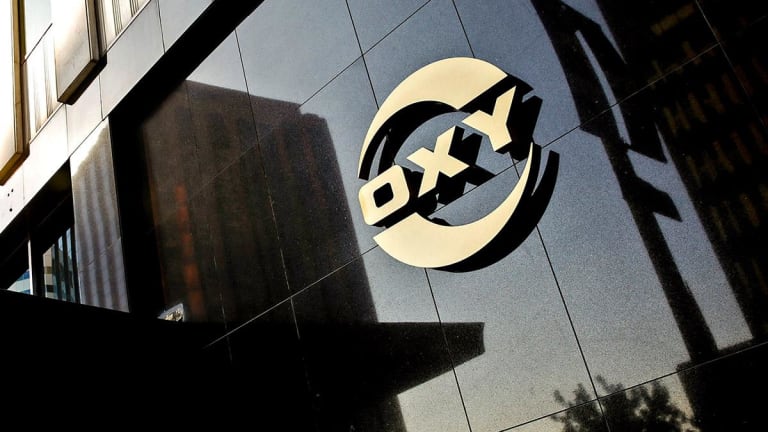 Occidental Pete Falls on Report It's Seeking Bids for Some Anadarko Assets
The Houston energy company is seeking bids of as much as $700 million for Anadarko Petroleum properties in Wyoming and Colorado.
Occidental Petroleum (OXY) shares were down almost 3% following a report that the Houston energy company was seeking bids of as much as $700 million for Anadarko properties in Wyoming and Colorado.
People familiar with the matter told Reuters that Occidental offered about 200,000 acres, in the Denver-Julesburg Basin of Wyoming and Colorado, that produce $66 million a year of cash flow.
RBC Capital Markets is handling the sale, with bids due next month.
Occidental is also offering its own Midland, Texas, campus, which was valued at $45.7 million last year.
The two properties are among several smaller asset sales designed to reduce the debt load of about $40 billion that Occidental took on when it bought Anadarko.
It so far has raised about $10 billion through sales of properties including a liquefied natural gas project in Mozambique and production in Africa, Reuters said.
The company has been cutting costs since the $55 billion acquisition of Anadarko closed in August. Last week, it said it would cut 2020 capital spending by about 40%, reducing outlays in Colorado and Texas shale fields.
Bloomberg reported that Occidental Petroleum planned to sell a four-story office building in the Permian Basin and move employees into one nearby that Anadarko owns.
Occidental recently put on hold plans to divest its Western Midstream Partners pipeline unit after failing to attract an attractive offer.
Last week, the activist investor Carl Icahn trimmed his stake in the oil group while vowing a proxy fight against the board next year.
Occidental shares are trading Monday at $38.94, a bit more than half their 52-week high set a year ago.