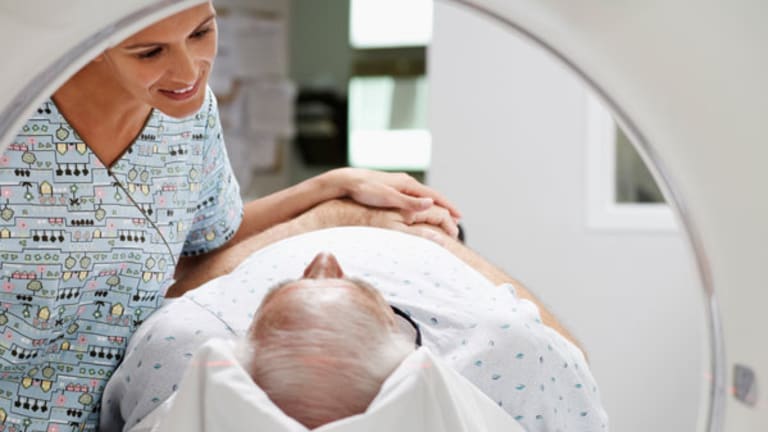 Obamacare Ruling Won't Change Health Care Dealmaking
Health care M&A still in a bull market after the Supreme Court upheld Obamacare.
NEW YORK (
) -- The U.S. Supreme Court's decision to uphold President Obama's Affordable Care Act will have a major and lasting impact on the health care sector. However, the earth-shaking confirmation leaves the need for health care company mergers relatively unchanged.
As investors react to the Supreme Court's decision, they may be wise to spend their time understanding how consistent M&A trends are already consolidating the health care sector, with many deals expected in coming quarters and years. Already, some companies have used recent mergers to position themselves for key earnings opportunities.
"There is a very basic level of consolidation that is taking place," says Marc Cabrera, the head of the healthcare investment banking practice at Morgan Joseph TriArtisan, of widespread healthcare sector M&A efforts. He highlights a consistent drum of mergers among physician practices, hospitals and pharmacy benefits managers as indicative of the needs for companies in the healthcare sector to grow their scale, regardless of the Supreme Court's decision.
On Thursday, the court confirmed the Act's ability to force Americans to carry health insurance and compel insurers to cover people with pre-existing health conditions. The Supreme Court; however, limited the extension of Medicaid, deeming it unconstitutional for the federal government to withhold money from states that don't comply with the Act.
For companies tied to healthcare plans subsidized by Medicaid and other government programs or unsubsidized private market plans for corporations and individuals, Cabrera sees a relatively similar set of challenge to grow their scale and earnings, regardless of the outcome. Companies will be pressured to figure out a way to grow the bottom-line in a health care market that's likely to become far more cost-competitive. "We do not see that the cost trend today is sustainable, therefore to be a winner in the future you need to be bigger and have economies of scale," says Cabrera, who's interview came ahead of the court's ruling.
Recent deals like dialysis specialist
DaVita's
(DVA) - Get DaVita Inc. Report
$4.42 billion acquisition of privately-held physician practice
HealthCare Partners
and health-insurer
Humana's
(HUM) - Get Humana Inc. Report
acquisition of hospital chain
Concentra
in 2010 highlight how healthcare sector players are scaling their operations, regardless of what the Supreme Court leaves intact from the Affordable Care Act, notes Cabrera.
"The trend of consolidation is the rule," Cabrera adds.
According to preliminary
Dealogic
second-quarter M&A data, the healthcare sector represented the third most active market for mergers - only surpassed by the tech and energy sectors.
Earlier in June,
Walgreens
(WAG)
of European pharmacy giant
Alliance Boots
highlighted big changes to the earnings prospects of drug store and pharmacy benefits manager giants - the companies that fill drug prescriptions - through a
.
DaVita's growth in the dialysis market and a similar market share held by German giant
Fresenius Medical Care
(FMS) - Get Fresenius Medical Care AG & Co. KGaA Report
makes additional large-scale consolidation in that piece of the healthcare sector less likely. Fresenius cut one of the largest health care deals of 2011, when it bought
Liberty Dialysis Holdings
for $1.7 billion. Big consolidation efforts in the PBM space are also challenged after
CVS Caremark
(CVS) - Get CVS Health Corporation Report
and
Express Scripts
(ESRX)
cut transformational deals in recent years.
Still, Cabrera of Morgan Joseph notes that companies and individual practices in the unconcentrated primary care market have been scooped by care management chains and local hospitals at a consistent pace, with significant M&A interest remaining.
HCA
(HCA) - Get HCA Healthcare Inc Report
and
Metropolitan Health Networks
( MDF) stand out as some publicly traded hospitals giants that could benefit from additional acquisitions, adds Cabrera. "I think if you are a net acquirer, this is a terrific time to deploy capital to grow cash flow," he says.
The Supreme Court's maintenance of the Affordable Care Act signals that Medicaid will expanded to some extent -- with the biggest
to Medicaid HMO's like
Amerigroup
( AGP),
Molina
(MOH) - Get Molina Healthcare, Inc. Report
and
Centene
(CNC) - Get Centene Corporation Report
. Medicaid HMO shares rallied, with the likes of Molina, Amerigroup and Centene rising at least 7%, in reaction to the court's decision.
Diversified healthcare providers like
Aetna
(AET)
,
Cigna
(CI) - Get Cigna Corporation Report
, like
UnitedHealthcare
(UNH) - Get UnitedHealth Group Incorporated Report
and
Coventry
( CVH) are also impacted.
Some companies thought to be most impacted by 'Obamacare' and the Supreme Court's decision have already scaled into new business lines. Last October,
Cigna
(CI) - Get Cigna Corporation Report
bought
HealthSpring
( HS), a healthcare provider with a big pharmacy unit, in a near doubling of its PBM unit.
In fact, the entrance of health care providers into the pharmacy space helped to push through consolidation in the PBM space, highlighted by Express Scripts acquisition of
Medco Health Solutions
(MHS)
.
"
A number of health insurers have made substantial investments and renewed their efforts to expand their PBM offerings, spurred by the passage of healthcare reform and the creation and implementation of Medicare Part D," said the FTC earlier in 2012.
Those plans include UnitedHealth, Humana, Aetna, and Cigna, according to its published review. Medco sought an acquisition by Express Scripts because it expected to lose contracts to health plans that were bringing prescription programs in-house.
Some estimate that between 16 million to 20 million new Americans would be eligible to enroll in Medicaid through the Affordable Care Act.
For more on investing in drug stores and pharmacy giants see Express Scripts could be
sandbagging synergies
in its mega-deal for Medco Health Solutions.
-- Written by Antoine Gara in New York