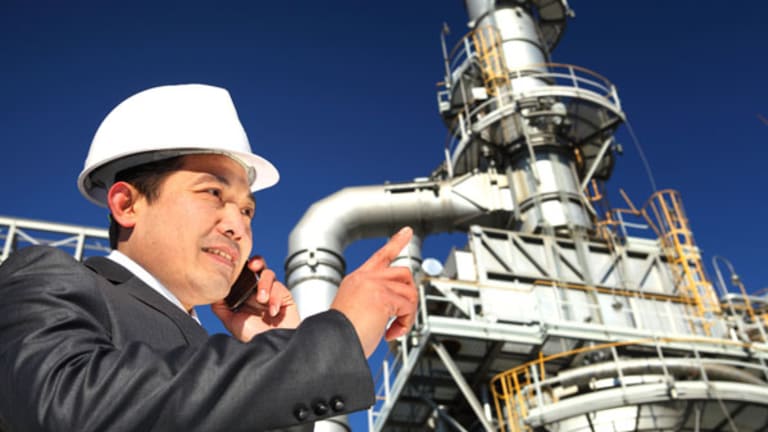 Obama, Unions Work to Bring Back Overseas Jobs
US Airways was among the first companies to bring back jobs from overseas.
US Airways was among the first companies to bring back jobs from overseas.
CHARLOTTE, N.C. (
) -- An effort to bring jobs back from overseas to the U.S. is gaining steam, helped by a receptive president, a growing economy and a labor movement that has seized on it.
In recent months, unions in the auto and airline industries, typically working closely with employers, have brought back or agreed to bring back thousands of jobs from overseas to the U.S. in auto manufacturing, airline call centers and other fields.
In recent months, unions, typically working with employers, have brought back or agreed to bring back thousands of jobs from overseas to the U.S. in auto manufacturing, airline call centers and other fields.
US Airways
(LCC)
has been among the leaders, bringing back 400 reservation agents' jobs from Manila to Winston-Salem, N.C.; Phoenix, Ariz.; and Reno, Nev.; during the past year.
Earlier, in 2006, the carrier brought back 600 reservations jobs from Manila, Mexico City and San Salvador to the U.S. The carrier's reservations work is now done by about 1,900 agents at the three U.S. centers, who start at about $10 an hour and can earn $21 an hour, or about $44,000 annually, after a dozen years. US Airways still handles international calls in Liverpool, England.
The jobs were taken offshore in a cost-savings move during the carrier's 2004 bankruptcy, but a contract agreement with the Communications Workers of America specified that they would be returned. At one time, about 70% of reservations agents worked outside the U.S.
"It's still an uphill effort, especially in the unorganized call center industry," CWA spokeswoman Candace Johnson says. "It shows the benefit of being able to bargain with employers to bring jobs back. That's the way we see jobs coming back, because employers are not doing it on their own."
Still, in some cases, employers have embraced the effort. "Americans prefer to talk to someone in a U.S.-based call center," says Kerry Hester, US Airways' senior vice president for operations planning and support. "We have higher customer satisfaction."
"We worked cooperatively with the CWA and designed state of the art technology processes to help them to excel so we could do the work onshore," Hester said.
In the auto industry, contracts signed last year should create about 20,000 jobs at
Ford
(F) - Get Report
,
GM
(GM) - Get Report
and
Chrysler
, with some coming from overseas.
At Ford, for instance, "As the nation's economy remains stalled and uncertain and its employment rate stagnates, we were able to win an agreement with Ford that will bring auto manufacturing jobs back to the United States from China, Mexico and Japan," UAW president Bob King said in October. Ford will bring primary production of the 2013 Fusion to Flat Rock, Mich.; the Fusion had been built in Mexico.
At GM, the new contract called for creation of 6,400 jobs at U.S. plants, with some work moved to the U.S. from Mexico.
In January, at an "Insourcing American Jobs" forum at the White House, companies that brought back jobs were honored. "I'm calling on those businesses that haven't brought jobs back to take this opportunity to get the American people back to work," President Barack Obama said then. Ford,
Intel
(INTC) - Get Report
,
Masterlock
and US Airways were among the companies representing.
Meanwhile, U.S. Rep. Tim Bishop (D-N.Y.) is sponsoring a bill that would bar corporations that outsource U.S. call center jobs from getting federal grants and loans.
The guests at the White House insourcing forum included Robert Isom, US Airways executive vice president and chief operating officer, who attended with the CWA chief of staff, Ron Collins.
Isom says that because U.S. workers cost more than workers in the Philippines, US Airways developed technology to screen incoming calls to reservations, which totaled about 21 million last year. "Over time, we developed a higher-quality product," he said. "The new technology enables about a third of all calls to be handled by voice mail. For those that are not, it puts more information and more options on the screen in front of the agent handling the call."
Hester said the average customer waits 10 seconds to speak to an agent, although that increases during "irregular operations," then speaks with an agent for about five minutes.
Two other carriers have reservations agents abroad and have decreased or may decrease their numbers.
United
(UAL) - Get Report
has call centers in Chicago; Detroit; Honolulu; Rapid City, S.D.; Manila; and Delhi and Pune, India. The offshore centers opened early in the past decade. United's reservations agents, represented by the International Association of Machinists, are involved in contract talks. "We have proposed having all of the UAL reservations work done within our borders," IAM spokesman Joe Tiberi says.
Additionally,
Delta
(DAL) - Get Report
Delta has reservations centers in nine U.S. cities: Atlanta; Cincinnati; Dallas; Chisholm, Minn.; Minneapolis; Sioux City, Iowa; Salt Lake City; Seattle; and Tampa, Fla. Last summer, Delta began routing North America-originating general sales and promotions calls that were handled by
Mindpearl
in Cape Town back to Delta's U.S.-based call centers. "This transition is part of Delta's reservations sales strategy to reduce offshore partner dependence," Delta spokesman Trebor Banstetter says.
The international outsourcing story is not always a positive one. The CWA is focused on a case in the telecommunications industry, after
T-Mobile
, a unit of the German company
Deutsche Telekom
, which said last week that it will close seven U.S. call centers, where 3,300 workers are employed, by the end of June. The company said it will offer workers jobs at 17 remaining call centers. "Jobs could have been brought back from Asia and Honduras
because it's common knowledge that high road customer service is done by U.S. workers," the CWA says.
-- Written by Ted Reed in Charlotte, N.C.
>To contact the writer of this article, click here:
Ted Reed
>To follow the writer on Twitter, go to
.
Follow
TheStreet
on
and become a fan on