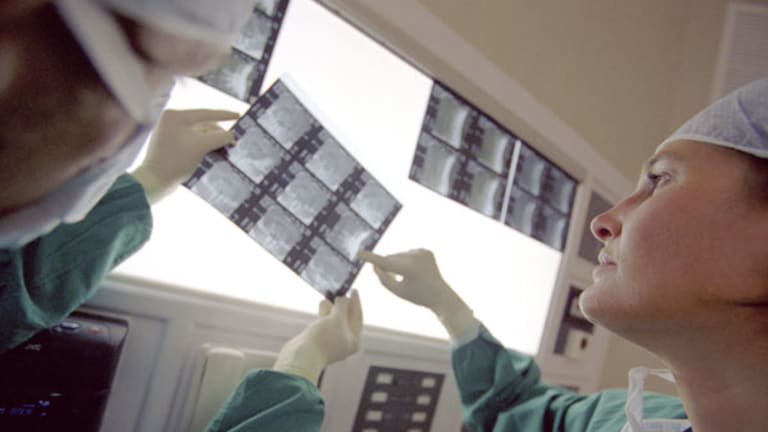 Obama Shies Away From Public Option (Update)
President Barack Obama and his advisers send signals over the weekend that a government-run insurance option is not a prerequisite for administration approval of a health-care reform bill.
(Updated with afternoon stock prices.)
WASHINGTON (
) - -- In a move with the potential to anger as many Americans as it pleases, President Barack Obama and his advisers sent signals this weekend that they're willing to embrace insurance cooperatives over a public, government-run plan.
The administration signaled over the weekend that it is ready to abandon the idea of giving Americans the option of government-run insurance. The shift ostensibly leaves open a chance for compromise with Republicans.
Under a proposal by Sen. Kent Conrad, D-N.D., consumer-owned nonprofit cooperatives would sell insurance in competition with private industry, not unlike the way electric and agriculture co-ops operate, especially in rural states such as his own.
Conrad, chairman of the Senate Budget Committee, appearing on
Fox News Sunday,
called the argument for a government-run public plan little more than a "wasted effort." He added there are enough votes in the Senate for a cooperative plan.
With $3 billion to $4 billion in initial support from the government, the co-ops would operate under a national structure with state affiliates, but independent of the government. They would be required to maintain the type of financial reserves that private companies are required to keep in case of unexpectedly high claims.
On Saturday, Obama appeared to signal a shift toward the co-op option.
"All I'm saying is, though, that the public option, whether we have it or we don't have it, is not the entirety of health care reform," Obama said at a town hall meeting in Grand Junction, Colo. "This is just one sliver of it, one aspect of it."
The following day on CNN's
State of the Union,
Health and Human Services Secretary Kathleen Sebelius said that a government alternative to private health insurance is "not the essential element" of the administration's health care overhaul. The White House would be open to co-ops, she said, a sign that Democrats want a compromise so they can declare a victory.
"I think there will be a competitor to private insurers," Sebelius said. "That's really the essential part, is you don't turn over the whole new marketplace to private insurance companies and trust them to do the right thing."
White House press secretary Robert Gibbs said seemed to lean the same way Sunday on CBS'
Face the Nation
. "What I am saying is the bottom line for this for the president is, what we have to have is choice and competition in the insurance market," Gibbs said.
Among the many companies in various sectors of the economy that would likely be affected by whatever health care reform is ultimately passed, private insurers -- such as
Tenet Healthcare
(THC)
and
Aetna
(AET)
-- would arguably stand to lose the most. In afternoon trading, Tenet ended Monday's trading session up 1.7% at $4.85 while Aetna finished up 4.8% to $29.63.
Copyright 2009 TheStreet.com Inc. All rights reserved. This material may not be published, broadcast, rewritten, or redistributed. AP contributed to this report.