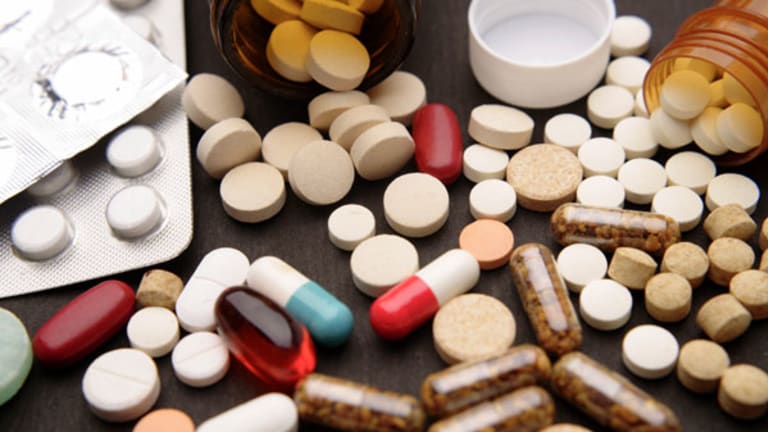 Obama-Proof: Pfizer, Bristol-Myers and Teva
Pfizer, Bristol-Myers and Teva probably would withstand any health care plans proposed by the Obama administration.
Pfizer, Bristol-Myers and Teva probably would withstand any health care plans proposed by the Obama administration.
TSC Ratings provides exclusive stock, ETF and mutual fund ratings and commentary based on award-winning, proprietary tools. Its "safety first" approach to investing aims to reduce risk while seeking solid outperformance on a total return basis.
When President Barack Obama proposed offering health care coverage to all Americans, the industry bristled and investors cringed.
But some drugmakers will gain even if the president's plan erodes profits by lowering prices.
Pfizer
(PFE) - Get Report
,
Bristol-Myers Squibb
(BMY) - Get Report
and
Teva Pharmaceuticals
(TEVA) - Get Report
are three of them. Recommended as "buy" by TheStreet.com Ratings, the companies offer products and possess sound businesses that investors can be confident in.
Pfizer:
Pfizer is an industry leader that has an impressive line-up of well-known pharmaceuticals, such as the cardiovascular drug Lipitor, with revenue of $2.7 billion in the first quarter, and Celebrex, an arthritis medication. With the addition of
Wyeth
(WYE)
, Pfizer will become even bigger and more stable.
Wyeth brings a mix of blockbuster over-the-counter products such as Advil, ChapStick and Centrum, in addition to big-name pharmaceuticals like Enbrel and Effexor, which account for 28% of revenue, helping to diversify Pfizer.
Due to an adjusted beta of 0.73 and a sensible debt-to-equity ratio of 0.14, Pfizer benefits from low volatility and moderate leverage. Explosive gains will be elusive, but stability is a big advantage.
Pfizer's stock has lagged in performance this year, dropping 14%, leading to a price-to-earnings ratio of 7.8, below the industry average of 16.2, suggesting a large undervaluation and a good buying opportunity.
Lastly, Pfizer pays out a robust 4.2% dividend.
Bristol-Myers Squibb:
Bristol-Myers boasts a return on equity of 46%, underpinned by products such as Abilify and Plavix, which combined to represent 38% of last year's revenue. That can also be cause for alarm since the company is vulnerable to decreases in sales when patents run out.
Bristol-Myers is trading at a significant discount. Its P/E ratio is 10.5 versus an average of 16.2 for other pharmaceutical companies. Much of that undervaluation is the result of poor performance this year. Bristol-Myers' stock has fallen 12%, trailing the
S&P 500
by about 15 percentage points.
Underperformance aside, TheStreet.com Ratings' model gives Bristol-Myers a "buy" because of its strong growth potential and solid performance free of significant risks.
Also, a dividend yield of about 6% makes Bristol-Myers a major income generator. As a result, investors sensitive to tax liabilities may want a limited exposure or use a deferred tax account to invest.
Teva Pharmaceuticals:
Teva represents a different take on a pharmaceutical company. As the leading maker of generic drugs, costs associated with research and development are a fraction of those for major drug companies. With the recent acquisition of
Barr Pharmaceuticals
, another generic drug maker, Teva's dominance extends to all corners of the pharmaceutical world.
Most big drug companies dread the day that their patents expire. However, those are effectively the product pipeline for a generic manufacturer. Since most pharmacies will dispense the generic equivalent of a drug unless directed otherwise by a doctor, generic manufacturers have no need to advertise, since they can piggy-back off the major drug maker's campaigns.
Beyond the reduced expenses and built-in market that Teva enjoys, it also boasts sensible debt usage, with a debt-to-equity ratio of 0.51 and a big improvement in net income in the first quarter over the previous year. Much of the gain can be attributed to the Barr acquisition. Even removing the effects of the merger would most likely show an improvement as net income climbed more than 300%.
TheStreet.com Ratings gives Teva an A rating based on our model's expectations for market-beating gains with low risk.
Prior to joining TheStreet.com Ratings, David MacDougall was an analyst at Cambridge Associates, an investment consulting firm, where he worked with private equity and venture capital funds. He graduated cum laude from Northeastern University with a bachelor's degree in finance and is a Level II CFA candidate.