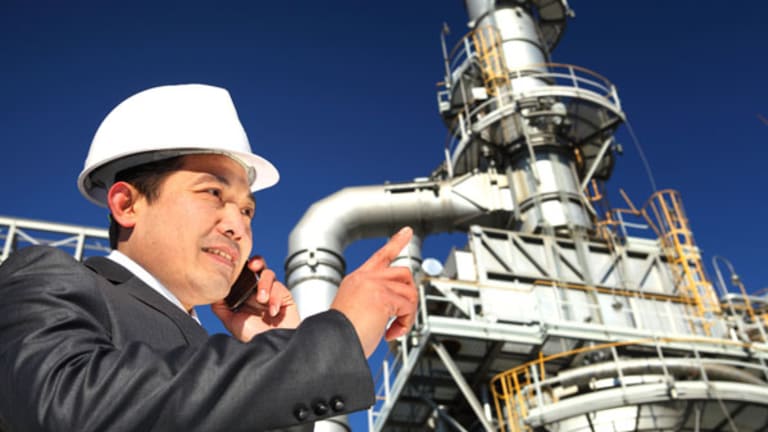 Obama, Like Everyone, Prefers Boeing to Airlines
Obama wants to strengthen the Ex-Im Bank, which backs many Boeing deals but is being sued by the airline industry. Tough luck, airlines.
SEATTLE (
) -- Just to lay everything out,
Boeing
(BA) - Get Boeing Company Report
is an uber-company that plays politics as well as any company possibly can, and the airline industry is weak and unpopular.
This helps to explain why, on Feb. 16, President Barack Obama went to Boeing's widebody jet plant in Everett, Wash., to campaign for re-election, and to announce a plan to strengthen the Export-Import Bank -- just two months after the airline industry sued the bank. It is one more sign that our country, including our president, suffers from anti-airline hysteria.
President Barack Obama speaks Feb. 16 at Boeing's widebody jet plant in Everett, Wash.
The supposed role of the Ex-Im Bank is to finance foreign purchases of U.S. goods for customers who couldn't otherwise afford it. Because Boeing is the largest U.S. exporter, the bank's principal function is to finance purchases of Boeing aircraft. But the buyers, in many cases, are wealthy foreign airlines who use the aircraft to compete against U.S. airlines.
Among the countries whose airlines have been helped by the bank's loans are Canada, Japan, New Zealand, Singapore and the United Arab Emirates - not exactly poor countries with disadvantaged airlines.
In November, Airlines 4 America, an airline trade industry group, sued to prevent bank financing of a Boeing deal with
Air India
. A4A said such loans need to follow legal guidelines that include consideration of the impact on U.S. jobs, in particular airline jobs.
"It's absurdly unfair to U.S. carriers that the U.S. government should be financing our foreign competitors with below-market interest rates," said Ben Hirst, senior vice president and general counsel for
Delta
(DAL) - Get Delta Air Lines, Inc. Report
, in a 2010 interview. "It creates an unlevel playing field for U.S. airlines competing internationally, and it has led to
high capacity levels in international markets that have been encouraged to develop regardless of market conditions."
Does Obama care that airlines are suing the Ex-Im Bank? His companion on the trip to Everett, according to
The Seattle Times
, was Fred Hochberg, the bank's chairman. The chairman of his export advisory council is Boeing CEO Jim McNerney. He is seeking to increase the Ex-Im Bank's funding level to $140 billion from $100 billion.
In Everett, the president also seemed to throw a bone to the airline industry, saying he would back financing for some domestic sales which, according to the newspaper, would include jets sold in competition with Canada-based
Bombardier
, if Canada pursues its intention to offer financing.
Still, it is clear that when it comes to Washington politics, airlines live on the poor side of the tracks. They battle constantly, and often unsuccessfully, to ward off more regulation -- some members of congress now want to legislate how many bags a customer can carry on at no charge! -- and a massive tax burden. "We are taxed as a sin,"
United
(UAL) - Get United Airlines Holdings, Inc. Report
CEO Jeff Smisek has said. "We are not a sin."
Boeing, by contrast, is a political powerhouse. A brigade of legislators, the congressmen and senators from Boeing, offer consistent support, particularly in conflicts with
Airbus
, which is linked to France, which is conceivably less popular than the airlines. In those conflicts, Boeing has the backing of a major labor union, the International Association of Machinists, which represents about 35,000 Boeing workers and brings Democratic support.
Of course, political skills are required in the defense industry, where Boeing got about 46% of its $69 billion in 2011 revenues. Defense industry politics are among the
of all. Defense contractors have thousands of workers, often unionized, in dozens of states. They contribute to hundreds of U.S. legislators. And when they want something, they get it -- except when they compete with each other. Then contracts are split.
Boeing is also smart. It is preparing for a massive production ramp-up, one likely to boost its profits and stock price. So, after enduring IAM strikes in 1995, 2005 and 2008, Boeing moved late last year to eliminate a hazard. In talks that took just six weeks, it reached a deal on a five-year contract and a new commitment to labor peace.
Amazingly, this was accomplished at a time some conservative legislators were hysterically threatening to strip the National Labor Relations Board of the ability to operate after the board's counsel found that Boeing violated labor law by establishing some 787 production in South Carolina. Congress wanted drama; Boeing wanted a solution. Traditional labor negotiations provided a clear path.
In one final example of its ability to maintain needed alliances, or at least to co-opt potential adversaries, Boeing works closely with airlines themselves. After all, they are customers. Boeing is one of nine members of the creditors committee for bankrupt
AMR
(AMR)
. As for United, the alliances are numerous. Larry Kellner, former CEO of
Continental
, whose former management now runs United, is on the Boeing board. Boeing and United are based in Chicago, home of Obama.
Interestingly it is Delta, alone among the three major airlines, that has spoken out regularly against the excesses of the Ex-Im bank. Even for the world's second-largest airline, this is a lonely battle in which it is severely outgunned.
-- Written by Ted Reed in Charlotte, N.C.
>To contact the writer of this article, click here:
Ted Reed
>To follow the writer on Twitter, go to
.