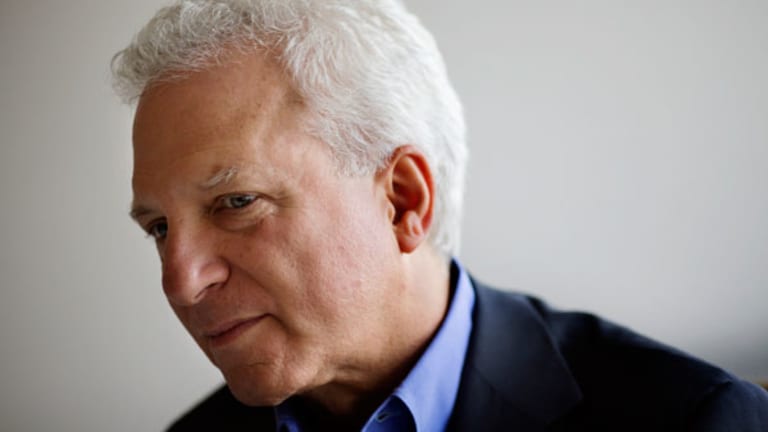 Obama AIG Fix-It Man Bets on Fannie and Freddie Turnaround
Jim Millstein, one of the nation's top restructuring specialists, is putting his personal money behind his GSE privatization idea.
NEW YORK (
) -- Jim Millstein, the restructuring guru who oversaw the Treasury's former 79.9% stake in
AIG
(AIG)
, owns preferred shares of
Fannie Mae
(FNMA)
and
Freddie Mac
(FMCC)
on the view that the two government-sponsored enterprises should be recapitalized with private sector money -- a plan Millstein himself has been promoting.
Indeed Millstein and Phillip Swagel, a former Treasury official during the George W. Bush administration, have been the "leading voices," arguing for privatization of the GSEs, according to a March 20 report from CRT Capital Group's Michael Kim.
Millstein, who left the Treasury in February 2011, says he has spent the past year and a half formulating and promoting his plan to fix the U.S. housing market, which now relies almost entirely on government support.
"Any time anyone has asked me -- inside the Treasury Department on the couple of occasions they've deigned to talk to me and on the Hill -- I've always told people
about the investment," Millstein said during a series of phone interviews with
TheStreet
this week. The former
Lazard
(LAZ)
and Cleary Gottlieb restructuring specialist also hopes the firm he founded after leaving the Treasury, Millstein & Co., can land an assignment helping to implement the turnaround plan he has laid out in a 63-page white paper and a condensed 18-page version.
Also see: Wall Street Journal Misses Fannie Preferred Point >>
Millstein says he told Swagel, a professor at the University of Maryland who testified before the Senate Banking Committee in February during a hearing on housing finance, about his investment when they co-authored an
Oct. 12 opinion essay in The Washington Post
arguing the Treasury should "restructure, recapitalize and privatize Fannie and Freddie's mortgage-guarantee businesses."
Millstein's investment is not disclosed in the essay, however, and Swagel says he was not aware of Millstein's investment at the time of publication.
Also see: Politics, Not Math, Drive Fannie Mae Earnings >>
"My experience is that Jim is a really honest, straightforward guy. He and I could have different recollections on what he told me and what I knew, but that doesn't take away from my view of him," Swagel says. Swagel, who has
several
explaining his thinking on housing reform, says he has "absolutely no investments in anything remotely related" to the issues on which he has been advocating.
Millstein declines to say how much he has invested in Fannie and Freddie preferred shares, though he says the amount is something he "can afford to lose," adding it is "a total speculative bet." Millstein adds he has more invested in a house he built and hopes to sell. He believes that sale, like the rest of the housing market, would be adversely affected if government officials followed through with their apparent intention to wind down Fannie and Freddie.
Also see: Barney Frank Addresses Fannie and Freddie Shareholders >>
"
Should I have disclosed that I'm a builder and house owner who would be benefited from stable mortgage credit as well as having speculated in the preferred?" he asks.
"If you want people like me who are experts to participate in the policy debate and publish and add their views to the news, and you said to them 'You have to disclose
everything
-- your personal investments, your personal business, your existing business that would be affected by your views,' the disclosure would be longer than the piece.'"
The Millstein & Co. white papers, which Millstein began circulating before the
Washington Post
essay, note that the firm "may purchase and sell securities, derivatives and other instruments issued by one or more entities which are the subject of this report and may currently or in the future provide advisory, investment banking and other securities related services to such entities and to investors in the securities issued by such entities."
Politico Pro
first reported the Millstein preferred share investment April 2.
Millstein is not the only person who thinks GSE preferred shares are worth a gamble. Hedge funds including Akanthos Capital Management and Bronte Capital have hung onto investments in GSE preferred shares
.
Hayman Capital's Kyle Bass was also very bullish on Fannie and Freddie preferred shares, but then
backed out in 2012 after he decided both Democrats and Republicans "wanted them dead."
.
The Freddie Mac "Z" shares (FMCKJ), one of the more widely traded preferred issues, have bounced around dramatically over the past two years after losing 99% of their value when the Treasury put the GSEs into conservatorship in 2008. The "Z" shares have more than doubled in the past month and more than tripled over the past year as the GSES have shown
. They are still worth less than 20% of their original value, however, and Keefe, Bruyette and Woods calls them a "
."
Whether a big payoff in GSE preferred shares depends upon policymakers is a matter of debate. Millstein actually believes a liquidation of the GSEs might be the surest way for his preferred stake to pay off.
That's because Millstein says the statute under which Fannie and Freddie would be liquidated incorporates an "absolute priority rule," like the U.S. bankruptcy code.
"If there's an excess of cash in the liquidation and all creditors have been paid and the government's been paid then more likely than not it goes to the junior preferred," Millstein says. (The "junior" preferred shares are those in which Millstein and hedge funds are invested, which in a traditional bankruptcy would be next in the line of creditors after the government's senior preferred shares.)
On the other hand, Millstein says, "If my plan were enacted, I don't know, frankly, how it would play out because my plan is based on the government has to get paid first in the AIG-like restructuring and so if it's an AIG-like privatization, whoever's sitting in my chair at Treasury has to be confident that he's got enough of the common stock to pay the outstanding amount of the senior preferred back in full. So when I was sitting in that seat I figured if I had 92% of the common, the Treasury Dept. and the taxpayers would be protected. I don't know what this guy's going to think and I don't know what market conditions are going to look like when that privatization is started in 2015 or '16 and who knows what the junior preferred would be entitled to."
Whatever policymakers ultimately decide, at least one other investor, Bronte Capital's John Hempton, believes the Fifth Amendment prohibition of the taking of private property for public use without just compensation is what will protect his investment in Fannie and Freddie preferred shares.
Specifically, it was the
Aug. 17 amendment to the 2012 Treasury's GSE preferred stock purchase agreements
that Hempton believes will ensure that he gets paid.
"I do not like the original
2008 takeover -- but I do not think it constituted regulatory takings. Indeed they were very careful," Hempton wrote
TheStreet
via email. "Last year they were sloppy," he added. (To see what former House Financial Services Committee Chairman Barney Frank, who authorized the 2008 government GSE takeover, thinks about Fannie and Freddie shareholders
.)
Millstein doesn't agree with Hempton on the Fifth Amendment issue, though the potential professional boost the turnaround adviser could get from being assigned to take Fannie and Freddie private looks to be potentially far greater than whatever he is likely to earn on the preferred share investment.
"If somebody actually decided to implement our plan and Congress passed it, this is -- like AIG -- one of the largest restructurings in the history of the world that will need to be implemented: to privatize these companies and recapitalize them. And it wouldn't hurt Millstein & Co. to have been associated with it."
-- Written by Dan Freed in New York
.
Disclosure: TheStreet's editorial policy prohibits staff editors, reporters and analysts from holding positions in any individual stocks.