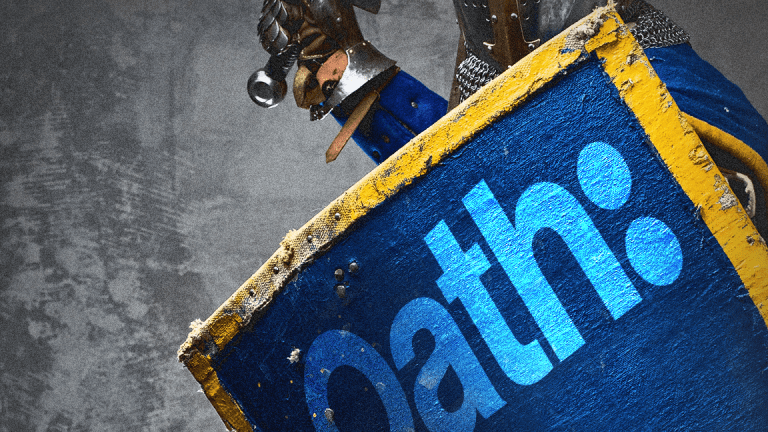 Verizon's Oath Sales Chief: Here's How We Plan to Battle Google and Facebook
Oath's sales chief suggests investing in mobile content will be a 2018 priority, and leaves the door open to fresh acquisitions.
Six months after Verizon  (VZ) - Get Reportclosed its $4.5 billion acquisition of Yahoo's core business and paired it with AOL to create a subsidiary called Oath, Oath's sales chief suggests merging AOL and Yahoo's ad tech platforms and creating quality mobile content experiences are among its 2018 priorities.
He also suggests Oath is willing to make new content acquisitions, should the right deal present itself.
While at CES, The Deal had a chance to talk with John DeVine, Oath's Chief Revenue Officer, about its Yahoo integration efforts and how Oath is looking to battle Alphabet/Google (GOOGL) - Get Report and Facebook (FB) - Get Report , who collectively tower over the online ad industry and have been taking share like clockwork. DeVine suggested Oath's very name (the subject of occasional mockery) was chosen with the competitive landscape in mind: The name is meant to signal trustworthiness to ad partners and clients at a time when Google and Facebook, who can be selective about what data they share with advertisers, face some questions about their trustworthiness.
On the integration of AOL and Yahoo's ad tech platforms, DeVine indicated the BrightRoll platform -- it was acquired by Yahoo for $640 million in 2014, and (though originally focused on video) handles a variety of ads -- would play a big role. In the realm of demand-side platforms (DSPs) for advertisers, Oath plans to fully integrate BrightRoll's DSP with the AOL One DSP this year, with BrightRoll serving as "the more foundational" code base of the two.
DeVine added Oath wants to guarantee that any feature available one of the aforementioned DSPs remains available through the integrated solution. He also talked up Yahoo's mobile-centric Gemini ad-buying platform, citing its inventory and creative ad formats, and said Oath either wants to integrate Gemini with its DSP or at least provide a common user interface.
Regarding Oath's supply-side platforms (SSPs) for publishers, DeVine said Oath wants to narrow its offerings from six platforms to two. Namely, BrightRoll's display platform and BrightRoll's video platform. On more than one occasion, he used the phrase "simple and strong" to describe how Oath envisions its ad tech portfolio.
Not surprisingly, DeVine was enthusiastic about the ways in which Oath can use Verizon's customer data to improve its ad targeting. Particularly since Verizon's data is deterministic (known to be true with 100% accuracy) rather than probabilistic (believed to be true, at one level of confidence or another) "[For] every Verizon user, we know their handset, we we know their identification...we can add them to our targeting," he said.
And with regards to delivering targeted ads for local businesses on phones, DeVine noted Oath can leverage not only Verizon's data, but also the data that Yahoo's Flurry mobile analytics can deliver about app usage, demographics and interests. Flurry claims to track over one million apps.
Also mentioned: Oath is working with a consortium featuring (in addition to Verizon) two other top-four U.S. carriers to leverage their data for targeting, among other things. DeVine declined to name who the carriers are.
Notably, given the top-line pressures facing online media firms and the job cuts that were announced around the time of the Yahoo deal's closing, DeVine insisted Oath's content strategy isn't centered around further cutting costs, but around delivering more compelling experiences -- particularly in the fields of mobile and video content. "I wouldn't say 'efficiency' has been our driver for content spend," he said. "AOL and Yahoo over the last few years have gotten very efficient around content and content-generation."
Verizon's recent 5-year mobile streaming deal with the NFL (it reportedly cost over $1.5 billion) was cited as an example of the company's willingness to invest in content. The deal covers streaming by both Verizon and third-party subs on mobile apps, though not on PCs or connected TVs.
Regarding the online ad industry's shift towards programmatic (automated) ad-buying campaigns, DeVine admitted (echoing Google, Snap  (SNAP) - Get Report and others) that programmatic sales have weighed on ad prices. At the same time, he argued that some advertisers are rethinking their programmatic spend after seeing the results. "When they step back, they realize they're not having the impact, they're not getting their message through, in some cases they're losing control of their brand. In some cases they're running into ad fraud and untrusted content," he said.
And Oath, DeVine insisted, is well-positioned to cater to such advertisers -- both due to the quality of the content and data it can provide for programmatic campaigns, and its ability to handle more traditional campaigns. "Programmatic or otherwise, we offer the opportunity to deliver branded content and other good experiences."
When The Deal asked DeVine if Oath is open to making fresh acquisitions, he didn't hesitate to answer in the positive. But -- while qualifying his remarks by saying anything is possible -- he also suggested a content acquisition is more likely than an ad tech acquisition.
"We already have a lot of pieces and parts" for ad tech, DeVine noted. Whereas on the content side, additional deals could help Oath, which says it currently reaches over one billion consumers, hit a 2020 goal of reaching two billion.
Editor's note: This article was originally published by The Deal, a sister publication of TheStreet that offers sophisticated insight and analysis on all types of deals, from inception to integration. Click here for a free trial.
Jim Cramer and the AAP team hold positions in Alphabet and Facebook for their Action Alerts PLUS Charitable Trust Portfolio. Want to be alerted before Cramer buys or sells GOOGL or FB? Learn more now.
More of What's Trending on TheStreet: