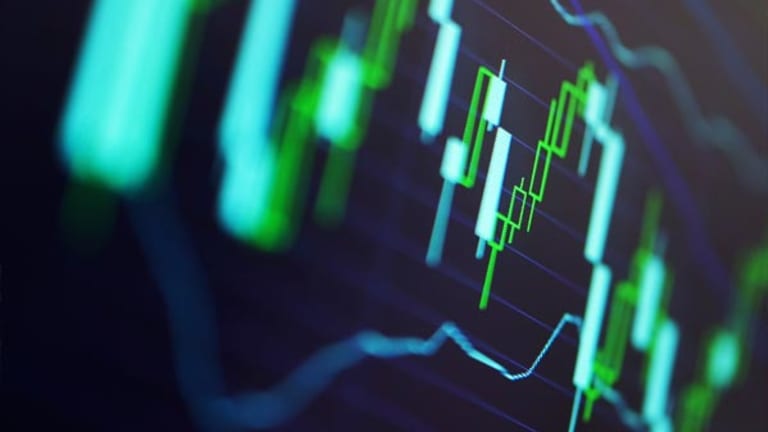 NYSE Group Is the Tops
It looks like it's forming a top.
This column was originally published on RealMoney on Dec. 26 at 11:17 a.m. EST. It's being republished as a bonus for TheStreet.com readers. For more information about subscribing to RealMoney, please click here.
I hope everyone had a happy and safe holiday. I spent most of Christmas Eve setting up a Nintendo Wii game to surprise my little niece and nephew. After I got the game set up, I decided to play it for a while -- just to catch any glitches and make sure that Santa didn't get a bad rap for delivering a bad game. Two hours later, I concluded that the game was operating properly and that it was OK for them to find the Wii console among all of Santa's toys.
Over the past couple of decades, I have lost touch with the video-game industry -- maybe I got too busy, or perhaps I just grew up. Ever since the days of Pong, Asteroids and Pac-Man, I have completely ignored the advances made in this industry. That is, until I started playing with Wii. Once you start playing, it's difficult to put it down. Frankly, it's addicting. How do you know whether you're addicted or not? The most common symptom is endless repetition of the phrase "OK, just one more time..."
If you are a video-game junkie, have you ever noticed the parallel between video games and trading? It's a skill game that appears deceptively easy when you see others do it but is actually quite difficult to get good at. As with video games, the active trader often catches himself following a trade with the same "Just one more time" phrase I spoke of above. All the charts, quote boxes and Level II screens can make the game seem entertaining. But the biggest difference between trading and gaming is simple -- after you've bought the game, you can play it as many times as you want, and it only costs you time out of your day. But if you are using trading as a form of entertainment, saying "OK, just one more time" costs you more than your time -- it costs you money.
Don't allow trading to morph into some form of entertainment. Remember that it's a business with the sole objective of making money.
Let's look at some reader requests.
NYSE Group
(NYX)
has doubled in price since the August low but has been pulling back for the past month. It's difficult to tell whether NYX is forming a top or simply consolidating. However, after the run it's had, I think you've got to err in favor of a top. The support line at $95 is pretty clear, and I'd certainly sell if that level fails to hold.
Altria
(MO)
has been running up along the 20-day moving average for the last couple of months. At first glance, you might want to keep a stop just below the 20-day MA. But notice how long the
Price-by-Volume is at the $82-$83 level. That much trading activity is bound to generate significant financial and emotional commitment. So any pullback to that level will probably be met with some motivated buying. To respect that latent buying interest, I'd keep a stop below $82 to avoid being prematurely stopped out.
This weekly chart of
Caterpillar
(CAT)
shows a stock that has been on the decline for much of 2006 -- but only after an impressive run-up during the first quarter of the year. I've drawn the current support and resistance levels that define a series of lower highs and lower lows. Until that pattern is broken, I wouldn't want to own this stock.
I covered
Grupo Simec
(SIM)
just a short while back, but a couple of readers have asked for my take on the action over the past few days. Nothing has really changed -- the stock has broken down below the 50-day moving average on relatively heavy volume. After a very brief -- and weak -- rally, the stock is once again under selling pressure. If you are still holding this former superstar, I don't think it's too late to sell.
A surprising number of readers have asked for my take on
Zoltek
(ZOLT)
. This daily chart shows a stock that has really been all over the place. The average trading volume is less than a million shares, but I think that level has been skewed upward by the 4.5 million-share day we had a couple of weeks ago. Simply put, the stock is pretty illiquid. When a relatively thinly traded stock starts attracting attention, the price action is often very volatile and choppy. That's what we have here. I think there are easier stocks to own than ZOLT, and I respect the prevailing trend, which is lower. With both the 50- and 20-day moving averages on the decline, any trade to the long side is, at best, a bottom-fishing trade. If that's your game, then try keeping a very tight stop just below $18 to protect your trading capital.
Be careful out there.
At the time of publication, Fitzpatrick held no positions in the stocks mentioned, though positions may change at any time.
Fitzpatrick is a freelance writer and trading consultant who trades for his own account in Encinitas, Calif., and contributes to
. He is a former co-manager of a hedge fund and teaches seminars on technical analysis, options trading and asset-protection strategies for traders and business owners. Fitzpatrick graduated from the McGeorge School of Law and was a fellow at the Pacific Legal Foundation, a nonprofit public interest firm specializing in constitutional law. He also practiced law in the private sector before pursuing trading as a full-time career. Under no circumstances does the information in this column represent a recommendation to buy or sell stocks. While Fitzpatrick cannot provide investment advice or recommendations, he appreciates your feedback;
to send him an email.