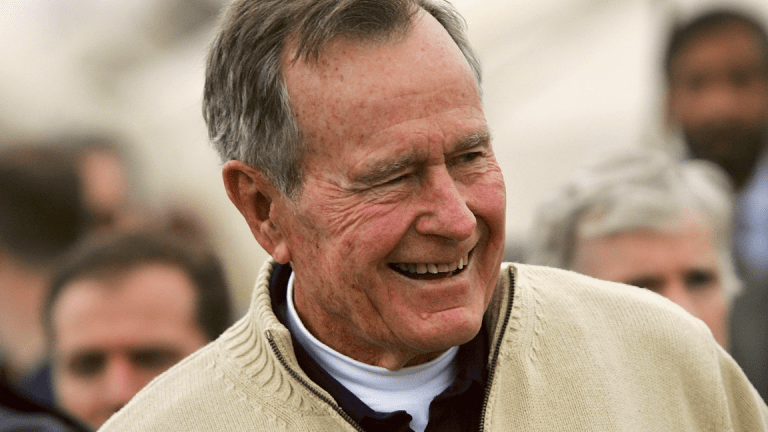 NYSE and Nasdaq to Close on Wednesday to Honor Late President George H.W. Bush
America's 41st president died Friday at 94.
America's 41st president died Friday at 94.
The New York Stock Exchange and the Nasdaq Stock Market will remain closed Wednesday to honor former President George H.W. Bush, who died Friday at 94.
"We remember President Bush admiringly as a veteran who fought totalitarianism, a statesman who advocated for freedom, a leader who served his country, and an unabashedly dedicated family man," NYSE Group President Stacey Cunningham said in announcing her exchange's closure. "He will be remembered for his decades of service to the nation and the world, and it is appropriate that the New York Stock Exchange closes on Wednesday, the National Day of Mourning, to honor President Bush's enduring legacy."
The Nasdaq similarly announced plans to "observe the passing of President George H.W. Bush by closing all Nasdaq U.S. equities and options markets." Both markets also honored the former president with a moment of silence before trading began on Monday, while the NYSE plans to fly the American flag in front of its building at half-staff.
President Donald Trump has declared Wednesday as a "National Day of Mourning" to honor Bush. The elder statesman served in the White House from 1989 to 1993 following along history in politics and government that included eight years as late President Ronald Reagan's vice president. Prior to that, Bush was as a Texas congressman, U.S. ambassador to the United Nations and director of the Central Intelligence Agency.
Bush also earlier served as Republican National Committee chairman and as America's unofficial ambassador to China at the time when Washington had no formal relations. Additionally, the 94-year-old was a World War II hero pilot, enlisting on his 18th birthday and surviving a shoot-down over the Pacific Ocean. Bush was also known as the father of former President George W. Bush, who following him to the White House for eight years beginning in 2001.
The NYSE and Nasdaq rarely close for non-holidays. The exchanges last shut down unexpectedly on Oct. 29-30, 2012, when Super Storm Sandy flooded Lower Manhattan.
However, trading typically halts for one day shortly after any U.S. president's death. The last such closure occurred on Jan. 2, 2007, when the exchanges shuttered to honor former President Gerald Ford, who had passed away a few days earlier.
(This item has been updated.)
Employees of TheStreet are restricted from trading individual securities.