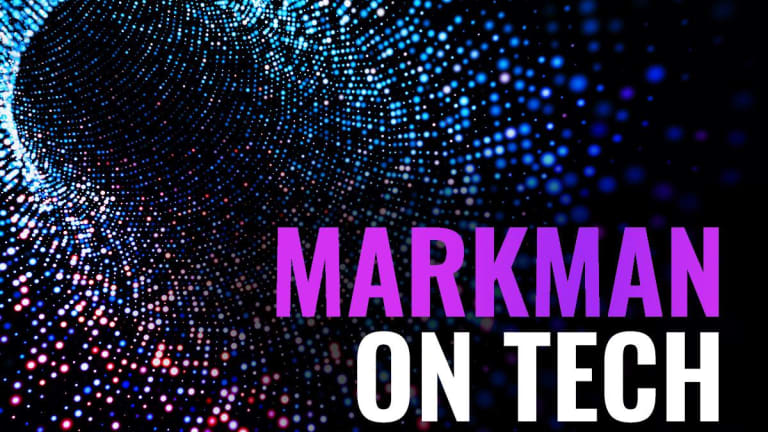 Nvidia Is Worth Buying Again After Its Stunning Acquisition of Mellanox
The chipmaker and AI pioneer has bought a network equipment maker that will take data centers to the next level of high-speed intelligence.
Jensen Huang has a penchant for big ideas. He transformed a sleepy computer graphics processor company into an artificial intelligence leader. Now he wants to remake data centers.
Nvidia (NVDA) - Get NVIDIA Corporation Reportannounced Monday that the company will acquire Mellanox (MLNX) - Get Mellanox Technologies, Ltd. Report for $6.9 billion. The Israeli company makes interconnects for the high performance computing market.
It's a big bet on AI, as data centers are the future of computing.
It's not the first time Huang bet everything on a really big idea. He began betting on AI way back in 2006. Today, most investors take for granted AI is transformative. That was not the case more than a decade ago. Nvidia was a smallish maker of graphic processor units for video game players.
Huang's vision -- and chutzpah -- put the company at the forefront of a computing movement. He recognized that GPUs excelled at processing multiple small calculations in parallel. The development of CUDA, an open programming platform, allowed software developers to harness the power of GPUs to perform general processing.
Now Huang wants to do the same for data centers.
Mellanox builds intelligent, end-to-end connectivity products for servers, storage and network infrastructure. Its adapters, switches, cables, processors and software hyper-converge networks, increasing throughput and decreasing latency.
Its gear is considered the gold standard, leading to a loyal following among telecom, financial services and enterprise data center clientele. A Nov. 2018 press release noted Mellanox interconnect solutions were in use at 53% of the top 500 super computers, representing growth of 38% year over year.
These cutting edge products, and the enormous growth of cloud computing, fostered extraordinary growth. Fiscal 2018 sales surged 26% to $1 billion. Profits jumped to $134.3 million, an increase of 791%.
A merged Nvidia and Mellanox would blur the line between computing and data centers. It would combine the best accelerated computing company with the leading high performance interconnect business in the world.
Huang toldCNBC that he envisions server farms transformed into an intelligent network: One giant compute engine, infused with AI.
The two companies have plenty of experience working together. They collaborated in 2015 to help build the world's two fastest computers, Sierra and Summit, operated by the U.S. Department of Energy. And Eyal Waldman, Mellanox's highly regarded founder, will remain after the merger.
The depth of talent, synergies, and the scale of the new business is not being lost on investors. Despite reports of a bidding war pushing the buyout price to $7 billion, Nvidia shares surged to $161.14 on Monday, the day the deal was announced, adding $6.3 billion in market capitalization. It has since risen even further to around $169 per share as of Wednesday afternoon.
Nvidia shares had been in a funk since reaching $290 last October. At 27.4x forward earnings the stock is not cheap, but Huang claims the Mellanox transaction will be immediately accretive to earnings. And there is also the strong likelihood of demand for its open architecture, so sales of AI supercharged data centers likely will be brisk.
Together, the firms have relationships with every major cloud computing firm, and every leading maker of computers.
Bottom line: It's time to buy back into the Nvidia story if you stopped out last year amid the fearsome slide. Despite its jump on the merger news, shares are still 40% below their all-time high reached last October. I suspect a march back toward that high lies ahead.
To learn more about Jon Markman's recommendations at the crossroads of culture and technology, check out his daily investment newsletter Strategic Advantage. To learn about Markman's practical research in the short-term timing of market indexes and commodities, check out his daily newsletter Invariant Futures.
How Much Money Will I Need to Retire?
Want to learn about retirement planning from some of the nation's top experts? Join TheStreet's Robert "Mr. Retirement" Powell live in New York on April 6 for our Retirement Strategies Symposium. For a limited time, tickets are available for $99 for this full-day event. Check out the agenda, learn about the speakers and sign up here.
Jon Markman owns shares of Nvidia.