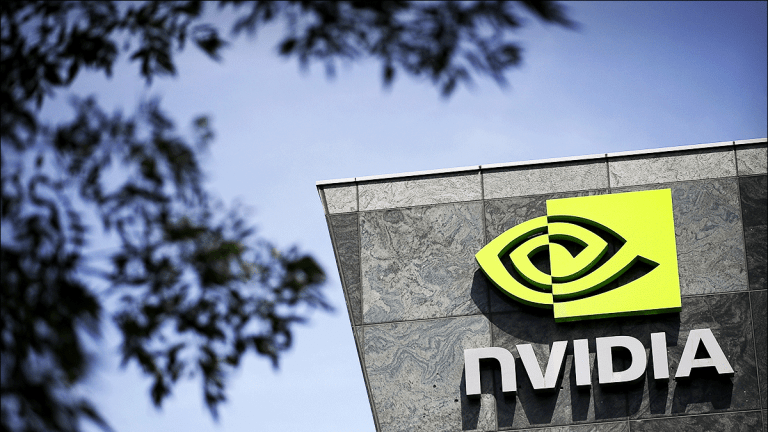 Nvidia: Wait and See What Happens Before Buying
This name will rise again, but first we need to see progress made in inventory reduction, so wait a little longer before jumping in.
This is going to be a case of do as I say, not as I do. Before we proceed, understand that I remain long Nvidia (NVDA) - Get Report shares and am constantly managing short positions in both call options as well as put options. One can always manage oneself out of a jam, at least in high profile names that come loaded with a liquid, volatile options market in tow.
But flipping options for net-basis-reducing profit on a daily basis is not how one would choose to spend their time, all things being equal. More importantly, the name ran with the market on Wednesday, up 4.7%, and is down with the futures this morning (-2.6%).
There might be a few retail traders reading this that are biding their time, waiting for a chance to get in on this name. If not already heavily engaged, I would wait a little longer. In my humble opinion, this name will rise again, but first we need to see progress made in inventory reduction. This gaming/cryptocurrency overhang likely persists, and when the firm goes to the tape with fiscal Q4 2019 data in mid-February, revenue will almost certainly print in contraction on both a year over year as well as a sequential basis. The data center and artificial intelligence are going to have to drive the firm while this overhang is worked through, maybe with some help from automotive (literally).
The primary catalyst for buyers would be the share repurchase program. Going back to November's earnings' debacle, the firm authorized the addition of $7 billion to the program through the end of 2022. Is that enough for you? Take a look at the chart.
Even in a state of near free fall, NVDA continues to post lower highs and lower lows. The eyes are quickly drawn to the dramatic break of the Fib level at 169 that then became resistance. Even with Wednesday's short covering, both Money Flow and Relative Strength remain at awful levels. The daily Moving Average Convergence Divergence does not present much better, and appears to be ready to let the stock try the low to mid $120s again.
This stock survived a series of tests from the upside in early 2017. Those prices? They were in the $90s. Does the stock need to trade that low? Honestly, I am not sure, but if this $120-ish spot does break, the possibility cannot be ignored.
(An earlier version of this column appeared at 8.03 a.m. ET on Real Money, our premium site for active traders. Click here to get great columns like this from Stephen "Sarge" Guilfoyle, Jim Cramer and other experts throughout the market day.)
At the time of publication, Stephen Guilfoyle was long NVDA equity, short NVDA calls, short NVDA puts.