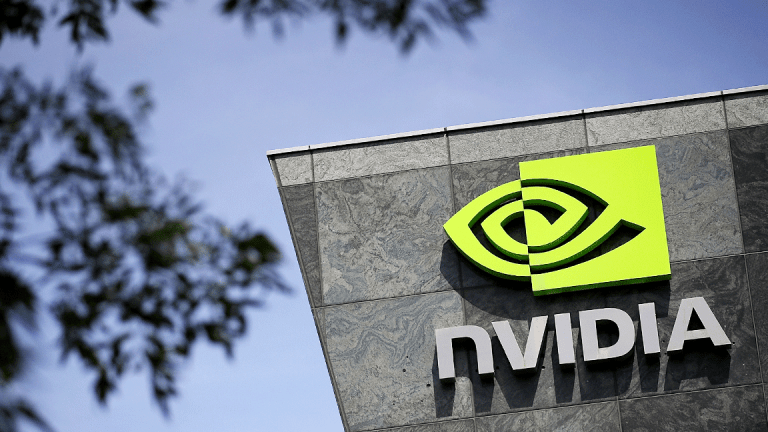 Nvidia Tumbles on Soft Guidance: 5 Key Takeaways
The GPU maker missed quarterly estimates and issued a light January quarter sales outlook. It puts much of the blame on an inventory overhang caused by a collapse in demand from cryptocurrency miners.
The GPU maker missed quarterly estimates and issued a light January quarter sales outlook. It puts much of the blame on an inventory overhang caused by a collapse in demand from cryptocurrency miners.
A major inventory overhang for mid-range gaming GPUs has led Nvidia (NVDA) - Get Report to forecast its sales growth will temporarily turn negative.
On Thursday afternoon, the GPU giant reported October quarter (fiscal third quarter) revenue of $3.18 billion (up 21% annually) and non-GAAP EPS of $1.84, missing consensus analyst estimates of $3.24 billion and $1.93. GAAP EPS, benefiting from a $138 million one-time tax benefit, was $1.97, above a $1.71 consensus.
Importantly, Nvidia also guided for January quarter revenue of $2.7 billion, plus or minus 2%. That's well below a $3.4 billion consensus and implies a 7% annual revenue drop at the midpoint.
Nvidia's shares, which had already fallen sharply in October, fell 16.8% in after-hours trading to $168.45, leaving them at levels last seen in the summer of 2017. GPU archrival AMD (AMD) - Get Report fell 5.1%, and Intel (INTC) - Get Report fell 0.8%.
Here are some takeaways from Nvidia's earnings report and call.
1. Nvidia Expects Very Low Mid-Range Gaming GPU Shipments This Quarter
Three months ago, Nvidia reported a major drop-off in demand for GPUs that were specifically meant for cryptocurrency miners. Now, echoing remarks that AMD made in October about its near-term GPU sales, Nvidia says shipments of its mid-range, Pascal-architecture, gaming GPUs have been badly hurt by an inventory overhang, as mining-related demand for the products collapsed and gamer demand didn't grow fast enough to pick up the slack as graphics card prices remained elevated.
Nvidia, whose total Gaming segment revenue of $1.76 billion (up 13%) fell short of a $1.89 billion consensus, thinks this problem will take "one to two quarters" to correct. On the call, CEO Jensen Huang estimated that between Nvidia and "the other brand" (a reference to AMD), there's over 12 weeks of mid-range channel inventory to burn through, and that his company has decided not to sell any more of its GeForce GTX 1060 GPU ($249 graphics card MSRP) this quarter.
Huang did, however, add that he's "hopeful" gamer demand will improve this holiday season now that mid-range prices have stabilized, paving the way for Nvidia's shipments to rebound once channel inventory is burned off. "I guess when pricing is volatile in the channel, it probably freezes some people waiting for prices to stabilize," he said. "But now that it's at the right levels, our expectation is that the market will return to normal."
2. Lower Console Processor Demand Is Also Weighing
CFO Colette Kress says Nvidia expects "minimal sales" of its Tegra system-on-chips (SoCs) from the game console market this quarter due to seasonality. As it is, lower console market demand led Nvidia's total Tegra revenue, which also covers chips sold for infotainment systems and other hardware, to drop 3% annually in the October quarter to $407 million.
The lion's share of Nvidia's console-related sales are believed to stem from Nintendo's Switch console. With the Switch having launched in March 2017, it isn't surprising to see signs that demand for the console is starting to slow.
3. Nvidia Says Demand for Turing and Notebook Gaming GPUs Is Strong
While sales of its mid-range desktop gaming GPUs have tumbled, Nvidia asserts the recently-launched high-end GPUs based on its new Turing architecture are doing well.
"The ramp is going great," said Huang, while noting that Nvidia's top-of-the-line RTX 2080 Ti GPU is largely sold out at retailers. He also pointed out -- amid concerns that a current dearth of games that support Turing's real-time ray tracing abilities could impact near-term sales -- that Battlefield Vwas recently updated to support ray-tracing, and that many other games will do so soon.
Separately, Huang and Kress both indicated sales of Pascal notebook gaming GPUs, which aren't affected by the crypto overhang and have benefited from the adoption of Max-Q platform for creating thin-and-light gaming notebooks, remain strong. Notebook gaming GPU sales to China are said to have risen 50%.
4. Datacenter Sales Missed Estimates, But Still Grew Rapidly
Nvidia's Datacenter segment revenue totaled $792 million, falling short of an $821 million consensus. However, sales still rose 58% annually -- Nvidia reported strong demand for its flagship Tesla V100 server GPU -- it's used to train deep learning algorithms, as well as for other demanding high-performance computing (HPC) workloads and its V100-powered DGX servers.
Huang also sounded upbeat on the call about the Datacenter segment's expected performance in the coming quarters. He reiterated his long-held assertion that the end of Moore's Law will continue fueling greater demand for GPU acceleration within servers, and argued a slew of recently-launched offerings -- Nvidia's RAPIDS software platform for GPU-powered analytics and machine learning work, its Quadro RTX Server for photorealistic content rendering and its Turing T4 GPU for inference (the running of trained AI models against real-world content) -- significantly increase its Datacenter opportunity.
5. Nvidia Plans to Start Buying Back More Stock
Back in September, Kress suggested that Nvidia could step up its capital returns, which at the time were forecast to total a relatively modest $1.25 billion in fiscal 2019 (ends in Jan. 2019). With Nvidia's shares now well below their early-October peak, it looks like the company is now eager to do just that.
Nvidia disclosed it has added $7 billion to its stock buyback authorization, raising its total available funds to $7.94 billion. The company also said to it plans to "return an additional $3 billion to shareholders by the end of fiscal 2020," and could begin doing so this quarter.
Separately, Nvidia hiked its quarterly dividend by a penny to $0.16 per share. That still spells a modest 0.4% forward yield.
TheStreet's Eric Jhonsa previously covered Nvidia's earnings report and call through a live blog.