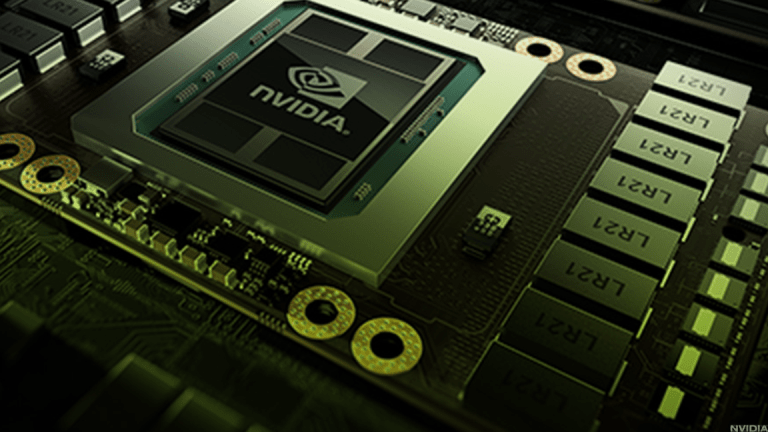 Was Nvidia's Stock Selloff a Huge Overreaction on Self-Driving Car Suspension?
On Tuesday, news that Nvidia would temporarily suspend its self-driving car program trumped all of the good things CEO Jensen Huang announced during a keynote presentation at the company's GTC Conference.
On Tuesday, news that Nvidia would temporarily suspend its self-driving car program trumped all of the good things CEO Jensen Huang announced during a keynote presentation at the company's GTC Conference.
The timing couldn't have been worse.
Around midday trading Tuesday, investors watched shares of Nvidia Corporation (NVDA) - Get Report begin the intense selling pressure that would haunt the stock for the rest of the day.
It also began right in the middle of CEO Jensen Huang's keynote presentation at the company's GTC conference. When reports of Nvidia temporarily suspending its self-driving car program on public roads was confirmed by the company, shares began cascading on the day.
Action Alerts Plus holding Nvidia stock ultimately ended lower by 7.75% on the day, closing at $225.52.
Wednesday morning didn't offer much reprieve, with shares falling an additional 1.85% to $221.35. It's a disappointing development for investors, given that the company announced so many great features and products during Huang's presentation.
In fact, the long presentation was mind-boggling in some respects, filled with a treasure chest of valuable information. But let's stick with the self-driving car aspect, since that's what sank the stock Tuesday.
But Here's Everything Else Nvidia Introduced
"The transportation industry is one of the largest industries in the world - $10 trillion large," Huang said during the keynote. "And we believe that someday, everything that moves will be autonomous or have autonomous capabilities."
Nvidia may be temporarily suspending its self-driving program on public roads, but make no mistake, Tuesday's near-8% beatdown and possibly even further selling on this news feels like a big overreaction.
First, Nvidia isn't giving up on this technology. Why would it when data can prove how much safer a self-driving car can be over a human. Second, Nvidia is the leader in this technology, building the backbone for so many players in the industry.
Huang told us that Nvidia's Drive platform is now being used to 370 partners to build networks and products. That number continues to climb the further the technology advances. In fact, everything that the company has told us -- ranging from discussions at the Detroit Auto Show with Danny Shapiro, the company's senior director of automotive, to the company's most recent announcements at GTC -- tells us that Nvidia is in the driver's seat.
This week, Nvidia introduced DRIVE Constellation, which is using cloud-based servers to simulate testing for self-driving car systems. In a nutshell, it allows testers to run a vast number of scenarios on an autonomous driving system without actually putting the vehicle in that situation. However, the system thinks the scenario is real.
The hardware -- radar, lidar, etc. -- is reacting as if the situation is real, but it's really being run on a different server. This synthetic environment allows Nvidia to strenuously test its system in all sorts of hazardous scenarios without putting anyone in harm's way. It also allows for the system to navigate a tough situation thousands or millions of times, rather than the handful of times it may be encountered on the road in a real-world situation.
But the advances aren't just on the outside. Artificial intelligence and sensors within the car's cabin can work with the sensors and system outside of the car as well. These systems work together to keep drivers safe.
Think of it like this: say you're looking to make a left-hand turn across a busy intersection. You glance left -- clear -- look right and then begin to turn. If you didn't see a car approaching on your left, this could be a fatal scenario. But Nvidia's hardware can detect that the passenger isn't looking to the left as it's pulling out while a car is approaching from the left. It can then prevent the car from pulling out and instead apply the brakes.
"This entire system is just such a great undertaking," Huang said.
It also pretty clearly shows that, while Nvidia isn't an automaker, it will be the leader in this budding industry of tomorrow by laying such rigorous groundwork today.
This article is commentary by an independent contributor. At the time of publication, the author had no positions in the stocks mentioned.