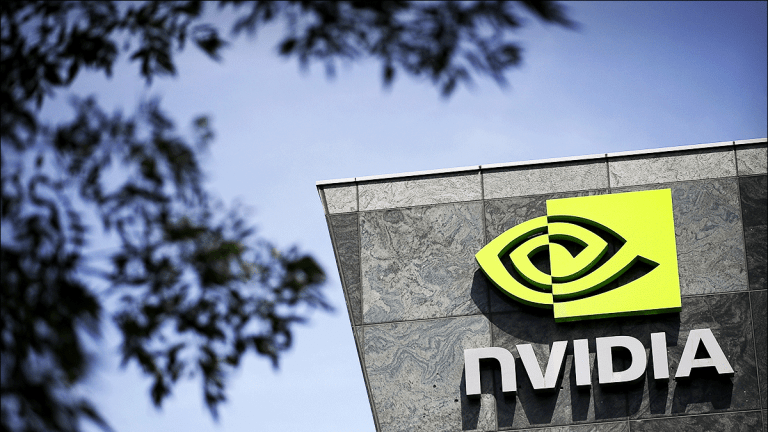 SoftBank Reveals $3.6 Billion Stake Sale in Nvidia By Vision Fund
Nvidia shares edged higher Wednesday following a report that SoftBank's $100 billion technology fund has sold its entire stake in the chipmaker.
Nvidia (NVDA) - Get NVIDIA Corporation Report shares rose Wednesday after Japan's SoftBank Corp.'s (SFTBY)  said it had sold its entire stake in the chipmaker held by its $100 billion technology fund.
SoftBank said the Vision Fund dumped all of its Nvidia shares, worth around $3.6 billion, as of the end of January, as the stock lost nearly half of its value over the fourth quarter of last year. The Nikkei Asian Review reported that the the Fund, which was launched in 2016 with financial support from Saudi Arabia's sovereign wealth fund, will also sell down stakes in Uber Technologies and Slack, both of which are expected to go public this year.
"For the investment in Nvidia, unrealized loss on valuation of ¥299,539 million was recorded for the period due to a large fall in its share price in the third quarter, versus share price increase in the first and second quarters," Softbank said. "In January 2019, SoftBank Vision Fund disposed of its entire holding of Nvidia shares."
Nvidia shares gained 2% by the close of trading Wednesday and changed hands at $153.00 each, trimming the stock's three-month decline to about 26%.
Nvidia CEO Jensen Huang described the final months of last years as "an extraordinary, unusually turbulent, and disappointing quarter" for the chipmaker, and cautioned that revenues this year would fall far short of analysts forecasts following weaker-than-expected demand for its gaming and datacenter products and slowing growth in China.
Nvidia said sales for the three months ended on Jan. 27, its fiscal fourth quarter, would come in at $2.2 billion compared to earlier guidance of $2.7 billion. The company also said GAAP and non-GAAP margins would be hit by charges of around $120 million, adding that after a number of deals for its latest Turing graphics chips failed to close over the final months of the year as customers potentially waited for lower prices and demonstrations of the technology in actual games.