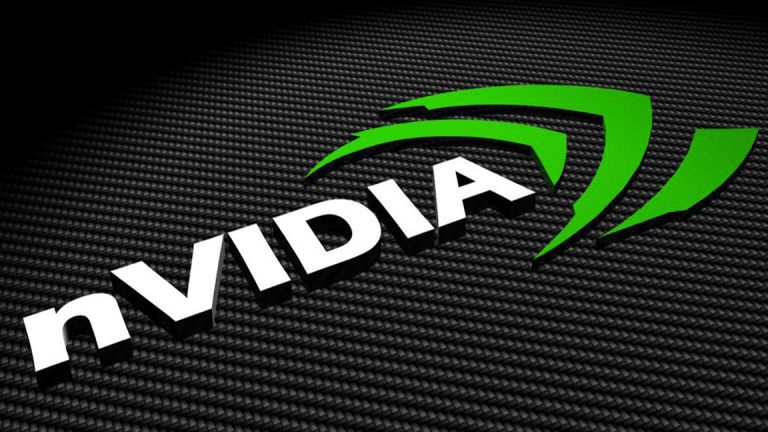 Nvidia's Latest Self-Driving Moves at CES May Have Just Put It Ahead of Google
Even more impressive than the chipmaker's hardware reveals were Nvidia's software announcements and demos.
Nvidia Corp.  (NVDA)  CEO Jensen Huang started his company's CES event by giving a run-down of its gaming and data-center AI efforts. But when he got to discussing the company's burgeoning automotive efforts, what he offered was far more than a mere run-down.
Between the new automotive partnerships and AI-infused hardware/software solutions Nvidia announced on Sunday, as well as the company's existing products and design wins, a pretty good case can be made that the company has leapfrogged Intel (INTC) and Alphabet's (GOOGL) Waymo unit as the leader in the race to become the top supplier of platforms for partly and fully autonomous vehicles -- at least at this early stage.
Nvidia's alliance with Uber to collaborate on self-driving cars and freight trucks is a major coup not only due to Uber's size -- the ride-hailing leader's services are now available in over 600 cities and deliver over 40 million rides monthly -- but also due to how long Uber has been plugging away with its own autonomous driving R&D.
Nvidia noted on Sunday that Uber's self-driving cars (with human drivers on standby) have logged over two million test miles over the course of 50,000-plus rides. It's possible that Waymo's ongoing lawsuit against Uber over alleged trade secret theft forced a rethink of Uber's self-driving hardware work. Uber's smaller rival Lyft has a partnership with Waymo, and has also teamed with Aptiv (formerly Delphi (DLPH) , partnering with Intel) to provide rides in self-driving BMWs at CES.
Nvidia also unveiled a deal with Volkswagen, the world's largest automaker by volume. This alliance, it should be noted, is for Nvidia's Drive IX driver-assistance solution (more on this shortly) rather than one of its autonomous driving platforms. But between Volkswagen's size and its interest in using Drive IX in major electric car platforms that will start arriving in 2020, the deal is still one of Nvidia's largest on the auto front.
An expansion of Nvidia's existing alliance with Chinese internet giant Baidu Inc.  (BIDU) was also announced: The companies are now teaming with European auto parts giant ZF to create a self-driving hardware/software platform for the Chinese market. Nvidia's Drive Xavier computing board, due to sample in Q1 and hit volume production by year's end, will be paired with Baidu's Apollo self-driving software platform.
All these deals come a year after Nvidia used CES to unveil partnerships with Audi, Mercedes-Benz, Bosch and ZF. And Nvidia's other autonomous driving partners include Toyota, Volvo and -- though it's reportedly working on its own self-driving chip platform -- Tesla Inc. (TSLA) .
Huang indicated that Xavier, which is far smaller and less power-hungry than Nvidia's older Drive PX 2 boards -- it consolidates functions that previously required four chips onto just one chip -- will be Nvidia's solution for cars supporting Level 3 (can take over from drivers in some situations) and Level 4 (can take over in most situations) autonomy. Pegasus, a larger and more powerful board featuring four chips (two systems-on-a-chip and two standalone GPUs), will target robotaxis supporting Level 5 autonomy (no driver needed at any time). In the short-to-intermediate term, Xavier is the bigger opportunity.
Arguably, however, Nvidia's software announcements and demos stole the spotlight from its hardware reveals, driving home just how much the company's automotive efforts have advanced in the past few years. Drive IX is one part of the story: An outgrowth of the AI Co-Pilot platform unveiled at CES 2017, IX relies on machine learning to analyze a car's surroundings, along with the speech and behavior of drivers and passengers, and provides suggestions and takes actions in response. Auto partners can customize what it does through a software development kit (SDK).
There was also Nvidia's Drive AR platform, which (for both autonomous and traditional cars) superimposes visual cues and useful information on a video feed (shown through an infotainment system). As well as a powerful and versatile simulation platform (called Autosim) that works on VR headsets, and can run on either Drive computing boards or Nvidia server GPUs to simulate real-world autonomous driving activity.
Nvidia also unveiled its Drive Functional Safety Architecture, which -- with the help of partners BlackBerry (BB) and TTTech -- aims to guarantee that self-driving systems work safely even when faults are detected. And to show how far its software has progressed, the company aired a video in which an Nvidia engineer managed to drive eight miles in a self-driving test car in Holmdel, New Jersey, taking it through a number of turns and intersections without touching the steering wheel.
Once again, Nvidia's automotive efforts couldn't help but remind me of the massive progress that Amazon's Alexa voice assistant has made in a short amount of time. Much like Alexa, Nvidia's Drive platform was far from the first notable player in the market that it's targeting. But for both companies, their unmatched aggressiveness, reflected by non-stop dealmaking and product launches, as well as enormous R&D resources dedicated to their efforts -- has helped them gain an edge against some pretty formidable rivals who had early head-starts.
Nvidia and Alphabet are holdings in Jim Cramer'sAction Alerts PLUS Charitable Trust Portfolio. Want to be alerted before Cramer buys or sells NVDAor GOOGL? Learn more now.
More of What's Trending on TheStreet: