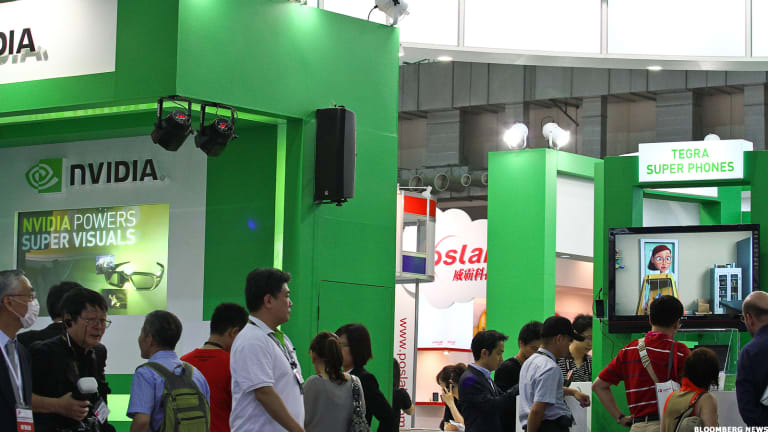 Nvidia's Fourth Quarter 'Wasn't A Blowout'?: What Wall Street's Saying
The chipmaker saw double-digit growth across each of its businesses in the fourth quarter, but Wall Street wanted more.
Nvidia (NVDA) - Get NVIDIA Corporation Report saw explosive growth in nearly all of its business units during the fourth quarter of 2017, but somehow Wall Street still wasn't quite satisfied.
After Thursday's market close, Nvidia said adjusted earnings surged 117% year-over-year to $1.13 per share, trouncing analysts' estimated 83 cents per share. Revenue was boosted 55% year-over-year to $2.17 billion, which exceeded Wall Street's projected $2.11 billion. 
Nvidia saw double-digit growth across all individual businesses, including its legacy graphics processing units (GPU) segment, which rose 57% year-over-year to $1.85 billion. The unit generates more than three-quarters of Nvidia's total revenue. 
Its gaming business also grew 66% year-over-year to $1.35 billion. 
But the star of the show was Nvidia's data center unit, which soared 205% year-over-year to $296 million. Nvidia has increasingly benefited from the rise in artificial intelligence computing, as its data center products are embedded with deep learning technology. Nvidia CEO Jen-Hsun Huang seemed even more bullish on the growth prospects of AI technology during the company's earnings call. 
"My expectation is that, over the next coming years, deep learning and AI will become the essential tool by which [companies] do their computing," Huang added. 
Still, Wall Street seemed somewhat underwhelmed with the fourth-quarter results, noting that it wasn't exactly a "blow out" earnings report like Nvidia had in the third quarter. Here's what they had to say: 
Blayne Curtis, Barclays (Equal Weight, Price Target $90) 
"NVDA delivered another record quarter following on the big Q3 beat but guided April only slightly ahead of consensus expectations. 2016 was a truly impressive year for NVDA and we frankly can't recall a company of this scale delivering nearly 40% topline growth for a year with strength in both the base and emerging businesses. Looking into 2017, the company faces tougher comps and the lack of a real beat leaves the stock expensive, in our view."
Ambrish Srivastava, BMO Capital Markets (Market Perform, $100 PT) 
"GPU strong as well. However, we think Advanced Micro Devices (AMD) - Get Advanced Micro Devices, Inc. Report  has likely gained share in GPU on a quarter-over-quarter and year-over-year basis as we estimate that AMD GPU revenue increased more than 40% q/q and close to 80% y/y to ~$322 million vs. NVIDIA's GPU revenue up 9% q/q and up 57% y/y to ~$1.85 billion. And we do recognize that we are talking about a much smaller base for AMD vs. NVIDIA."
Betsy Van Hees, Loop Capital (Buy, PT raised to $129 from $120) 
"While the FQ4 2017 print wasn't a blow out quarter like FQ3, NVIDIA Corporation's (NVDA) results were solid. Although the FQ1 2018 raise was only slightly above the Street, we believe NVDA is trying to keep expectations reigned in so it can continue its impressive pattern of beats and raises in F2018."
Mark Lipacis, Jefferies (Buy, PT raised to $140 from $125) 
"NVDA posted its 7th consecutive beat, and while year-over-year rev growth of 55% likely marks 2nd derivative peak, the 200% growth in its Datacenter business and improving [gross margin] reinforce our thesis that NVDA is emerging as the de facto standard in AI - one of the most exciting growth drivers in tech. Our sense is that many have missed the NVDA run and want to buy."
Ross Seymore, Deutsche Bank (Hold, PT raised to $105 from $75) 
"Looking forward, we continue to expect strong, albeit slowing revenue growth of ~+20% year-over-year with upside in [gross margins] being largely offset by higher planned operating expenses. NVDA is clearly exposed to a number of powerful growth drivers such as AI, Cloud, [advanced driver assistance systems], etc. (which we clearly underestimated) and should continue outgrowing its semi peers in FY18."
Michael McConnell, Pacific Crest Securities (Sector Weight) 
"Fiscal first-quarter sales were guided to a midpoint of $1.90 billion (-13% quarter-over-quarter), roughly in line with our estimate of $1.93 billion. Despite a higher mix of more profitable Tesla (TSLA) - Get Tesla Inc Report  products, gross margin was guided to modestly decline to 59.5% due to the loss of Intel's (INTC) - Get Intel Corporation (INTC) Report royalties starting in March, as well lower-margin sales into Nintendo's Switch consoles."
Rajvindra Gill, Needham (Buy, $120 PT) 
"Nvidia delivered another stellar quarter and guide...As we expect revenue growth to decelerate in gaming to 11% year-over-year from 44%, we believe Nvidia is aligned to massive revenue total available market opportunities in AI, autonomous vehicles and VR. Data center...could accelerate as we see GPU deployments in the cloud, hyperscale and enterprise markets, all of which are benefiting from AI and machine learning."
Matt Ramsay, Canaccord Genuity (Buy, PT raised to $130 from $120)
"The quarter yielded record revenue in gaming, professional visualization, datacenter, and automotive as well as record non-GAAP gross margin driven by strength in gaming GPUs and deep learning applications. Overall a very strong quarter to end a breakout F'17, and we believe NVIDIA enters its May GPU Technology conference firing on all cylinders."
Rick Schafer, Oppenheimer (Perform)
"Auto (6% of sales) showed modest 1% Q/Q growth (+38% Y/Y) driven by Tegra infotainment modules...We believe autonomous driving remains at least a couple of years out from being significant. CEO Jen-Hsun Huang is optimistic major car manufacturers can release self-driving models as early as 2019."
Vijay Rakesh, Mizuho (Buy, PT raised to $130 from $115)
"NVDA noted strength in data center and gaming demand as parallel compute drives AI & deep learning and eSports continue to gain popularity...We believe data center orders have expanded significantly versus the same time last year."