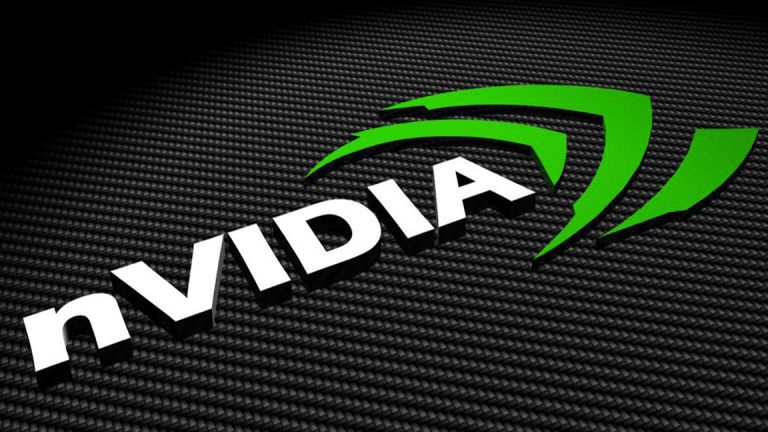 Nvidia Remains Dominant in Gaming and AI, but Intel Bears Watching
The GPU giant just turned in another strong earnings report driven by booming demand for its gaming and server products.
The GPU giant just turned in another strong earnings report driven by booming demand for its gaming and server products.
More often that not, a fast-growing market with limited competition will eventually see new players jump in, provided they have the resources to compete. Nvidia Corp. (NVDA) - Get Report  is gradually seeing this story play out in multiple businesses, in no small part due to moves from Intel Corp. (INTC) - Get Report .
But considering the leads that Nvidia has built up in those businesses, taking significant share could be easier said than done. And in the meantime, Nvidia's current dominance of those fields continues paying big dividends, as its latest earnings report makes clear.
Nvidia reported October quarter (fiscal third quarter) revenue of $2.64 billion (up 32% annually) and adjusted EPS of $1.33, easily beating consensus analyst estimates of $2.37 billion and $0.95. The company guided for January quarter revenue of $2.65 billion (plus or minus 2%), above a $2.44 billion consensus, hiked its quarterly dividend by 7% to $0.15 per share and promised to return $1.25 billion to shareholders via dividends and buybacks in fiscal 2019 (ends in January 2019).
Shares rose 3% after hours on Thursday, and were up 5% to a new all-time high of $215.50 of Friday morning. Nvidia shares are up more than 90% year to date, and over 500% over the last two years.
Driving the lion's share of the October quarter sales beat: Nvidia's Gaming revenue, which covers its gaming-focused PC Graphic Processing Units (GPUs) and Tegra system-on-chip (SoC) sales for gaming consoles, grew 25% annually (in spite of strong year-ago numbers) to $1.56 billion, easily beating a $1.28 billion consensus. Though strong demand for Nintendo's Tegra-powered Switch console helped, it looks as if the biggest driver was strong sales of Nvidia's Pascal-architecture PC GPUs, which continue dominating the high-end segment.
Though AMD Inc. (AMD) - Get Report is on better high-end footing following the summer launch of its Vega 64 and Vega 56 desktop GPUs, Nvidia still has the two most powerful desktop GPUs on the market -- the GeForce GTX 1080 Ti and Titan Xp -- and for now maintains a stranglehold on the high-end notebook space. Nvidia's high-end parts also have a power-consumption edge relative to AMD's, and the company recently launched a new GPU (the 1070 Ti) to better compete against the Vega 64 and 56.
Meanwhile, demand within the high-end gaming GPU space remains very strong, thanks to both rising eSports activity and broader interest in playing demanding new titles at high-quality settings. The business should get a fresh boost in early 2018 from the expected launch of PC GPUs based on Nvidia's Volta architecture (the successor to Pascal).
The Gaming segment also get a lift from cryptocurrency miners. Though Nvidia, like AMD, has developed GPUs optimized for mining, plenty of miners have opted to buy gaming-optimized graphics cards amid tight supplies that for a while led many mid-range and high-end cards to sell for far more than their MSRPs.
Nvidia's "OEM and IP" revenue, which includes mining-optimized and low-end GPUs, grew 59% to $191 million after backing out $66 million in quarterly Intel licensing payments that stopped in March; mining-optimized products accounted for about $70 million of that total. On the earnings call, CEO Jen-Hsun Huang predicted Nvidia will continue seeing some crypto-related demand. "[M]y sense is that although crypto will be here to stay, it will remain small, but not zero," he said.
The closely-watch Datacenter segment, which covers sales of Tesla server GPUs for high-performance computing (HPC), AI and virtual PC workloads, saw revenue rise 109% to $501 million and top a $461 million consensus. Big sales of Nvidia's Volta-based Tesla V100 flagship GPU, which cloud giants and others were eager to use for the demanding task of training AI/deep learning algorithms, were a major driver.
CFO Collette Kress suggested HPC demand was also healthy. And -- though competition is stiffer here than in the training space -- Huang talked up Nvidia's ability to service a burgeoning market for inference work -- that is, running AI algorithms against real-world data. He argued Nvidia's recently-launched TensorRT 3 inference runtime software and large developer base act as selling points.
Auto chip sales were a slightly weak spot: They rose 13% to $144 million, but fell short of a $159 million consensus estimate. Though Nvidia has landed a number of design wins for its Drive PX autonomous driving boards, for now much of this business consists of Tegra sales for infotainment systems. Professional Visualization sales, driven by Nvidia's Quadro workstation graphics cards, grew 15% to $239 million, beating consensus by $4 million.
As Nvidia continues firing on all cylinders or close to it, Intel is hatching plans to take both the company's gaming and data-center businesses head-on. On Nov. 8, Intel announced it has hired Raja Koduri, who was formerly in charge of AMD's GPU R&D work, to head a new unit that will develop "high-end discrete graphics solutions for a broad range of computing segments."
And last month, Intel announced it will ship its Nervana Neural Network Processor, built from the ground up to do AI training work, by year's end. Facebook Inc. (FB) - Get Report , a major Nvidia client, is among the firms working with Intel to optimize the chip. That said, it will take some time for potential clients to test and validate it.
Jim Cramer and the AAP team hold positions in Nvidia and Facebook for their Action Alerts PLUS Charitable Trust Portfolio. Want to be alerted before Cramer buys or sells NVDA or FB? Learn more now.
Intel is also prepping a new product (codenamed Knights Mill) for its Xeon Phi server processor line that promises major training performance gains over existing Xeon Phi chips. And it has rolled out an accelerator card for inference work that relies on a programmable chips (FPGAs).
If Huang is worried about any of this, he isn't showing it. When asked about Intel's Nov. 8 announcement, he pointed out all the ways the chip giant has its work cut out for it. "[Modern GPUs are] the most complex processors built by anybody on the planet today," he said. "The amount of software engineering that goes on top of it is significant as well...we plan a roadmap about five years out. It takes about three years to build a new generation [of GPUs]."
With the qualifier that some of its moves into non-CPU markets haven't gone well, Intel's tremendous resources and investments in cutting-edge manufacturing processes mean that it can't be taken lightly in either the high-end PC GPU or AI/HPC accelerator markets. But Nvidia, which will likely spend over $1.6 billion on R&D this fiscal year, is clearly no slouch either. And in the AI and HPC fields, the company's developer ecosystem remains a big moat.
In time, Intel's moves could result in Nvidia facing tougher competition in its two most lucrative markets (probably sooner in AI than in gaming). But for now, the company continues to fly high thanks to both strong execution and rapidly-growing end-markets.
Here's a few things you probably don't know about Nvidia:
More of What's Trending on TheStreet: