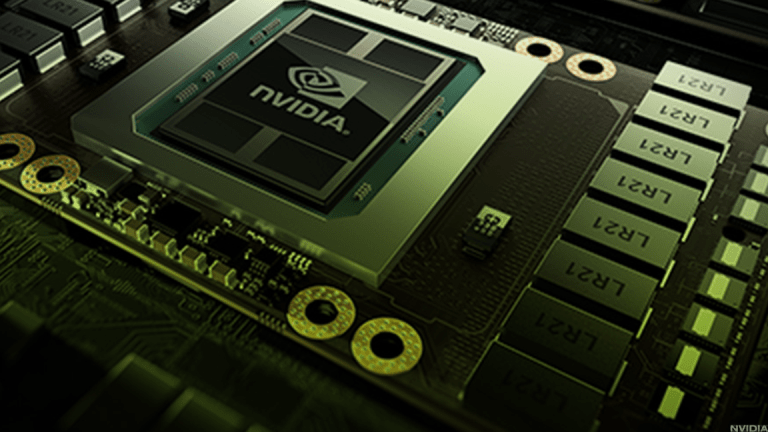 Nvidia-Powered Full-Blown Self-Driving Cars Are Closer Than You Think
This chat with Nvidia's Senior Director of Automotive Danny Shapiro was fascinating. Most of us know that self-driving cars are rapidly approaching, but do you know just how close this technology is? Nvidia is leading the way.
This chat with Nvidia's Senior Director of Automotive Danny Shapiro was fascinating. Most of us know that self-driving cars are rapidly approaching, but do you know just how close this technology is? Nvidia is leading the way.
A cool part about the Detroit Auto Show? Getting to sit in the cabin of a car you will likely never afford. Vehicles that easily eclipse the six-figure mark (and many times in multiples) are open to enjoy (but not drive, obviously).
Another cool factor? Getting the opportunity to talk with industry leaders who are quite literally changing everything we know about this storied segment. Case in point: Sitting down with Nvidia's (NVDA) - Get Report  Senior Director of Automotive Danny Shapiro.
Putting regulations aside for a minute, I asked Shapiro just how close we are to fully autonomous driving. His answer -- again just from the technical side -- reminds us just how quickly this revolution is coming.
"We're very close," he said, explaining that the first big hurdle to the level 4 and level 5 autonomous driving is computing power. The products that are coming out today can handle what's required by the vehicle, though. So what we're left with is a fine-tuning of the software that interprets driving conditions and scenarios.
While the software is trying to catch up, it's doing so in rapid fashion. This is where machine learning and AI can really flourish. Shapiro put it like this: Most test miles are relatively bland. Rarely does something out of the ordinary take place. But these systems need to be able to react to so many out-of-the-blue situations, such as when a driver runs a red light or a kid runs out into the street.
Even something like identifying a stop sign can be a laborious process, because not every single one is the same. Sometimes they're partially covered by a bush or tipped on an angle.
Because of the advances in machine learning and AI, though, the system doesn't need to drive millions of miles to see every scenario. Programmers can put the software through an unlimited amount of scenarios. Changing the situation from day to dusk or night. Adding rain, or a dashing kid or a red-light runner. They can build all of these synthetic scenarios and quite literally teach the software how to react. The best part? It can include so many more scenarios and cut the learning time down tremendously.
That's the power of AI and that's how, from a technological point, self-driving cars will be ready faster than most people anticipate.
With that being said, it raises the question of where we stand on the regulatory front. Speaking at the Detroit Auto Show was Elaine Chao, the United States Secretary of Transportation. In my interpretation, Chao appeared very open to putting self-driving cars on the road. She argued that the U.S. needs to maintain its leadership when it comes to technology and innovation, and self-driving cars is a step in that direction.
I spoke with several industry leaders, and many said they like the direction in which Chao is moving. It makes me think the regulatory hurdles won't be as steep as some expected a few years ago.
However, she wasn't oblivious to the downsides. There will likely be some consumer anxiety over self-driving cars, she said. Further, while it will likely create tech jobs over the long term, Chao says the transition period can be "disruptive." We need to help workers adapt to this new, technology-first automotive world, she reasoned.
This brings up the question, how safe is autonomous driving? More than 90% of all car accidents are attributed to human error. So if we remove the human, theoretically, driving should become much safer.
"We need to decide, how much safer than a human is acceptable," Shapiro said. Is it 10 times safer? 100 times? "[We are] working with our customers to now train these neural nets to be robust enough so that we can handle situations much, much more safely than any human could drive," he added.
At the end of the day, self-driving cars will save thousands or hundreds of thousands of lives because it is safer than a human driver. But eventually, there will be an incident. In my view, consumers will have a hard time coming to grips with a fatal accident that involves a self-driving car -- even if the other driver caused it. That's despite almost every driver out there today digesting the risk -- and ultimately accepting that risk -- that humans cause most accidents.
We understand that people mess up and cause accidencts. But with a machine behind the wheel, it's easier to blame technology and harder to come to grips with something that, on paper, should never have happened.
But Shapiro had some reassuring thoughts. Each car will be capable of receiving over-the-air updates. These updates will bring new features and improved safety to the autonomous software, as the vehicles continue to harvest data and improve the entire network of self-driving vehicles.
"Software is going to define so much of the user experience, the driving experience and it will continue to evolve and get better and better. New applications, new features [will be] added to your car even after it's in your driveway," he said.
"AI is really at the heart of everything that's happening in the transportation space," Shapiro added.
Nvidia is a holding in Jim Cramer'sAction Alerts PLUS Charitable Trust Portfolio. Want to be alerted before Cramer buys or sells NVDA?Learn more now.
More of What's Trending on TheStreet:
This article is commentary by an independent contributor. At the time of publication, the author had no positions in the stocks mentioned.