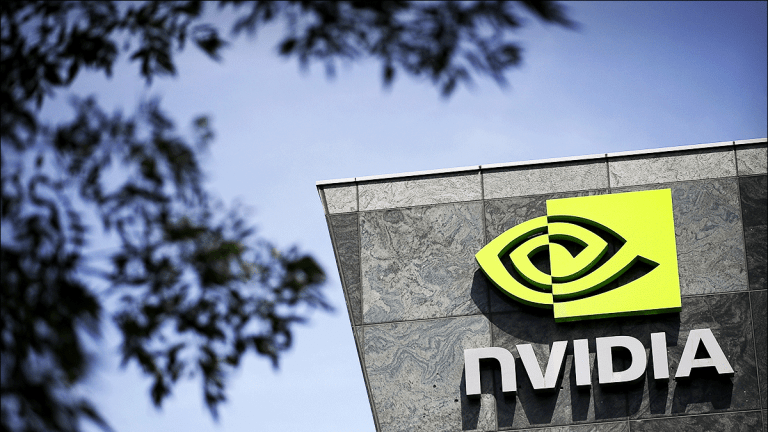 Nvidia's Head-Turning Deal for Mellanox Technologies: 7 Takeaways
Nvidia and Mellanox have many common customers, and also a major common competitor in Intel.
Nvidia's (NVDA) - Get NVIDIA Corporation Report$6.9 billion deal to buy Mellanox Technologies  (MLNX) - Get Mellanox Technologies, Ltd. Report was definitely quite surprising, particularly since Nvidia had never spent more than $367 million on an acquisition before. But that doesn't make the deal a misguided one.
Confirming Sunday reports that a deal was close, Nvidia announced on Monday morning that it's paying $125 per share in cash, or an enterprise value of $6.9 billion, to buy Mellanox. The GPU giant expects the deal to be immediately accretive to EPS and free cash flow following its close, which is expected by the end of calendar 2019.
With Nvidia's shares up 7% on Monday, markets are giving a clear thumbs-up to the deal. Here are some thoughts on it:
1. Nvidia and Mellanox Have Many of the Same Server and Cloud Clients
Mellanox is a top provider of adapter cards and chips for high-speed server and storage interconnects based on the Ethernet and InfiniBand standards, and also supplies data center switches and switching chips. Its products are used in many of the servers that rely on Nvidia's Tesla server GPUs to power AI/deep learning and high-performance computing (HPC) workloads.
In a presentation going over the deal, Nvidia notes that its GPUs can be found in 127 of the systems on the Top500 supercomputer list, and that Mellanox's interconnects can be found in 265 of them. The company also highlighted common customer engagements with top server OEMs such as Dell Technologies (DELL) - Get Dell Technologies Inc Class C Report , IBM (IBM) - Get International Business Machines Corporation Report and HP Enterprise (HPE) - Get Hewlett Packard Enterprise Co. Report , and (though the details of such relationships are often kept private) with U.S. and Chinese cloud giants running massive hyperscale data centers.
"We believe that there will be opportunities to cross-sell and enhance our broader solution set over time given each company's technology assets and customer bases in high-performance computing, enterprise and hyperscale," said CFO Colette Kress while discussing Nvidia and Mellanox's customer relationships during a conference call.
2. Mellanox, Like Nvidia, Is Well-Positioned to Benefit from Broader Data Center Trends
Nvidia's Datacenter segment, which saw its revenue grow 52% in fiscal 2019 (it ended in January) to $2.9 billion, has benefited considerably from the growing use of GPUs and other accelerators to handle demanding AI and HPC workloads, thanks to their ability to handle them more efficiently than server CPUs. Mellanox, which has long been pushing the envelope when it comes to interconnect speeds, has benefited from demand for faster server and storage interconnects, thanks in part to the adoption of distributed hardware architectures and applications that require each computing node to have a high-speed link.
IR chief Simona Jankowski highlighted the importance of this trend on the call. "[As] data and compute-intensive workloads like AI and data analytics are growing exponentially, they require thousands -- tens of thousands -- of server nodes working together," she said. "In the future, we want to optimize data center scale workloads...across the entire stack, from the compute node to networking to storage. For this reason, Mellanox's system-to-system, datacenter-scale, interconnect technology is important to us."
For his part, CEO Jensen Huang argued that the lines between a data center's compute nodes and networking fabric will start to blur, as "the network becomes an extension of the computing fabric." He also predicted that in the future, individual applications will run across entire data centers, either as a result of all of the data center's compute nodes working to solve one problem, or as a result of tasks being split up between different nodes.
3. The Price Is Pretty Reasonable
At $125 per share, Nvidia is paying 20 times Mellanox's 2019 EPS consensus of $6.17, and 18 times its 2020 EPS consensus of $6.99. Bernstein analyst Stacy Rasgon estimates the deal will be accretive to Nvidia's EPS by about 8%.
There could be additional accretion if Nvidia can boost Mellanox's revenue growth and/or obtain cost synergies. On the call, Kress said that Nvidia is "conservatively assuming no initial revenue synergies" from the deal, and that it's also modeling no cost synergies for now as it invests in going after the large addressable market it sees for the combined company.
4. Antitrust Risks Are Pretty Low, and China Might Be More Willing to Approve a Deal Now
To acquire Mellanox, Nvidia reportedly outbid Intel (INTC) - Get Intel Corporation Report , which was first reported to have interest in Mellanox back in January. Whereas an Intel-Mellanox deal would carry some antitrust risk, since Intel competes against Mellanox via its Ethernet product line and solutions based on its proprietary Omni-Path interconnect fabric, a lack of product overlap makes antitrust risk for an Nvidia-Mellanox deal pretty low.
Separately, as I discussed on RealMoney, Nvidia's willingness to pull the trigger on a Mellanox deal, which requires it to pay a $350 million termination fee in the event it walks away, could be a sign that China is now less likely to block an acquisition by a U.S. chip developer, as trade tensions show some signs of thawing. No major acquisition by a U.S. chip developer has been announced since Qualcomm (QCOM) - Get Qualcomm Inc Report walked away from its $44 billion deal to buy NXP Semiconductors last July due to a failure to obtain Chinese approval.
However, with Mellanox's shares closing trading on Monday about $7 below the deal price, Wall Street still appears to be a little worried about regulatory approval.
5. Look for Nvidia and Mellanox to Work Together on Hardware Solutions
In its deal presentation, Nvidia pointed out that its DGX-2 server, which packs up to 16 of its powerful Tesla V100 GPUs and is aimed at enterprise AI and HPC workloads, features 8 Mellanox adapters that support both InfiniBand and 100Gbps Ethernet connectivity. The companies have also partnered on systems launched by third-party server OEMs, such as IBM's Power System AC922.
It's same to assume that Nvidia and Mellanox will step up such efforts going forward -- particularly with Nvidia (aided by its new RAPIDS software platform) now looking to power enterprise machine learning and analytics workloads for which its GPUs haven't been frequently used.
6. The Deal Could Partly Be a Reaction to Intensifying Competition
AMD (AMD) - Get Advanced Micro Devices, Inc. Reporthas begun selling server GPUs meant for AI and HPC workloads. Intel plans to launch its first data center GPU in 2020, and is also developing ASICs built from the ground up to handle server AI workloads. Alphabet/Google (GOOGL) - Get Alphabet Inc. Class A Report now partly relies on an internally-developed ASIC known as a Tensor Processing Unit (TPU) to power AI workloads within its data centers. And a slew of startups are also working on server AI ASICs.
While many of these rivals won't take significant market share and Nvidia still has some valuable competitive strengths in the data center, the company's server GPU business is clearly set to face a tougher competitive environment going forward. That may have factored into Nvidia's decision to buy Mellanox, which will diversify Nvidia's data center business and should (for reasons previously discussed) strengthen its customer relationships in the space.
Alphabet is a holding in Jim Cramer's Action Alerts PLUS member club. Want to be alerted before Jim Cramer buys or sells GOOGL? Learn more now.
7. Don't Bet Against Starboard Value
Activist investor Starboard Value took a 10%-plus stake in Mellanox back in late 2017, when Mellanox's shares were trading below $50. Though its position was later trimmed as Mellanox's stock rose, Starboard, which had pushed Mellanox to explore a sale, is staring at a 100%-plus gain on the 5.8% stake it still possesses.
Mellanox is hardly the first big win for Starboard, which has shown quite the knack over the years at launching successful activist campaigns aimed at getting companies to take actions meant to boost shareholder value. For those curious, companies that Starboard has recently bought stakes in include Zayo (ZAYO) - Get Zayo Group Holdings, Inc. Report , Bristol-Myers Squibb (BMY) - Get Bristol-Myers Squibb Company Report , eBay (EBAY) - Get eBay Inc. Report and MGM Resorts (MGM) - Get MGM Resorts International Report .
Alphabet is a holding in Jim Cramer'sAction Alerts PLUS Charitable Trust Portfolio. Want to be alerted before Cramer buys or sells GOOGL? Learn more now.
A Special Invitation:Do you want to learn more about planning for and living retirement from the nation's top experts, including Ed Slott and Robert Powell, the editor of TheStreet's Retirement Daily? Want to learn how to create tax-efficient income in retirement and how to manage and mitigate all the risks you'll face in retirement? Then sign up to attend TheStreet's Retirement Strategies Symposium on April 6 in New York City. For a limited time, you can attend this extraordinary symposium for $149 - a cost savings of $50 off the general admission price of $199.
You can see the full day's agenda, learn about the guest speakers and sign up HERE for this special event.