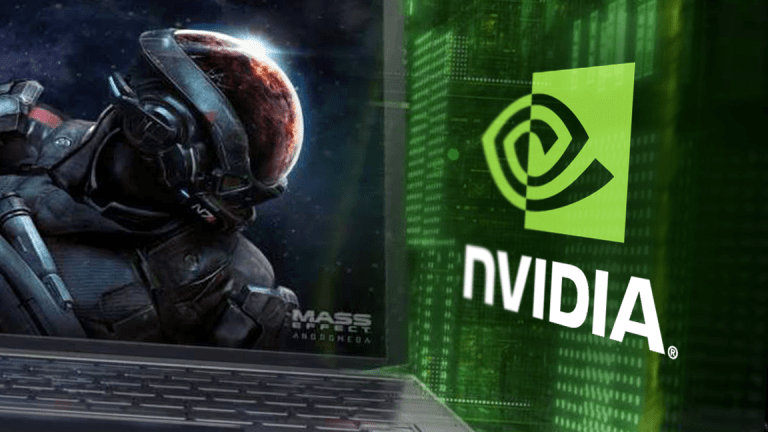 Nvidia Just Cleared a High Bar and Signaled It Has Plenty of Growth Left
In addition to posting very strong results and guidance, Nvidia gave fresh details about some major long-term opportunities.
For the second quarter in a row, Nvidia  (NVDA) - Get Free Report cleared a pretty high bar on the back of torrid demand from gamers, AI developers, supercomputer users and cryptocurrency miners. And this time around, the company followed up by sharing some intriguing details about the long-term opportunities presented by a couple of AI-related businesses that for now are relatively small, as well as how AI/machine learning solutions are providing a boost to a pair of established businesses.
Nvidia reported January quarter (fiscal fourth quarter) revenue of $2.91 billion (up 34% annually) and adjusted EPS of $1.72, easily beating consensus analyst estimates of $2.68 billion and $1.16. And for what's normally a seasonally weak April quarter, the GPU giant guided for $2.9 billion (plus or minus 5%), far above a $2.46 billion consensus and implying 49% growth at the midpoint.
As usual, no earnings guidance was given. But between the revenue guidance, a forecast for a gross margin of 62.5% to 63.5% (up from 58.6% a year earlier) and (thanks to tax reform) expectations for a tax rate of 11% to 13%, odds are EPS will be well above a $0.98 pre-earnings consensus.
Shares exploded 10% in pre-market trading on Friday.
Jim Cramer and the AAP team hold a position in Nvidia for their Action Alerts PLUS Charitable Trust Portfolio. Want to be alerted before Cramer buys or sells NVDA? Learn more now.
Contributing heavily to the January quarter beat: Nvidia's Gaming segment revenue (60% of total revenue) rose 29% to $1.74 billion, topping a $1.57 billion consensus. The growth came in spite of tough annual comps: Gaming revenue was up 66% in the year-ago period, as the launch of Nvidia's first Pascal-architecture gaming GPUs fueled a graphics card upgrade cycle.
Continued strong demand from PC gamers helped. CFO Collette Kress singled out the lift provided by titles such as Call of Duty: WWII, Destiny 2 and hit online game PUBG, as well as growing eSports activity. Gaming revenue also benefited by purchases from cryptocurrency miners -- Nvidia believes miners accounted for a larger percentage of its revenue than in the October quarter -- and from strong demand for Nintendo's Switch console, which saw 7.2 million sales in Q4 and is powered by Nvidia's Tegra X1 system-on-chip (SoC).
Mining demand also propped up Nvidia's OEM & IP revenue. Excluding $66 million in revenue from an Intel licensing deal that expired in March 2017, the segment's sales grew 64% to $180 million, thanks in large part to demand for mining-optimized graphics card.
For now, Nvidia is only modeling for crypto-related sales to be flat sequentially; prices for many cryptocurrencies have fallen sharply in recent weeks, and as analyst Patrick Moorhead notes, there's a risk that a greater portion of mining work will be done by ASICs (already the primary way to mine Bitcoin) rather than GPUs in the future. But with mining activity having caused major graphics card shortages, it looks as if pent-up demand from gamers is a factor behind the company's strong April quarter guidance, as it scrambles to make cards available to gamers and replenish very low channel inventories.
Also likely a reason behind Nvidia's strong guidance: The white-hot performance of its Datacenter segment, which saw revenue rise 105% to $606 million and soundly beat a $551 million consensus. Large-scale adoption of Nvidia's flagship Tesla V100 server GPU for training deep learning algorithms remains the segment's biggest growth driver. And with quite a few cloud giants, enterprises and startups having gotten AI religion, this trend isn't likely to let up in early 2018.
But Kress indicated server GPU sales to traditional high-performance computing (HPC) clients were also strong, and noted 87 Nvidia-powered systems were on the latest Top500 supercomputer list (up from a prior 53). She also reported growing traction for Nvidia in the field of inference (running AI algorithms against real-world data to handle tasks such as image-recognition, search and language-translation).
If there was a weak spot in Nvidia's report, it was its automotive segment: Its revenue only rose 3% to $132 million, and missed a $149 million consensus. Nvidia attributes the weakness to a decision to de-prioritize its infotainment processor business as its pursues autonomous driving opportunities. Qualcomm (QCOM) - Get Free Report , which recently said it has a $1 billion-plus backlog of infotainment design wins, appears to be picking up the slack.
However, there's a good chance Nvidia's auto revenue will start to surge in late 2019, as more design wins for its Drive computing boards (currently used in Tesla's (TSLA) - Get Free Report second-gen Autopilot system) start ramping. Notably, CEO Jen-Hsun Huang stated on the earnings call that Nvidia expects an average selling price (ASP) in the $500 to $1,000 range for autonomous systems going into cars that still require drivers in some situations, and an ASP of around "several thousand dollars" for driverless robotaxis (a smaller market in the short-to-intermediate term).
Huang also predicts that, following a 2019/2020 ramp, "almost every premium car by 2022 will [ship with] autonomous automatic driving capabilities" built in. Nvidia and Intel execs I talked with at CES suggested we're 2-to-3 years away from seeing cars supporting Level 4 autonomy (able to take over from drivers in most, though not all, situations) start arriving, with autonomy at first supported in controlled environments.
In addition to the Drive platform, Nvidia's server inference products could see a big revenue ramp in the coming years. This field is more competitive than the training market, with programmable chips (FPGAs) and Intel's Xeon CPUs widely used for inference tasks. But Nvidia, aided by its new TensorRT 3 inference optimizer/runtime software, appears to be making some headway. "[M]y sense is that the inference market is probably about as large in the data centers as training," Huang said.
Meanwhile, Kress noted some of Nvidia's traditional HPC clients are beginning to make AI part of their computing workflows, relying on both deep learning algorithms and simulation/testing programs to solve difficult problems. And that "emerging applications like AI and VR" now account for 30% of Nvidia's Professional Visualization segment sales, which grew 13% last quarter to $254 million. Huang added that visualization clients are using AI to enhance images and (through a process known as generative design) aid product design.
Such opportunities could prove quite valuable as Nvidia potentially sees tougher competition in the AI training and/or gaming GPU markets. Intel is set to go after Nvidia's training clients via its innovative Nervana Neural Processor, and several startups are also taking aim at the market. In addition, Intel is just three months removed from announcing plans to enter the high-end discrete GPU market. And with the caveat that it might not arrive until 2019, it's worth keeping an eye on AMD's (AMD) - Get Free Report next-gen Navi GPU architecture, which will rely on an advanced 7-nanometer manufacturing process.
But for the time being, Nvidia remains quite dominant in those aforementioned markets. As its latest report shows, the company's biggest problem right now isn't fending off hungry rivals, but shipping enough of its GPUs to satisfy the huge appetites of its customers.