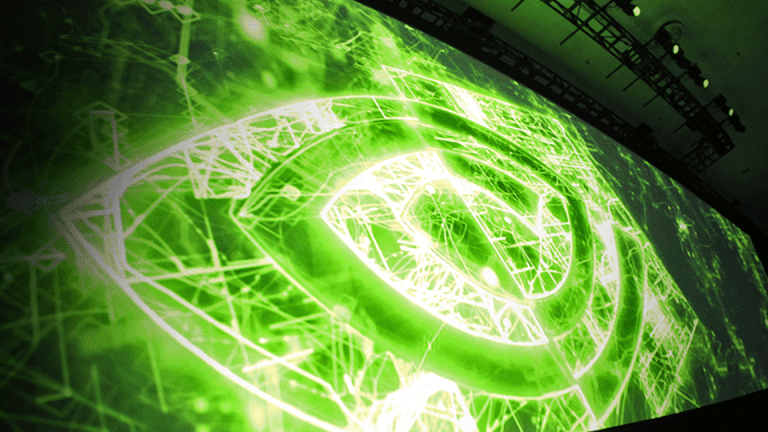 How Nvidia Is Dramatically Changing the Self-Driving Car Race
Nvidia's new DRIVE Constellation platform seeks to transform the way self-driving cars learn our roads.
Nvidia's new DRIVE Constellation platform seeks to transform the way self-driving cars learn our roads.
When it comes to self-driving cars, the big question always centers around safety. 
No one wants to get into an autonomous car only to feel unsafe and uncomfortable. But how can we train these autonomous vehicles for every situation? When you think about tough or hazardous driving, it's generally a rare occurrence. Our commutes tend to be rather mundane -- which is a good thing!
But those rare occurrences -- when the sun's hitting our eyes just right for a few minutes a day, a car swerves out of its lane into our lane or when a dog runs into the road -- are exactly the ones self-driving cars need to react to.
As if to underscore that point, on Tuesday Nvidia Corp (NVDA) - Get Reportconfirmed that it will be "temporarily suspending the testing of our self-driving cars on public roads to learn from the Uber Incident," a reference to the news that an Uber self-driving car struck and killed a pedestrian earlier this month.
Action Alerts PLUS portfolio holding Nvidia maintains its stance that autonomous vehicles are safer than human drivers and thus the work in this area must continue. "Our global fleet of manually driven data collection vehicles continue to operate," the company said.
It's no secret that Nvidia has been a driving force behind the advancement of self-driving cars. When I last spoke with Danny Shapiro, Nvidia's senior director of automotive, he explained to me that the biggest hurdle to Level 4 and Level 5 self-driving cars is computing power.
Simply put, raw performance power is required in order to run the sophisticated systems needed to safely deploy self-driving cars on the road. The products that are out now are capable of handling those requirements. However, a fine-tuning of the software is required.
That, of course, circles back to the same issue we already raised: How can we properly train a self-driving car to handle every scenario it may encounter on the road? From Nvidia's GTC conference in San Jose this week, we're getting our answer.
On Tuesday the company introduced its new DRIVE Constellation Simulation System, a computing platform that's based on two servers and uses a cloud-based system to drastically increase the scale in which A.I.-based driving systems can learn the road, so to say.
So how does it work? According to Nvidia's press release:
"Nvidia today introduced a cloud-based system for testing autonomous vehicles using photorealistic simulation -- creating a safer, more scalable method for bringing self-driving cars to the roads.

The first server runs Nvidia DRIVE Sim software to simulate a self-driving vehicle's sensors, such as cameras, lidar and radar. The second contains a powerful Nvidia DRIVE Pegasus A.I. car computer that runs the complete autonomous vehicle software stock and processes the simulated data as if it were coming from the sensors of a car on the road."
What does this mean? Essentially, Nvidia is able to create a near-infinite number of synthetic situations to put the car through. In the past, we had to teach A.I. systems by hitting the actual road with cumbersome test drives, logging the errors and correcting the mistakes. It was a painstaking yet necessary evil to get where we are today.
But with this new technology, Nvidia is able to constantly put these vehicles in a variety of situations. Maybe it's a rainy day just below freezing with the sun setting, making for a blinding glare in slick conditions.
How often does that happen and how often can a self-driving car be tested in it? Not often -- until now. Now a tester can create this scenario and run it on the driverless car platform over and over and over again. They can change the road conditions, weather conditions, lighting conditions and just about anything else.
As Shapiro said on a conference call Monday afternoon, Nvidia can use this platform to strenuously test self-driving cars in dangerous conditions, "without ever putting anyone in harm's way."
From Rob Csongor, vice president and general manager of automotive at Nvidia, in the company's press release: "Deploying production self-driving cars requires a solution for testing and validating on billions of driving miles to achieve the safety and reliability needed for customers."
With this new technology, that's exactly what Nvidia can do. Beginning in the third quarter of 2018, DRIVE Constellation customers will begin receiving early access to the platform, although it's unclear if the latest news about Nvidia suspending its self-driving car tests will affect these plans. 
This article is commentary by an independent contributor. At the time of publication, the author had no positions in the stocks mentioned.