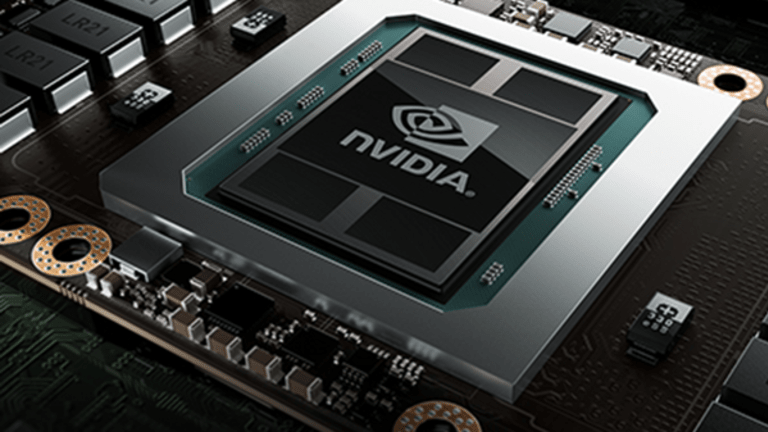 Nvidia Can Double Its Earnings Over the Next Three Years, Canaccord's Ramsay Says
Nvidia was the top performer in the S&P 500 this year, but it still has room to grow in both gaming and artificial intelligence.
Shares of Nvidia (NVDA) - Get Report were lower in mid-morning trading on Thursday, the day after Citron Research founder and short-seller Andrew Left tweeted out that the chipmaker was headed back down to $90 in 2017. The stock was the top-performing member in the S&P 500 and the Nasdaq 100 this year. 
Nvidia has "a lot of risks," such as concentrating its revenue more on data center rather than gaming, Left said in an interview on CNBC on Wednesday. The "easy money has been made" with Nvidia so buying it here is "more challenging." 
While Nvidia isn't cheap, it has "certainly earned" its valuation and expansion, Canaccord Genuity senior analyst Matthew Ramsay said on CNBC's "Squawk on the Street" on Thursday morning. 
A number of people are concerned about the company's gaming business going forward, but Canaccord's research shows that it still has "tons of growth" in that area over the next five years, he said. Plus, Nvidia has opportunities in artificial intelligence.
"Nvidia has growth legs well into the future," he said. "I think there's plenty investors can go after with this company on a go-forward basis." 
In fact, the company is likely to double its earnings over the next three years, with margins staying in the "really high 60s," Ramsay claimed. 
The chipmaker has a leg up on competitors because of "the barriers to entry and the competitive landscape" of certain markets that its going after, such as gaming and central processing units (CPU), he said. "I think they have very high barriers to entry in terms of not just computing but the software work that Nvidia's been doing for the last five to ten years in those markets."