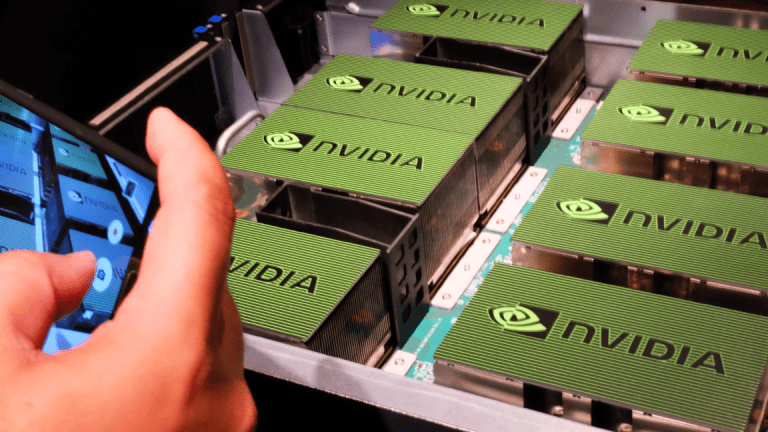 Nvidia: How and Why It's Changing the Autonomous Driving Race
On Nvidia Corporation's first-quarter conference call, CEO Jensen Huang reminded investors why they should be excited about the company's autonomous driving efforts.
On Nvidia Corporation's first-quarter conference call, CEO Jensen Huang reminded investors why they should be excited about the company's autonomous driving efforts.
On Thursday after the close, Nvidia Corporation (NVDA) - Get Report released its quarterly earnings results.
First-quarter earnings and revenue blew by analysts' estimates, while management's second-quarter outlook also topped expectations. TheStreet's Eric Jhonsa has a lights-out take on the quarter right here. 
We're focused on segment in particular: automotive.
For the quarter, Nvidia reported revenue growth of just 4% for its automotive segment. The company is in transition from relying on automotive infotainment systems to relying on sales from its autonomous driving products.
In that sense, gaming and data center continue to lead the way. But in the future, I expect automotive revenue to contribute much more meaningfully to the top and bottom line. While it's hard to say when and what the magnitude will be, it's definitely something today's investors should have their eye on.
From the company's conference call:
"We have created a scalable AI car platform that spans the entire range of autonomous driving, from traffic jams, pilots, to level 5 robo taxis. More than 370 companies and research institutions are now using NVIDIA's automotive platform. With this growing momentum, we remain excited about the intermediate and long-term opportunities for our autonomous driving business."
I call this "seed planting." Nvidia has almost 400 customers -- ranging from Mercedes Benz to startups and universities using its hardware and development products to create autonomous driving solutions. As some of those companies go from limited-production runs and experiments to scaled high-volume production, what components do you think they're going to use?
Nvidia, a best-in-breed supplier for which they've been using for years, or a completely new company?
I'm guessing Nvidia.
In March the company hosted its GTC conference, where CEO Jensen Huang showed off the company's new DRIVE Constellation platform. In the shell of a nut, developers will rely on two servers. The first is stuffed with GPUs and runs simulated environments -- traffic jams, icy conditions, driving toward a setting sun, etc.
The second server has Nvidia's DRIVE Pegasus hardware, which interprets the data from the first server's simulation. In the self-driving computer's "mind," the simulation is real and in that sense, it's able to log mile after mile in autonomous driving testing. These synthetic simulations allow self-driving car makers to put their systems through an exponentially larger amount testing than they could on real-world roads.
Not only can they do far more testing, they can do so without risking anyone's life.
To put this scale into context, Alphabet's (GOOG) - Get Report (GOOGL) - Get Report Waymo also uses synthetic testing. They will soon log about 5 billion test miles (between synthetic testing and real-world testing in a closed setting), compared to just 5 million miles of real-world, public testing.
Worth mentioning is that both Nvidia and Alphabet are holdings in Jim Cramer's Action Alerts PLUS Charitable Trust Portfolio.
Nvidia: These Guys Are Playing For Keeps
So for a quick review, Nvidia makes the necessary equipment for each car to handle the robust computing demands necessary for autonomous driving system. The company also makes the necessary equipment to develop autonomous driving systems -- they've got both ends covered. It's a market that Huang says could grow to $60 billion by 2035.
Admittedly that's a long ways off, but one can see how significant it could be for Nvidia, given that analysts are looking for total revenue of about $12.5 billion for the company this year. 
During the Q&A portion of the call, Huang provided more detail on its potential in automotive, (bold emphasis added):
"Now, in the self-driving cars, the [average selling prices] for Level 2 could be a few hundred dollars to a Level 5 self-driving car, taxi or driverless taxi being a few thousand dollars. And I expect that driverless taxis will start going to market about 2019 and self-driving cars probably somewhere between 2020 and 2021."
In other words, autonomous-driving revenue could get a solid bump next year and as we near the next decade. In the meantime, datacenter and gaming can carry the load. 
"The simple way to think about that is I believe that every single - everything that moves someday will be autonomous or have autonomous capabilities."

"And so the 100 million cars, the countless taxis, all the trucks, all the agriculture equipment, all the pizza delivery vehicles, you name it. Everything is going to be autonomous. And the market opportunity is going to be quite large. And that's the reason why we're so determined to go create that market."
This article is commentary by an independent contributor. At the time of publication, the author had no positions in the stocks mentioned.