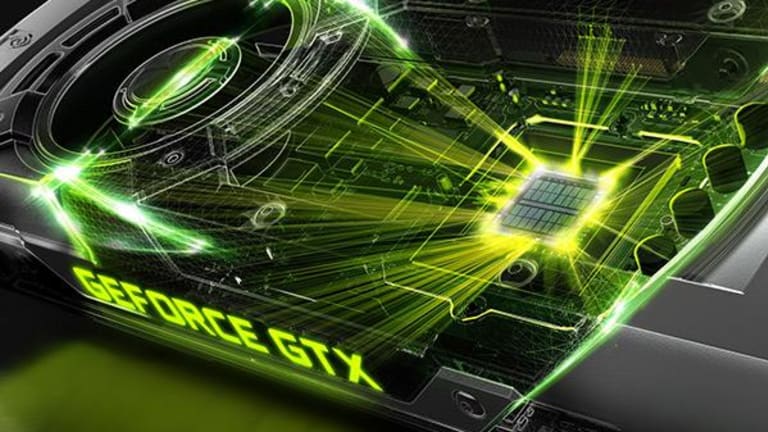 Nvidia and AMD Might Not Be Riding the Cryptocurrency Mining Wave for Much Longer
If the price of cryptocurrencies continues to plummet, so could the gains for AMD and Nvidia.
Chipmakers Nvidia Corp. (NVDA) - Get NVIDIA Corporation Report and Advanced Micro Devices Inc. (AMD) - Get Advanced Micro Devices, Inc. Report benefited from a cryptocurrency boom in June, but Wall Street is warning that the mining wave could run out of steam soon. 
Since the beginning of June, shares of AMD have gained 23.5%, while Nvidia has risen almost 14%, on the back of a surge in demand for GPUs used to mine an alternative cryptocurrency called Ethereum (the units are known as Ether). A wave of bullish reports have come out since then saying that the boost in cryptocurrency mining demand could help Nvidia and AMD rise above a seasonally weaker fiscal second quarter, among other benefits. 
But thanks to a steep drop in the prices of cryptocurrencies, the benefits may already be priced into the current quarter, with little left to gain thereafter, according to analysts. Nvidia's stock was up 0.1% to $164.44 on Tuesday, while AMD shares fell 3.9% to $13.27.
Some analysts are beginning to question the sustainability of the cryptocurrency mining boom. In a note to clients on Tuesday, BMO Capital Markets analyst Ambrish Srivastava wrote that he's "not at all bullish" on the sudden surge in demand for GPU cards from cryptocurrency mining. Additionally, Barclays analyst Blayne Curtis downgraded AMD's stock to Underweight from Equal Weight, saying he's"unconvinced" AMD will generate enough revenue to support its lofty valuation.
"Bottom line, we are not at all bullish on the sudden surge on demand for GPU cards from cryptocurrency mining," Srivastava said. "We see a fair bit of similarities to what happened in 2013/2014, which was a more than one-quarter bust for AMD, after the boom in cryptocurrency mining."
Srivastava was referring to 2013 when a steep run-up in Bitcoin prices led to a shortage of AMD GPUs, only for bitcoin to shed 80% of its value in just 13 months. 
The price of Ether exploded last month, hitting an all-time high of more than $400 on June 12. Since then, it has crashed 65% to a low of roughly $130 on Sunday, before rebounding 24% higher to $170 on Monday.
AMD and Nvidia are tied to Ether because they manufacture the graphics processors used to mine the cryptocurrency. The chip giants aren't connected to Ether's more popular crypto cousin, Bitcoin, however. That's because the algorithm for mining Bitcoins has become too complicated for desktop graphics chips, causing miners to switch to custom designed ASICs (application-specific integrated circuit) chips that are powerful enough to run the mining programs. 
If the price of Ether continues to plummet, AMD and Nvidia could see less demand for the cryptocurrency mining chips. Stifel analyst Kevin Cassidy likened it to the gold rush, where people paid big bucks for pickaxes when the price of gold was high, but once the price of gold went down, people got rid of their tools once they were no longer necessary. Similar to this, miners might start dumping the chips, which retail for as much as $800 a piece, for a couple hundred dollars on the secondary market.
It appears this is already happening on eBay (EBAY) - Get eBay Inc. Report, where the search term "ethereum mining rig" returns 260 listings -- half of which were posted during the last week, according to coindesk.com.
Some miners aren't gamers (NVDA and AMD primarily make gaming chips), so they would have no use for the chips if there's no room for profit in the mining market. 
"This guy might not be a gamer, so he doesn't need the GPU card that costs $800," Cassidy explained. "He might be able to sell it on a secondary market, such as eBay, for a couple hundred dollars...and AMD or Nvidia doesn't get to see that sale anywhere. It's like a used car market, I guess." 
Bernstein analyst Stacy Rasgon said Nvidia and AMD might be able to protect themselves if they make chips that are specifically dedicated for cryptocurrency mining. This is because the current cryptocurrency mining chips can be used for gaming power and resold to video game players, which means the gamers don't have to buy brand new chips from Nvidia or AMD. Last year, Nvidia's gaming revenues were about $4 billion vs. total sales of $6.9 billion, while AMD sold approximately $2 billion in gaming chips, relative to annual sales of $4.2 billion. 
Graphics card maker Asus is rumored to be selling a version of AMD- and Nvidia-based cards specifically optimized for cryptocurrency mining, according to PCMag. Rasgon said it wouldn't be very time-consuming nor difficult for AMD or Nvidia to produce such chips. 
But dramatic fluctuations in the price of Ether and other cryptocurrencies show how volatile the market is, as well as how risky it may be to invest in it. Look no further than what happened to Bitcoin. In 2013, a steep run-up in Bitcoin prices quickly ran out of steam and prices plunged. Additionally, the Ether algorithms may get too complicated for Nvidia or AMD's chips, causing miners to switch to ASICs chips, just as they did with Bitcoin.
"I don't view this as a long term investable thesis," Rasgon argued. "If you ran out and bought a whole bunch of GPUs and suddenly the price comes down, it's harder to make a return on investment. It feels frothy to me."
Don't Miss these top stories right now:
Amazon Files Trademark to Get Into Meal Kits, Continuing to Haunt Blue Apron