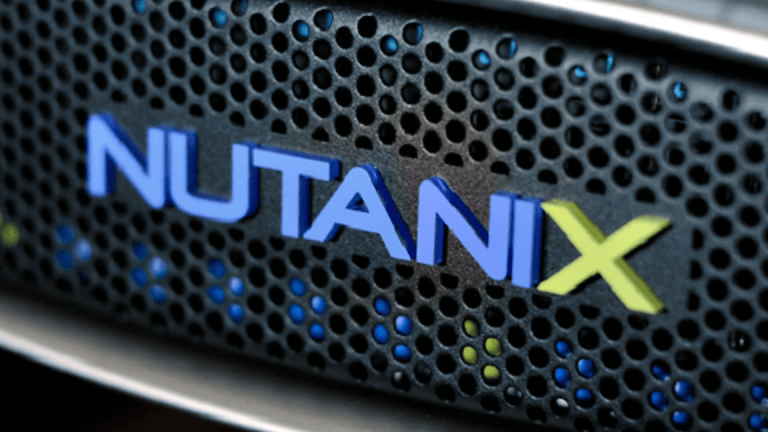 Nutanix Shares Plunge On Weak Outlook; CEO Says 'Execution' in Focus
Nutanix's product chief, Sunil Potti, also announced his resignation this week.
Nutanix shares plummeted almost 20% on Friday morning after a grim earnings report showed a downtick in revenue and disappointing outlook for the cloud storage firm. 
Reporting after the close on Thursday, Nutanix (NTNX) reported diminished revenue compared to one year ago, at $287.6 million versus $289.4 million, representing a drop of 1% and falling short of Wall Street's expectations. Looking ahead, it guided for revenue between $280 million and $310 million, weaker than what analysts had modeled.  
Nutanix shares were down 18.9% on Friday to $26.55, continuing a downward trend for Nutanix shares this year. In recent weeks, analyst coverage of Nutanix called out signs of a slowdown among its peers in the cloud storage market as well as tougher competition in the space from the likes of Dell (DELL) and others. Year to date, Nutanix shares are now down almost 37%. 
"Whenever it comes to macro issues, we still focus inward and say: What can we do to focus on our own execution?" Nutanix CEO Dheeraj Pandey told TheStreet on Thursday. That means doubling down on investments in lead generation, improvements in commercial selling techniques and on improvements in hiring, he said.
Nutanix has been undergoing a transition from hardware to subscription-based services, and Pandey suggested that some degree of growing pains in that process are unavoidable. 
"If we do this right, we'll come out of this with better predictability and leverage for the business itself," he said.
Earlier this week, Nutanix also said in an SEC filing that its product chief, Sunil Potti, is resigning to pursue other opportunities. Potti will be out as of June 21. 
Pandey said that upon Potti's departure, senior leaders in Nutanix's engineering group, with support from its COO and CTO, are ready to step up and fill the void.