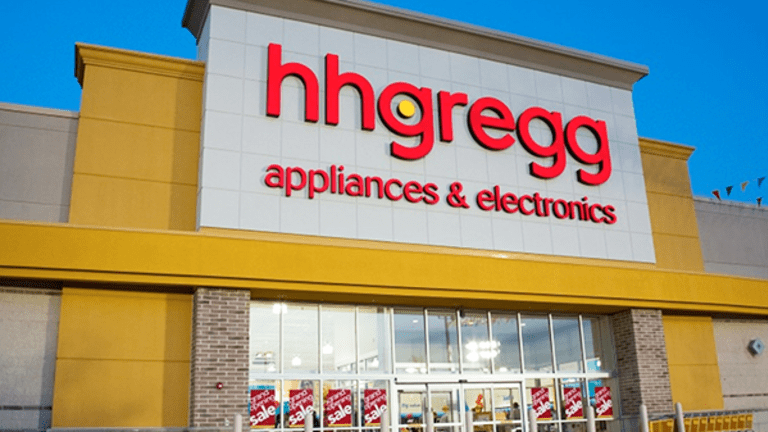 Now That HHGregg Has Died, Best Buy, J.C. Penney and Others Could Split $1 Billion Sales Windfall
Some big winners exist from HHGregg's demise.
Some big winners exist from HHGregg's demise.
The end has arrived for HHGregg (HGG) , and that's great news for some of its long-time rivals. 
The struggling electronics and appliance retailer began liquidating its assets on Saturday after failing to find a buyer following an early March Chapter 11 bankruptcy filing. The company plans to close all of its 220 stores by the end of May, resulting in roughly 5,000 layoffs across the U.S.
Deutsche Bank analyst Mike Baker believes the biggest beneficiary HHGregg's bust will be Best Buy (BBY) - Get Report , which after near-term pressure from the liquidation sales could see market share gains.
Here's a look at the three companies that stand to benefit the most from the chain's demise.
Best Buy's electronics sales could get a boost.
HHgregg mostly sold furniture and appliances including chairs, refrigerators and tables. But, the company also hawked a good amount of electronics such as computers, wearables, headphones and everything else for which Best Buy is known. More than 32% of Best Buy's annual sales come from consumer electronics, while more than 8% are derived from appliances.
In March, Best Buy reported a fourth-quarter revenue miss and a same-store sales slip of 0.9% in North America. Executives blamed weak revenue on declines in the phones, tablets, wearables, computing and drones categories. So if HHgregg vanishes, those struggling categories for Best Buy may improve.
Best Buy CEO Hubert Joly told analysts at the time that some $1 billion in sales would be up for grabs should HHGregg disappear. Baker says if Best Buy were to pick up 20% of HHGregg's market share in appliances and electronics, it would add about $335 million in sales, or 0.9% to same-store sales.
J.C. Penney's new appliance departments may see some fresh faces.
While J.C. Penney (JCP) - Get Report is undoubtedly struggling itself, it did see strength throughout last year in its new appliances departments that are now in more than 500 stores and online. The company recently announced plans to launch appliances at an additional 100 stores.
As a result of its appliances expansion, J.C. Penney could be in a nice position to grab business that was once reserved for HHGregg.
Home Depot and Lowe's could see a lift in appliance sales, too.
Home improvement retailers Lowe's (LOW) - Get Report and Home Depot Inc. (HD) - Get Report don't necessarily need a sales boost as both are benefiting greatly from the U.S. housing recovery. But both likely will get a new shot in the arm now that HHgregg has bit the dust.
The companies not only dominate market share for tools and outdoor power equipment, but they also have sizable appliance businesses.
More from TheStreet:
Cramer: Americans Would Snap Up 'Make America Great Again' Bonds
Trading Strategies: 8 Stocks to Buy If the Fed Keeps Raising Rates
This Is Jim Cramer's Second Quarter Playbook
Focus on Earnings in the Second Quarter, Not Donald Trump's Policies
What will move markets this quarter and how should investors position themselves ahead of time? Jim Cramer sat down with four of TheStreet's top columnists recently to get their views. Click here to listen to his latest Trading Strategies roundtable with them and read their advice for stocks, bonds, forex, tax reform and gold.