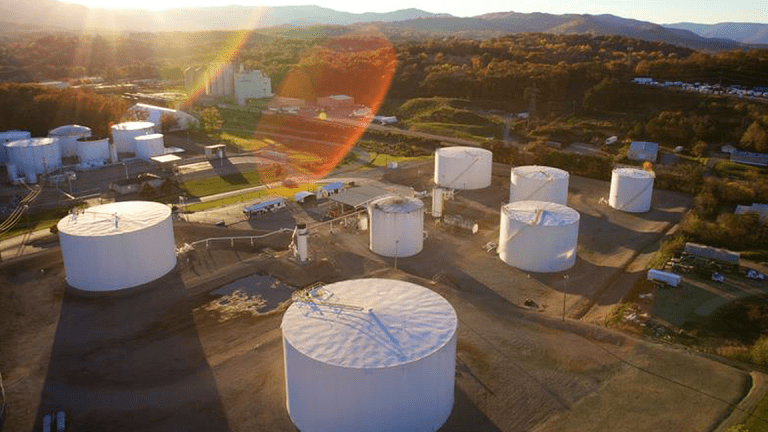 The obvious move higher for crude prices late on Tuesday took the energy sector with it.
Treasury Secretary Steven Mnuchin indicates that the U.S. is talking to domestic oil producers about how to increase supplies in order to maintain balance as preparation for the re-imposition of sanctions on Iran. According to the Financial Times, Paul Sheldon of S&P Global Platts suggests that unilateral enforcement of new sanctions will be more difficult now than what was in place prior to President Obama's deal in 2015. That deal obviously had broader international support than does its exit. Sheldon adds that there could be just 200 thousand barrels per day (of Iranian exports) at risk by the fourth quarter of 2018. On top of that, Saudi Arabia has spare capacity, and has pledged to support the stability of these markets.
Crude prices recovered sharply from the profit-taking that we saw ahead of yesterday's news events, and it is in the Saudis' best interest to maintain higher market prices as long as the Saudi Aramco deal remains in the future. That said, the U.S. dollar continues to strengthen versus the greenback's peers, and that could act as a weight upon all commodity prices if that condition were to persist.
You've heard all about the bottlenecks in domestic distribution. Now, you've heard Secretary Mnuchin talk about production. Still, we have to get this stuff to market. When it comes to energy, I have focused on oil services, hence my well-known long positions in both Action Alerts PLUS holding Schlumberger (SLB) - Get Schlumberger NV Report , and Halliburton (HAL) - Get Halliburton Company (HAL) Report .
I have kept my toes in the water as far as production and exploration are concerned by maintaining a long in the blue-chip, under-performer, Exxon Mobil (XOM) - Get Exxon Mobil Corporation Report .
However, I do not have a pipeline stock on my book. Generally, the group's debt levels, as I am one that still considers fundamental analysis, have kept me at bay.
Magellan Midstream is no different in that regard. Total debt just dwarfs cash on hand. That said, the firm's total assets dwarf the firm's total debt. Total assets are not generally very liquid ho,wever, and both the MLP's current and quick ratios are like something out of a horror movie. Buuuut... that said, there are positives. MMP trades at just 15 times forward-looking earnings estimates, and runs with some nice margins. Gross profit margin is lofty, at over 50%, while operating margins are still above 36%.
A sure thing? Of course not. One thing I promise you, a free lunch will likely remain elusive until the day you draw your last breath. Still, MMP does display some nice cash flows, while paying shareholders a 5.5% dividend yield to take on equity risk. Oh, and MMP beat first-quarter expectations for both earnings per share and revenues nicely.
What's easy to see in the chart above is the breakout above former resistance at the $66.25 level. This came both in response to earnings and the double dose of news that volumes on MMP's Bridge Tex pipeline had gapped 50% higher in the first quarter while nearly all of the firm's clients on the Longhorn pipeline had extended their contracts for an additional two years.
Money flow popped, as did Relative Strength. I am a little late to this party. I would rather wait for a re-test of the $66.25 levels from above, but I am not sure we get one in this environment. That said, this is what I am going to do:
Buy small at current price levels with the intent to buy another small increment at expected support. On top of that, write puts with a medium dated expiration and a strike price that will place my basis, if exercised, against me down where I want it.
Purchase: One-eighth of intended equity long position in MMP close to last night's closing price of $68.33.
Sale: Write June $65 MMP puts at or close to the last sale of $0.70.
Target Price: $74
Potential Risk: Having to buy the additional shares at a net $64.30 by mid-June if the puts are exercised. (For the news kids... one options contract equals 100 shares of equity.)
At the time of publication, Guilfoyle was long HAL, SLB, XOM equity.