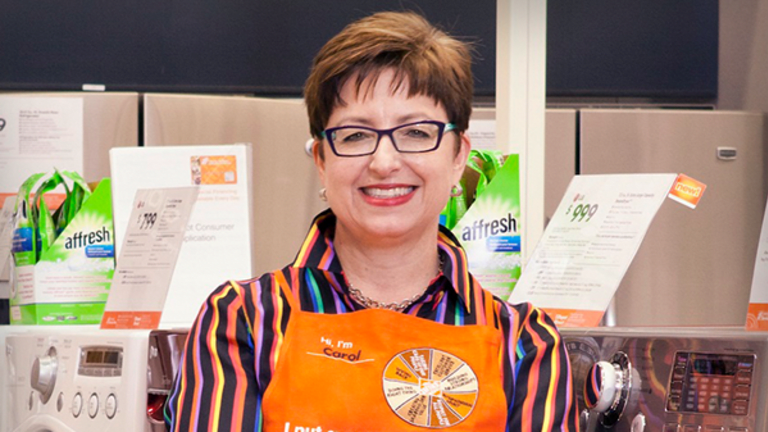 Now Millennials Are Buying Homes, and Buying Fixer-Uppers, Says Home Depot CFO
Tome talks also about first-time home buyers and competition from Amazon and others.
Who said millennials don't want to own homes? Just about everyone did. Now, they're participating in the American Dream.
That's the view of Home Depot, Inc. (HD) - Get Home Depot, Inc. Report  CFO Carol Tome, who sees the numbers at the stores across the country. Tome spoke with TheStreet on Tuesday, Aug. 15, after the company's second-quarter earnings.
Home Depot delivered yet another strong quarter on Tuesday, helped by homeowners investing in their homes that are appreciating in value. The home improvement retailer delivered second quarter earnings of $2.25 a share vs. Wall Street estimates for $2.21 a share. Same-store sales rose 6.3%, blowing away forecasts for an increase of 4.4%.
The interview was edited for length and context.
Q. What's new in the homeowner sector?
A.  First-time home buyers have come back. It was the largest increase in first-time home buyers since 2005. That's good for Home Depot because first-time home buyers tend to buy homes that need repair and remodel.
And some of those homes are being bought by millennials. It's what we thought would happen. People were saying millennials would never buy a home. Yet, we had done all this research on it and thought it would happen. It's not that millennials didn't want to buy a home ever; it was just a matter of when. Now it's happening.
Q. Are home prices too hot these days? 
A. We don't think home prices are too hot. In fact, they have increased as much as 6% this year. They will continue to grow in 2018, 2019, 2020.
Part if this is that there's a housing shortage in the U.S. There are only about three or four months' supply. In a normal market, you would expect to see six months' supply. 
If you look at Case-Shiller Composite Index, the 20 cities have recovered and then some to the peak prices of 2006.
Q. How has Amazon.com Inc.'s (AMZN) - Get Amazon.com, Inc. Report plans to sell Sears Holding Corp.'s (SHLD) Kenmore appliances affected your business? 
A. We opened our first four stores back in 1979, and since then we've competed. We've competed with retailers who have come and gone and new entrants. This [Amazon] announcement is just an announcement in a competitive world.
The addressable space for home improvement in the United States is $550 billion. We compete against big box retailers like Lowe's Companies, Inc.  (LOW) - Get Lowe's Companies, Inc. Report and Menards. We compete against Sears. We compete against online retailers like Amazon and Wayfair Inc.  (W) - Get Wayfair, Inc. Class A Report . We compete against specialty retailers like Floor & Decor Holdings Inc. (FND) - Get Floor & Decor Holdings, Inc. Class A Report and Lumber Liquidators Holdings Inc. (LL) - Get LL Flooring Holdings, Inc. Report . And we compete with a lot of mom-and-pop stores.
The way we look at that announcement, like any other competitive move, is we will compete.
More of What's Trending on TheStreet:
50 Reasons Dying Sears Had No Choice But to Strike a Deal With the Ruthless Amazon