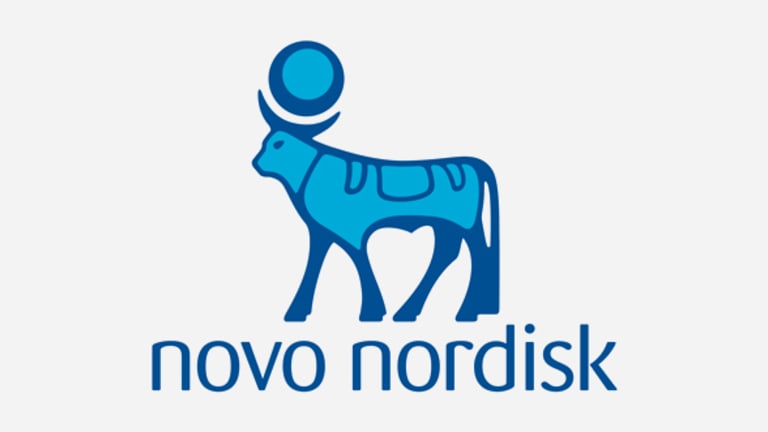 Publish date:
Novo Nordisk Stock Plunges as U.S. Problems Cloud Outlook
The Danish drugs maker halves targets for operating profit growth.
The Danish drugs maker halves targets for operating profit growth.
Novo Nordisk (NVO) - Get Report stock plunged on Friday after the pharmaceuticals company cut guidance for full-year sales growth and took the ax to forecasts for long-term earnings.
The Danish group topped expectations for earnings in the first nine months of the year but management said that a tough competitive environment in the U.S. meant that it would no longer be able to live up to pledges for future growth.
Novo's stock fell by as much as 20% shortly after the opening bell in Europe, to reach a three-year low of Dkr 220.0 ($32.35), before paring losses.
"We have reassessed our long-term target for operating profit growth and our R&D strategy in the light of the challenging market environment in the USA," said outgoing president and CEO Lars Rebien Sorensen.
Novo reported sales of Dkr82.2 billion for the first nine months, which was slightly below the consensus for Dkr82.6 billion. Earnings per share came in at Dkr11.50 against expectations for Dkr11.40.
But management slashed their long-terms targets for operating profit, prepping investors to expect annual growth of just 5% for the foreseeable future, which is down from their previous target of 10% and represents the third change to the group's long-term targets since the beginning of 2015.
The board also reduced the top end of its guidance for both 2016 and 2017 sales growth, from 7% to 6%.
At the heart of Novo Nordisk's decline is an increasingly tough market for diabetes treatments in the U.S, which has been brought about by a spiraling number of players bringing treatments to market, including generic drug manufacturers, as well as a concerted effort by health insurance firms and other payers to drive down drug pricing.
"All in all, this is a recognition that the U.S. diabetes market in particular has changed for the worse," said Alistair Campbell, a pharmaceuticals analyst at Berenberg,
Diabetes treatments account for 80% of Novo Nordisk's sales and its largest market is the U.S. However, average prices for the most common treatments, basal insulin drugs, fell from $271 per subscription in 2014 to $215 in 2016.
The group announced 1,000 job cuts in September, which reduced its global workforce by 2%, as it sought to protect its bottom line from the deterioration in the U.S.
Novo Nordisk said on Friday that it expects pricing headwind to remain a fact of life in the U.S. diabetes market during 2017 and that generic competition will also pose a threat to sales in other key product lines, including for its hormone replacement drugs.
Berenberg's Campbell calculated on Friday that the impact on market forecasts for earnings stemming from Novo's cut to long-term operating profit expectations will be significant, with 2020 Ebit likely to be about 9% below the current Bloomberg consensus.
"This is a major reassessment of Novo's long-term growth trajectory," he remarked.
Despite the bleak update, Campbell reiterated his hold rating for Novo stock on Friday and maintained his price target of Dkr330.00.
Novo Nordisk CEO Sorensen will be succeeded in January by Lars Fruergaard Jorgensen, executive vice president and head of corporate development.