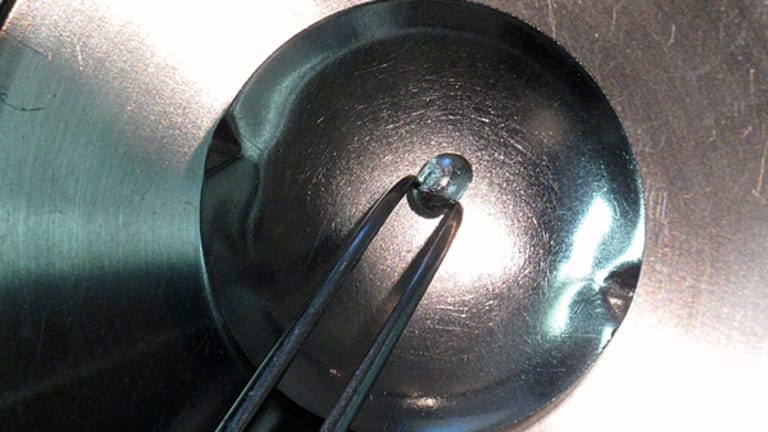 NovaGold Girds for Battle
The outcome of a dispute with Barrick could have a major impact on this small miner.
A mouse of a miner seems to be fixing for a fight with a gold-industry titan over the development of a potentially massive gold deposit in the Alaskan wilderness.
On one side is tiny Vancouver-based exploration and development company
NovaGold Resources
(NG) - Get Novagold Resources Inc. Report
, and on the other is Toronto's
Barrick Gold
(ABX)
, one of the world's largest mining concerns.
Should NovaGold prevail in the spat, or at least come to a truce, its shares could see a quick rally into the upper-$20s from the current price around $19, one money manager believes.
The two are at loggerheads because of their differing interpretations of a 2002 joint venture agreement between NovaGold and Placer Dome, a company Barrick acquired in March 2006. With that purchase, Barrick inherited the Placer deal, for a property called Donlin Creek.
Currently, NovaGold owns 70% of Donlin Creek, an undeveloped deposit estimated to have more than 30 million ounces of gold, with Barrick holding the remaining 30%. But if Barrick can deliver on two important items before Nov. 13 then it can up its own stake to 70% and leave NovaGold with just 30%.
The two key things are the delivery of a full feasibility study and a decision by Barrick's board to start construction on the mine. A complete feasibility study typically involves getting the required environmental permits, since they have a large impact on a mine's capital costs and hence profitability, a key factor in any construction decision.
The question of what constitutes a study is something on which the two sides disagree vehemently. NovaGold's management is taking the view that Barrick can't succeed in fulfilling the requirements within the required time because the permitting process won't be complete.
Barrick, though, steadfastly says it will fulfill its obligations.
"Since taking over this project from Placer in early 2006, Barrick has dedicated the necessary personnel, with the right mix of expertise, on the feasibility study for Donlin. They remain on track to complete it on time," says Vince Borg, a spokesman for Barrick.
He also points to a clause in the agreement that states the feasibility study needs to include details of "
permitting requirements, and the estimated costs thereof
," rather than actual permits.
But NovaGold isn't impressed. "How can they say the study will be final if they haven't started the permitting process?" says Rhylin Bailie, a NovaGold representative. "When you move through the permitting process you end up making changes to the mine design and the mine costs, therefore it won't be final."
Whenever it comes, a final feasibility study should provide sufficient detail to designate the metals reserves as "proven" and "probable," which means the deposit is economically mineable. More importantly, such studies can be used to obtain financing from a lending institution. And it's that attribute that's the real prize for NovaGold.
Kjeld Thygesen, portfolio manager at Gold Arrow Capital Management in London, believes the squabble will likely end with some form of compromise between the two companies, with each firm probably taking a 50% stake in the operation. Gold Arrow holds shares of both firms.
For now, the gulf between the two parties and the uncertainty it's producing is clouding sentiment about NovaGold's stock, but Thygesen thinks it could rise fairly quickly once the disagreement is settled.
"I think that once this is resolved you'll see the price move up," he says. "I don't see why the stock doesn't go to the upper-$20s, but I am not saying that it is the peak price."
Maybe he's right. NovaGold's market cap is slightly less than $2 billion. A simple back-of-the-envelope calculation shows the addition of the Donlin Creek mine alone would add roughly $713 million in annual revenue to NovaGold, assuming the spot price for gold stays around $750 an ounce and the company gets a 50% interest in the mine.
That's based on a 2006 preliminary economic assessment of the mine the company conducted, which suggests the site could produce 1.9 million ounces of gold a year in the first seven years of a 22-year mine life.
While Donlin Creek is its biggest bet, NovaGold is involved in other projects, such as Rock Creek in western Alaska, which is expected to start production in the fourth quarter, and Galore Creek, a 50-50 copper and gold partnership in British Columbia with Canada's
Teck Cominco
(TCK)
, which is due to produce in 2012.
NovaGold also has a pact with
Rio Tinto
(RTP) - Get Reinvent Technology Partners Class A Report
on an exploration stage property in northern Alaska.
All of which means that if things go right for NovaGold, there's plenty of potential upside for stock investors. But being a mining company is of course fraught with difficulties and risk. At least one danger is that the tension between NovaGold and Barrick brings progress to a halt on Donlin.
"There is certainly bad blood between the companies," Joe Foster, a gold strategist at New York-based money management firm Van Eck, which owns shares of Barrick, but not NovaGold.
Indeed, NovaGold has previously sued Barrick, claiming a breach of fiduciary duty over the development of Donlin Creek. But in July a judge for the case said an action before the November deadline was premature.
Barrick made a hostile takeover attempt for NovaGold in July 2006, which culminated in a $16-a-share offer, but it dropped the effort last December.
"If the bid was $16 when gold was worth around $625 an ounce, its probably worth considerably more now," says Tom Winmill, portfolio manager at the
(MIDSX) - Get Midas Fund Inc. Report
Midas Fund in New York. Midas holds shares of NovaGold, but not Barrick.
In other words, things could be about to get very interesting.