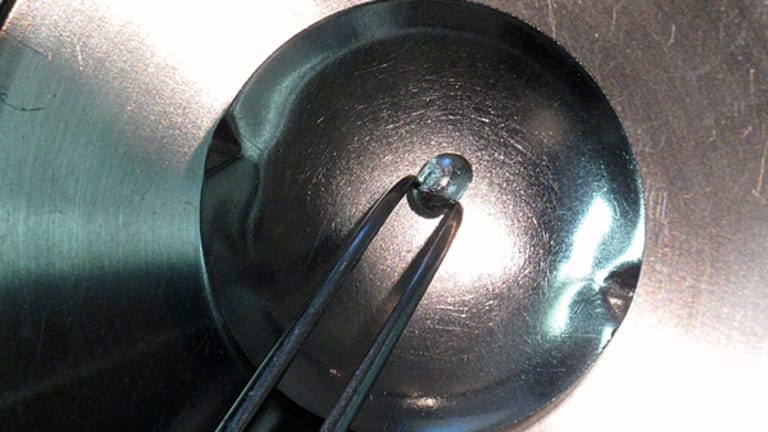 NovaGold, Barrick Make Nice
The sides settle their differences over Donlin Creek.
A little peace has broken out in the Alaskan mining patch, as a low key but high stakes squabble over a massive, undeveloped gold field has come to a happy conclusion.
Miniscule miner
NovaGold Resources
(NG) - Get Novagold Resources Inc. Report
and industry behemoth
Barrick Gold
(ABX)
had been cruising toward a
legal battle over the development of Donlin Creek, a resource estimated at more than 30 million ounces of gold.
But now it seems the two have squared their differences and can get on with the task of developing the property into a mine that could produce as much as 1.9 million ounces of gold a year.
Under the terms of a previous agreement, Nova owned a 70% interest in the deposit, with Barrick holding the remainder. But Nova would have ceded another 40% stake upon Barrick delivering a bankable feasibility study by midnight on Nov. 12.
In the new deal, each will now take a 50% stake in the project, thus skirting what could have been a lengthy and expensive legal battle.
"We are very pleased that the parties have found a solution," writes John Bridges and Ankush Agarwal, equity analysts at JP Morgan in New York, in a research brief.
The two firms had differing interpretations of what would constitute a bankable feasibility study, with the acquisition of environmental permits seemingly the lynchpin in a very knotty problem.
Also as part of the new agreement, Nova will reimburse Barrick $63.5 million in site-preparation costs. The next $12.7 million of Barrick's expenses associated with developing the mine will be picked up by Nova. Another $50.8 million will be covered from operating revenue when the gold starts being sold.
Shares of Nova were recently rallying 1.8% at $20.81, while Barrick was slipping 1.3% at $45.62.