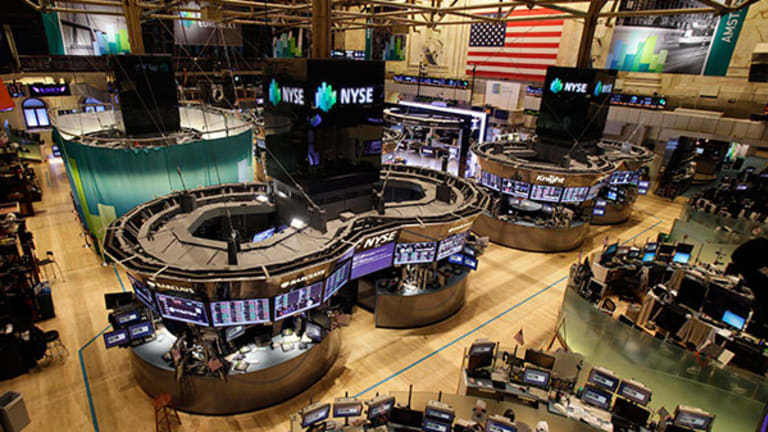 Nov. 23 Premarket Briefing: 10 Things You Should Know
U.S. stock futures are lower Monday ahead of data on home sales and as Wall Street awaits the announcement of a mega-merger in the pharmaceutical industry.
Updated to include confirmation of Pfizer and Allergan merger.
Here are 10 things you should know for Monday, Nov. 23:
1. -- U.S. stock futures were pointing lower Monday ahead of data on home sales and as Wall Street awaits the announcement of a mega-merger in the pharmaceutical industry.
European stocks fell, led by declines in commodities stocks on falling raw materials prices.
Asian shares ended Monday's session mostly lower.
2. -- The economic calendar in the U.S. on Monday includes Existing Home Sales for October at 10 a.m. EST.
Must Read: 5 Tech Stocks George Soros Loves for 2015
3. -- U.S. stocks on Friday rose and logged their best week in more than a year after the Federal Reserve signaled more strongly that a hike in interest rates in December is more likely, providing a degree of certainty for equity investors.
The Dow Jones Industrial Average added 3.4% over the week, regaining positive ground for the year in Friday's session. The S&P 500 added 3.3%, and the Nasdaqgained 3.6%. The S&P 500 logged its best week of the year.
4. -- Pfizer (PFE) - Get Pfizer Inc. Report and Allergan (AGN) - Get Allergan plc Report  agreed to merge in a deal worth more than $160 billion that would create the world's biggest drugmaker.
The deal would move Pfizer to a foreign country.
The boards of each company ratified the deal Sunday and it was announced early Monday. Allergan shareholders will receive 11.3 shares of the combined company for each of their Allergan shares, and Pfizer stockholders will receive one share of the combined company for each of their Pfizer shares, the companies said in a press release Monday.
The takeover would be the largest so-called inversion ever, which allows a U.S. company to move abroad and take advantage of a lower corporate tax rate elsewhere, according to The Wall Street Journal. To help secure the lower tax rate, the deal will be technically structured as a reverse merger, with Dublin-based Allergan, which is smaller, buying New York-based Pfizer.
The completion of the transaction is expected in the second half of 2016.
Pfizer CEO Ian Read will lead the combined company with Allergan CEO Brent Saunders serving as president and chief operating officer.
5. -- Petco is near an agreement to be acquired by CVC Capital Partners and the Canadian Pension Plan Investment Board for $4.7 billion, a person briefed on the matter told the New York Times.
The deal is likely to be announced on Monday.
Petco, which sells food and supplies for pets in 1,400 stores throughout the U.S., has been bought and sold by TPG Capital and Leonard Green & Partners twice, the Times noted. The first time was in 2000, when they acquired the retailer for $600 million, and then took it public two years later. They then bought it back in 2006 for $1.68 billion.
6. -- Diebold (DBD) - Get Diebold Nixdorf Incorporated Report , the U.S. ATM maker, offered to buy German rival Wincor Nixdorf (WNXDY) for $1.8 billion in a cash-and-stock deal.
The merger would create the world's largest maker of automated teller machines.
The companies announced last month they were in exclusive talks.
7. -- Procter & Gamble (PG) - Get Procter & Gamble Company Report , the consumer-products giant, should split, according to Barron's.

P&G is divesting 100 brands to focus on faster-growing products and is cutting costs aggressively, but the stock, down 17% this year, has trailed the S&P 500 for six years, Barron's noted.

A breakup would offer shareholders an opportunity to invest in companies growing from a dramatically smaller base. Barron'sfigured that P&G's businesses could be worth about $90 a share if they traded separately, compared with a recent stock price of $75. Add a hefty 3.5% dividend yield and investors could realize a total return from a breakup of almost 25%, Barron's noted.


8. -- Ford (F) - Get Ford Motor Company Report  workers narrowly approved a new four-year contract, wrapping up five months of negotiations between the United Auto Workers union and Detroit automakers.
The UAW said late Friday that Ford's contract passed with a 51.4% vote. The agreement covers 53,000 U.S. hourly workers at 22 plants.
9. --  The Hunger Games: Mockingjay - Part 2 took in $101 million in its first weekend in theaters, according to Rentrak estimates Sunday.
But the latest chapter of The Hunger Games collected the lowest opening take among the four films in the series.
10. -- Earnings are expected Monday from Tyson Foods (TSN) - Get Tyson Foods, Inc. Class A Report  and GameStop (GME) - Get GameStop Corp. Class A Report  .