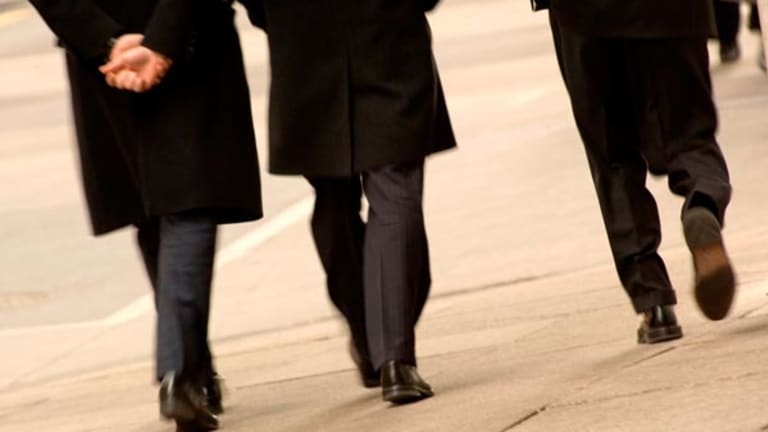 Publish date:
Nov. 20 Premarket Briefing: 10 Things You Should Know
U.S. stock futures point to modest gains on Wall Street; JPMorgan's settlement with the U.S. is detailed; J.C. Penney to report results; Yahoo! raises its buyback offering.
U.S. stock futures point to modest gains on Wall Street; JPMorgan's settlement with the U.S. is detailed; J.C. Penney to report results; Yahoo! raises its buyback offering.
Here are 10 things you should know for Wednesday, Nov. 20:
1.-- U.S. stock futures were suggesting modest gains for Wall Street on Wednesday while global stocks declined on a weaker outlook for global growth.
Stocks in London, Frankfurt and Paris were slightly lower. Asian shares ended the session to the downside. Japan's Nikkei 225 index fell 0.3%.
The Organization for Economic Cooperation and Development on Tuesday cut its forecast for world growth this year to 2.7% and 3.6% for 2014.
2.-- The economic calendar in the U.S. Wednesday includes retail sales for October at 8:30 a.m. EST, the Consumer Price Index for October at 8:30 a.m., and existing-home sales for October at 10 a.m. Minutes from the Oct. 30 Federal Open Market Committee meeting will be released at 2 p.m. 
3.-- U.S. stocks on Tuesday closed lower as sluggish corporate forecasts exposed consumer uncertainty about the economic recovery and the OECD lowered its outlook on the global economy.
The S&P 500 lost 0.2% to close at 1,787.87 while the Dow Jones Industrial Average dipped 0.06% to 15,967.03. The Nasdaq slid 0.44% to 3,931.55. 
4.-- New York State Attorney General Eric Schneiderman on Tuesday announced the $13 billion mortgage settlement between  JPMorgan Chase (JPM) - Get Reportand multiple government authorities.  
"Today's settlement is a significant, but by no means final step, by the Federal Housing Finance Agency's Office of the Inspector General, the Department of Justice and the New York Attorney General's Office and our other law enforcement partners, to hold accountable those who commit acts of fraud and deceit," Schneiderman said in a press release.
Schneiderman said JPMorgan's settlement will include $4 billion in assistance to distressed homeowners and $9 billion in cash payments. He also said the deal will cover all civil claims by government authorities related to sales of residential mortgage-backed securities (RMBS) by JPMorgan, Bear Stearns and Washington Mutual before 2009.
5.-- J.C. Penney (JCP) - Get Report is expected by analysts on Wednesday to report a third-quarter loss of $1.77 a share on sales of $2.79 billion.
Same-store sales for the quarter are expected to dip by 3.3%, an improvement from the 11.9% drop in the second quarter.
For the year-earlier quarter, J.C. Penney posted a loss of 93 cents a share on revenue of $2.93 billion.
6.-- Yahoo! (YHOO) announced Tuesday the Internet company will raise its buyback offering by $5 billion, and issue $1 billion in convertible debt. 
The stock jumped 1.7% to $35.22 in after-hours trading Tuesday on the news.
Yahoo! has spent $3.1 billion on share buybacks in the first nine months of 2013, according to Reuters.
7.-- Private-equity firm Roark Capital agreed to buy a majority stake in CKE, the parent company of the Hardees and Carl's Jr. fast food chains. 
CKE is majority owned by investment firm Apollo Global Management (APO) - Get Report.  
Terms of the deal acquisition weren't announced, but people familiar with the matter told Reutersthe deal values CKE at between $1.65 billion to $1.75 billion. 
8.-- Deere (DE) - Get Report, the manufacturer of farm equipment, is expected by Wall Street on Wednesday to post fiscal fourth-quarter earnings of $1.89 a share on revenue of $8.68 billion. 
Deere posted year-earlier profit of $1.75 a share on sales of $9 billion.
9.-- Johnson & Johnson (JNJ) - Get Report agreed to pay $2.5 billion to settle thousands of lawsuits brought by hip replacement patients who accuse the company of selling faulty implants that led to injuries and additional surgeries.
10.-- Gary Locke, the American ambassador to China, said he will step down from his post early next year to rejoin his family in Seattle.
Locke took up the post in August 2011 and was the first Chinese-American to hold it.
-- Written by Joseph Woelfel
To contact the writer of this article, click here:Joseph Woelfel
To submit a news tip, send an email to:tips@thestreet.com.
Copyright 2013 TheStreet.com Inc. All rights reserved. This material may not be published, broadcast, rewritten, or redistributed. AP contributed to this report.