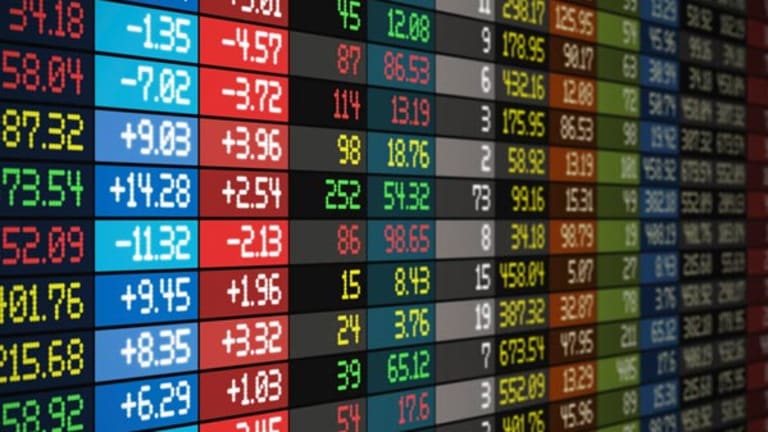 Publish date:
Nov. 11 Premarket Briefing: 10 Things You Should Know
U.S. stock futures are flat; as many as 10,000 feared dead from Philippines typhoon; Apple reportedly designing curved iPhones; Shire to buy ViroPharma.
U.S. stock futures are flat; as many as 10,000 feared dead from Philippines typhoon; Apple reportedly designing curved iPhones; Shire to buy ViroPharma.
NEW YORK (TheStreet) -- Here are 10 things you should know for Monday, Nov. 11
1.-- U.S. stock futures were signaling a flat start to Wall Street on Monday following Friday's report of strong jobs growth in the U.S.
European stocks were rising slightly. Major Asian indices finished with gains on Monday. Japan's Nikkei 225 index rose 1.3%. Stocks in Manila sank after Typhoon Haiyan devastated the eastern Philippines, killing thousands of people. Some estimates put the death toll at as many as 10,000.
2.-- The economic calendar in the U.S. Monday is empty. Stock markets in the U.S. are open but bond markets are closed in observance of Veteran's Day.
3.--U.S. stocks on Friday rose as October's upbeat jobs report bolstered the view that the U.S. economy can expand with benefits to its work force even if the Federal Reserve opts to reduce the size of its stimulus program.
The S&P 500 rose 1.3% on Friday to 1,770.54, while the Dow Jones Industrial Average jumped 1.1% to 15,761.27. The Nasdaq jumped 1.6% to 3,919.23. For the week, the S&P and Dow rose 0.51% and 0.94%, respectively. The Nasdaq lost 0.07% for the five-day trading period.
4.-- Federal prosecutors want  Bank of America (BAC) - Get Reportto pay about $864 million over losses incurred by the government after it bought thousands of home loans made by Countrywide Financialduring the housing boom.

5.-- Apple (AAPL) - Get Report is developing new iPhone designs including bigger screens with curved glass and enhanced sensors that can detect different levels of pressure, a person familiar with the plans told Bloomberg.
Two models planned for release in the second half of next year would feature larger displays with glass that curves downward at the edges, the person told Bloomberg. Sensors that can distinguish heavy or light touches on the screen may be incorporated into subsequent models, the person said.
With screens of 4.7 inches and 5.5 inches, the two new models would be Apple's largest iPhones, Bloomberg reported.
6.-- News Corp. (NWSA) - Get Report, which now comprises mostly newspapers worldwide including The Wall Street Journal, is expected by analysts to report on Monday fiscal first-quarter earnings of 5 cents a share on revenue of $2.2 billion. 
7.-- Transocean (RIG) - Get Report, the world's largest drilling contractor, reached an agreement with Carl Icahn in which the company will pay a dividend and reduce the number of seats on its board.
Transocean said Monday it agreed to pay a dividend of $3 a share. Icahn, which owns a stake of 5.6% in Transocean, pressed for a dividend of $4 a share, according to Reuter
The maximum number of directors on the board will be reduced to 11 from 14, Transocean said.
8.-- Amazon (AMZN) - Get Report reached a deal for the U.S. Postal Service to deliver its packages on Sundays.
The new service will start immediately but it's only available now in the New York and Los Angeles areas. Plans are to expand to more areas next year, the Postal Service said.
United Parcel Service  (UPS) - Get Report and FedEx (FDX) - Get Report, the Postal Service's main competitors, don't deliver on Sundays.
9.-- Shares of Twitter (TWTR) - Get Report tumbled 7.2% on Friday to $41.65. The stock surged more than 70% on its debut Thursday on the New York Stock Exchange. Twitter opened at $45.10 on Thursday, exceeding the IPO price of $26 a share, and closed at $44.90. 
10.-- Drugmaker Shire reached a deal to buy rare disease biopharmaceutical company ViroPharma (VPHM) in a deal worth $4.2 billion.
Shire will pay $50 a share, a 27% premium on last week's closing price. ViroPharma makes Cinryze, which treats hereditary angioedema, a disease characterized by recurrent attacks of swelling of the skin or mucous membranes. 
-- Written by Joseph Woelfel
To contact the writer of this article, click here:Joseph Woelfel
To submit a news tip, send an email to:tips@thestreet.com.
Copyright 2013 TheStreet.com Inc. All rights reserved. This material may not be published, broadcast, rewritten, or redistributed. AP contributed to this report.