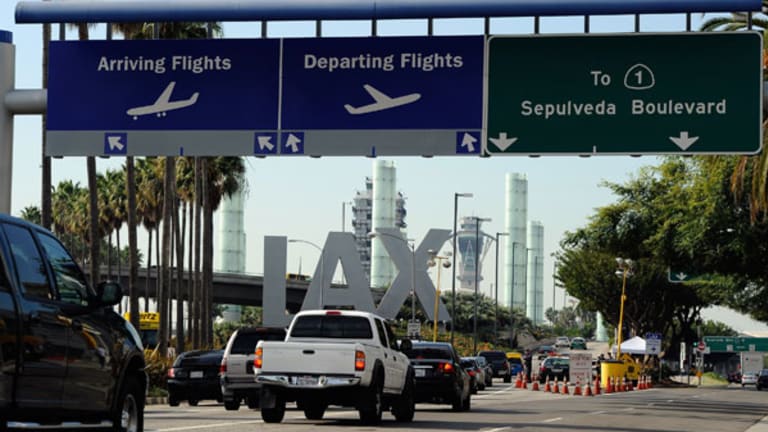 Note to LAX: Losing Toyota Is on You - Get a Real Hub
Do we really think low taxes and a salesman governor are enough to convince Toyota to move its North American headquarters from Torrance, Calif. to Texas?
LOS ANGELES (TheStreet) -- Do we really think low taxes and a salesman governor are enough to convince Toyota (TM) - Get Free Report to move its North American headquarters from Torrance, Calif., its home for 50 years, to Texas?
Sure, that's the story line. And of course, companies will do pretty much anything to pay lower taxes. But another equally important consideration is transporation infrastructure, which has driven corporate relocation decisions for centuries.
In this case, Los Angeles does not have a real airline hub and Dallas/Fort Worth does. That's important for a sprawling global corporation with manufacturing plants and other facilities throughout the U.S and the world.
The big three U.S. airlines all claim to operate hubs at LAX, but that is just nomenclature. United (UAL) - Get Free Report has the biggest LAX operation, with about 200 daily departures to 65 destinations.
By contrast, the American (AAL) - Get Free Report hub in Dallas has 800 daily departures to 192 destinations, including 42 international destinations. It has two daily flights to Tokyo. It is the second-biggest single airline hub in the world. At Atlanta, Delta (DAL) - Get Free Report operates 1,000 daily departures. Third is Charlotte, where USAirways operates 645 daily departures to 142 destinations.
In the U.S., transportation infrastructure has dictated corporate relocations since the Pilgrims arrived in Plymouth, Mass., in 1620, an early indication of the importance of East Coast harbors. Early business centers were Boston, New York, Philadelphia and Charleston, S.C.  A high-capacity port made Charleston the fifth-largest U.S. city in 1690 and Boeing's (BA) - Get Free Report choice for a 787 Dreamliner plant in 2009.    
In the U.S., Toyota has manufacturing plants in Georgetown, Ky.; Tupelo, Miss.; Huntsville, Ala.; Princeton, Ind.; Buffalo, W. Va.; and San Antonio, Texas. The closest major airports to each plant, respectively, are in Lexington, Ky.; Memphis; Huntsville; Louisville, Ky.; Charleston, W. Va., and San Antonio.
Only Memphis and San Antonio have non-stop service from Los Angeles, and it is not frequent. But all six airports have non-stop service from DFW.
"We carefully evaluated a wide range of factors before selecting Plano, which included economic considerations, geography and climate, transportation, the cost of living and educational opportunities, among others," said Toyota spokeswoman Carly Schaffner.
"With manufacturing locations in many U.S. states, Canada and Mexico, we chose a location that better supports our diverse geographic footprint, in a time zone that allows us to communicate better with most of our operations, and has direct flights to all our operations," she said.
Could LAX possibly work with a major airline to establish a hub that would provide connections throughout the country?
On the plus side, American desperately needs a West Coast hub, and Los Angeles is easily the best possible site. United already has a West Coast hub in San Francisco and Delta is busily establishing one in Seattle. American has its New York hub in Philadelphia and its West Coast hub in Phoenix.
On the negative side, international gateway airports in coastal cities don't generally have major hubs. The three biggest U.S. gateways, in order, are JFK, LAX and MIA. Miami has an American hub with 345 daily departures to 119 destinations, but only about 50 are domestic destinations. At JFK, JetBlue (JBLU) - Get Free Report operates a smaller hub with about 230 daily departures.
"Coastal hubs have a tough time," said consultant Bob Mann, because in at least one direction they have no domestic traffic. "The dilemma of a coastal hub is that it works great for ships, but not so well for aircraft," he said.
Newark, the fourth-largest U.S. gateway airport, is an exception. Mann credited Glenn Hauenstein, now a Delta executive vice president, with "making Newark work" as an international hub while at Continental. Hauenstein is now seeking to repeat the magic in Seattle.
As for American, it starts with an advantage in LAX because its terminal is closest to the airport's Tom Bradley International Terminal, home to most of the airport's international airlines including all of the Oneworld members. The layout enables departing passengers who are connecting to international airline partners to avoid going through security twice.
Mann said the airport would have some ability to incent American to grow its presence. Space exists to expand the curbside access to the American terminal, as well as the check-in area. "They could have more throughput," he said. Access to more gates, perhaps in the Bradley terminal, might also enable more departures.
Incenting American "would require some sleight of hand by the airport authority to move people around and create ground facilities for a legitimate hub operation," Mann said. "LAX is still a constrained facility, even as they build new terminals, so it would take some time. Nothing happens in real time at an airport. But it could be done."
LAX has been taking steps to improve infrastructure.  But even one of the most important airports in the world cannot sit still when major constituents like Toyota make it clear that more is needed. 
Written by Ted Reed in Charlotte, N.C.

To contact this writer, click here.